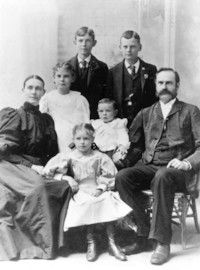 Legacy of Caring
A Timeline of Tabitha Serving Nebraskans
Tabitha is as local as you can get. Founded and based in the same location for over 135 years, this nonprofit is made up of like-minded TEAMembers who work and live in the cities and towns we serve. Because of strong community support, Tabitha is able to provide exceptional quality care to Seniors and their families.
OUR FOUNDER
Rev. Henry Heiner, along with his wife, Emma, founded Tabitha as an orphanage in 1886. He named the organization Tabitha in honor of Tabitha Katharina, one of his nine children who died in 1893—seven days after her second birthday. Equipped with a passion for reaching all those in need, Rev. Heiner and Tabitha began caring for the ill and elderly in 1889.
In 1960, Tabitha completed its role as an orphanage and transitioned into dedicated Senior Care, where we became and continue to be a proud pioneer in the industry.
1886

Tabitha is founded as an orphanage by Rev. Henry Heiner.

1890

"Old Main" is constructed as residence to house orphaned children, homeless adults and elderly.

1907

Tabitha expands into Lutheran hospital and school of nursing.

1909

Service begins for tuberculosis patients.

1926

Nazareth Building (boys' dormitory) is built.

1937

Bethel Building (girls' dormitory) is built.

1946

Construction begins on today's Tabitha Nursing and Rehabilitation Center south wing.

1960

Original role as an orphanage ends; records transferred to Lutheran Family Services in Omaha. Adults in long-term care remained.

1971

Tabitha adds a new skilled nursing unit.

1974

Offices established in Friend and Seward. Home care services begin in Saline County.

Tabitha Hospice (then Hospice of Tabitha) begins, first hospice service in Lincoln.
Hamilton County office (Aurora) opens.

Tabitha Rehabilitation Services begin.

Creation of Tabitha Foundation

1982

Hospice services become Medicare-certified.
Private-duty home care services established as Special Care Services.

Hospice services expand into Seward and York counties.

1993

Maseman Unit for inpatient hospice care is dedicated in honor of Martha A. Maseman, RN, who pioneered Tabitha's home health care, hospice and Tabitha Meals on Wheels services.

Johnsen Family Wing opens.

1995

Augustine Rehabilitation Unit opens.

1996

Offices open in Grand Island and York.

Tabitha Bryan Special Care becomes Home Care Specialties of Tabitha, Inc.

1999Kimmel Solarium for Alzheimer's care opens.

Garden Lane Adult Day Services begin at Tabitha Nursing and Rehabilitation Center.

Tabitha is selected as one of four model sites for national Green House Project® (now Tabitha Residences).

2004

Tabitha Hospice is formally recognized as the founding hospice in Nebraska at the National Hospice and Palliative Care Organization's national conference in Washington, D.C.

LifeQuest Rehabilitation Center opens.

2006

Tabitha opens Nebraska's first Green House® home (now Tabitha Residence—Martin House) for long-term care.

Tabitha Nursing Center at Crete opens.

Tabitha introduces Honeywell HomMed® Telehealth.

2010

Tabitha adds Garden Square Assisted Living of Crete (now Tabitha in Crete—The Gardens Assisted Living) to its continuum of health care services.

Tabitha opens its second Green House home (now Tabitha Residence—Good House).

2011

Tabitha opens four new living communities—two additional Green House homes (now Tabitha Residences—Elizabeth House and Martha House), GracePointe Assisted Living & Memory Care Suites and Journey House SNF, Lincoln's only free-standing, Medicare-certified hospice community.

Club 4 Fitness and Rehabilitation Gyms open.

2014

Tabitha opens today's Tabitha Residence—Cove House as "Tabitha at The Landing" on the campus of The Landing at Williamsburg Village.

Garden Square Assisted Living of Crete is re-named to Tabitha in Crete—The Gardens Assisted Living.