Christie Hinrichs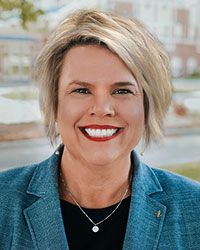 Since 2010 Christie Hinrichs has served as president and CEO of Tabitha, a nonprofit, mission-centered provider of health care services for older adults, headquartered in Lincoln and serving 28 Nebraska counties. With 1,000 TEAMembers, 1,200 active volunteers and countless faithful donors, Tabitha serves more than 2,000 Seniors and their families every single day.
Hinrichs began her career in compassion in 1993 as a Tabitha Hospice social worker before advancing to leadership roles within Tabitha Hospice and the organization's in-home support program. Hinrichs then served as the Nebraska Heart Hospital's chief operating officer and as a branch manager with Coram Healthcare. She served on Tabitha's corporate board of directors from November 2004 through May 2006 and returned to Tabitha that same year as vice president of clinical services.
Having spent the majority of her adult life in service to Seniors, with a steadfast and sincere commitment to improving their quality of life, Hinrichs has worked diligently to transform the company culture through her innovative vision. She introduced LIVE2CARE—a revolutionary culture change within Tabitha that challenged employees to Love their jobs, Invite optimism, Vision success and Embrace the mission. Today, every clinical, operational and strategic decision is made through the lens of LIVE2CARE ideals. In 2012 LeadingAge honored Tabitha with the Excellence in the Workplace award.
As an influential and respected leader among her peers in the industry and the communities Tabitha serves, Hinrichs has positioned Tabitha to receive prestigious awards such as the: LeadingAge Excellence in the Workplace, 2012, Chamber Cornerstone Award in 2013, Rotary Salute to Business winner in 2014,  Inspire Award for Excellence in Business in 2016 and the LeadingAge National Trusted Voice Award in 2017.
In addition, Tabitha Home Health Care has been voted by capital city residents as the Best of Lincoln since 2008, while Tabitha Living Communities have been honored with Lincoln's Choice Award for Best Senior Living. Tabitha Hospice is considered a pioneer in hospice care, the longest running in the Nebraska and is consistently voted one of the best programs in the state.
Hinrichs is instrumental in the growth of Tabitha's physical presence across Nebraska. She's helped bring innovative vision to life on Tabitha's main campus in Lincoln in 2006 with the introduction of the state's first and the nation's second Green House® home, a family-centered, residential-style skilled nursing and long-term care community now collectively referred to as Tabitha Residences. Today, Tabitha offers eight Tabitha Residences spanning from the main campus, to south Lincoln's Williamsburg neighborhood to the very first rural Nebraska community of its kind in Crete, Nebraska.  In addition in 2011, new living communities debuted under her leadership: GracePointe by Tabitha Assisted Living & Memory Care Suites, a community with specialized suites and staffing dedicated to memory care, and Journey House SNF for End-of-Life Care, a home dedicated to caring for older adults, their families and loved ones in life's final journey.
For her work on the Tabitha Residence—Cove House project, Hinrichs was the co-recipient of the Innovator of the Year Award in 2014 from Nebraska Leading Age.
Hinrichs is a vocal advocate for Senior Care issues, regularly appearing in both regional and national speaking engagements. She was named co-chair of the national LeadingAge Consumer Cabinet in 2012 and joined as a member of the organization's national board of directors in 2015. She also lends her expertise to the board of Lutheran Services in America. Her local involvement includes service on the:  Lincoln Fire and Rescue advisory board, Thrivent Fellows advisory board, Rise advisory board,  Lutheran Planned Giving board and the Inspire Selection Board. Hinrichs was the IABC Communicator of the Year in July 2012 and a 2014 TedX Lincoln presenter.
In 2018, Hinrichs received her master's degree in organizational leadership from Gonzaga University with an emphasis in servant leadership. She serves on the LeadingAge national board as treasurer, was elected to the board of directors of Pinnacle Bancorp, Inc. and was handpicked to co-chair the Blueprint Nebraska Health Care Industry Council focused on statewide economic development.