Joyce Ebmeier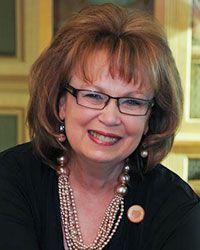 In her 37+ years at Tabitha, Joyce Ebmeier has held a variety of leadership positions including 14 years as administrator of Tabitha Nursing and Rehabilitation Center in Lincoln. She was instrumental in introducing in Lincoln residential-style, long-term, skilled nursing communities—the first of their kind in Nebraska and only the second in the nation. She has worked to optimize the model by expanding availability of these Tabitha Residences beyond Tabitha's main campus into south Lincoln's Williamsburg neighborhood and the unique rural setting of Crete, Neb.
Throughout her career, Ebmeier has ensured the evolving needs of Nebraska seniors are met. She has served as an advocate for older adults, monitoring how both state and national legislation impact senior services throughout the communities Tabitha is honored to serve.
Ebmeier was recently honored with LeadingAge Nebraska's 2019 Lifetime Achievement Award.