LIVEing at Tabitha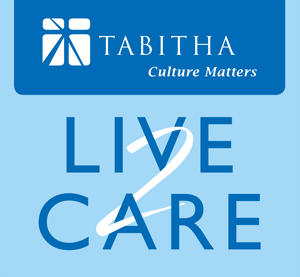 Nonprofit Tabitha is Nebraska's industry-leading and quality award-winning Senior Care expert, offering a variety of rewarding careers in compassion and opportunities for advancement and growth.
Tabitha is committed to investing in the career paths of valuable TEAMembers through Workforce Development. This program encourages personal growth and development through continuing education, licensure certification, mentorship, exploring new career pathways and providing key industry training and workshops.
Tabitha is also committed to excellence in the workplace through our innovative and courageous LIVE2CARE culture. LIVE encourages Tabitha TEAMembers to Love their jobs, Invite optimism, Vision success and Embrace Tabitha's Purpose of empowering people to live joyfully, age gratefully.
Love our jobs
Invite optimism
Vision success
Embrace Tabitha's Purpose
Core values
Accountability
Relationships matter
Exceed Expectations
Each of Tabitha's Core Values are also woven into every aspect of Tabitha and are embraced by TEAMembers:
CARE - Extend unwavering Christian compassion
CONNECT - Build relationships rooted in love, because love matters
CUSTOMER CENTRIC - Identify, clarify and anticipate needs to exceed expectations
COLLABORATE - Create an atmosphere of teamwork
CULTIVATE - Nurture an environment of innovation and growth
COURAGE - Demonstrate confidence, boldness and determination
COMMIT - Devote our time, talent and treasure
CELEBRATE - Recognize and encourage all accomplishments big and small.
Tabitha's LIVE2CARE company culture means we deeply value every whole and unique person. At Tabitha, you'll find the tools and encouragement to excel not only in your career but in every area of life.
Your career at Tabitha includes variety, flexibility, competitive benefits and—most importantly—work with a purpose.
Why Tabitha
In addition to an outstanding work environment and our incomparable LIVE culture, Tabitha offers an array of benefits, including:
Competitive pay, industry leading shift differentials
Comprehensive health, dental and vision insurance
Retirement plan (401k)
Short-term disability
Paid life and accidental death/dismemberment coverage, along with optional additional coverage
Optional insurances: accident, disability, critical illness, hospitalization and long-term care
Tax-sheltered annuity
Flexible spending accounts
Tabitha Health & Well-Being Clinic
Credit union
Food and beverage discounts to Tabitha's Mini Market
Generous paid time off (PTO) annual accrual, with no waiting period
Employee Assistance Program (EAP):  free, confidential short-term counseling
Free annual flu shots
Scholarship program
Wellness program including contests, incentives and fitness center deals
Free annual health screenings
24/7 access to employee Club 4 fitness gym
Bereavement leave
Jury duty pay
Tabitha's year-round Health & Well-being Clinic is staffed by a full-time nurse practitioner and well-being coordinator, who welcome by-appointment and walk-in visits from TEAMembers and their immediate family members for routine/preventive exams, urgent care, prescriptions, vaccinations and more.
---
STATEMENT OF EQUAL EMPLOYMENT OPPORTUNITY AND AFFIRMATIVE ACTION
Tabitha Health Care Services is an equal employment opportunity employer and does not discriminate in employment on the basis of race, religion, color, national origin, citizenship, creed, gender, sexual orientation, age, veteran status, mental or physical disability, genetic information, or any other characteristic protected by federal, state, or local law. This policy applies to all employment practices and decisions including recruitment, selection, hiring, training, transfer, promotion, compensation, benefits, and the termination of employment.
Furthermore, Tabitha Health Care Services will make reasonable accommodations for qualified individuals with known disabilities unless doing so would result in an undue hardship, safety, and/or health risk. Please contact Tabitha Health Care Services Human Resources Department to request an accommodation.
As a government contractor, the organization has adopted written Affirmative Action Plans for women and minorities, protected veterans and individuals with disabilities. These plans will be revised on an annual basis. Tabitha Health Care Services is committed to making a good-faith effort toward achieving the objectives of the Plans. Any employee who would like to review the Plans may do so by scheduling an appointment with the Human Resources Department during normal business hours.