IMPACT REPORT
View or download Tabitha Foundation's 2021 Impact report below.
---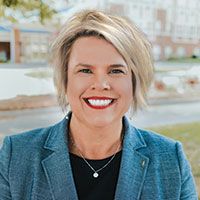 A Word from Our President & CEO
One thing I know for sure is that we're Better Together. As human beings, businesses and organizations, we thrive and build stronger communities when we take care of each other. At nonprofit Tabitha, we believe we are the company we keep and strive to surround ourselves with like-minded influencers, like you, who support Seniors and help to further our cause.
Tabitha is honored to partner with you to Cultivate the future of Senior Care. We are on course to bring some of the biggest initiatives in our 135 year history to life, which means we need even bigger support from you.
In Grand Island this fall, we'll be opening Tabitha at Prairie Commons, a 200,000-square-foot Senior Living Community offering Independent, Assisted, Memory Care and Long-Term/Skilled Nursing Living options to 200 Seniors.
We're now in the public phase and working to complete funding of our capital campaign for the first-of-its-kind-in-the-nation InterGenerational Living Community. Here, Seniors and students will live under one roof. We are excited to break ground this spring at our main campus in the heart of Lincoln.
In Omaha, we are expanding our Tabitha Home Health and Hospice Care services in Collaboration with another industry leader, Immanuel.
It would not be possible for Tabitha to take such Courageous steps without your assistance. Thank you for continuing to invest in and believe in Tabitha's Purpose of empowering people to live joyfully, age gratefully. Together, we can do great things for Seniors.
Inspire(d),

Christie Hinrichs
Tabitha President & CEO