Building Intentional Community In the Heart of Lincoln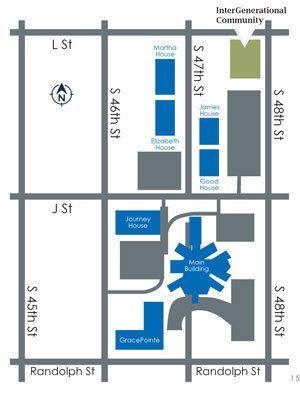 Connecting Seniors & Students to:
Combat Loneliness
Offer Moderately Priced Housing
Address Shortage in Health Care Workers
Tabitha InterGenerational living will come to life at the corner of 48th and L Streets, just blocks from the Bryan College of Health Sciences.
155,000+ Square Feet, Four Story
128 Units

Micro: 16
Studio: 36
1 Bed + 1 Bath: 64
2 Bed + 2 Bath: 12

135 Parking Spaces

Garage: 93
Off-Street: 42
Tabitha intends to collaborate with the City of Lincoln to redevelop the corridor (48th Street, L to A Streets) and create a livable and safe path to and from the Bryan Campus. This will lead to development of a vibrant area that cohesively connects services to those who need them, stimulates growth and provides public benefits.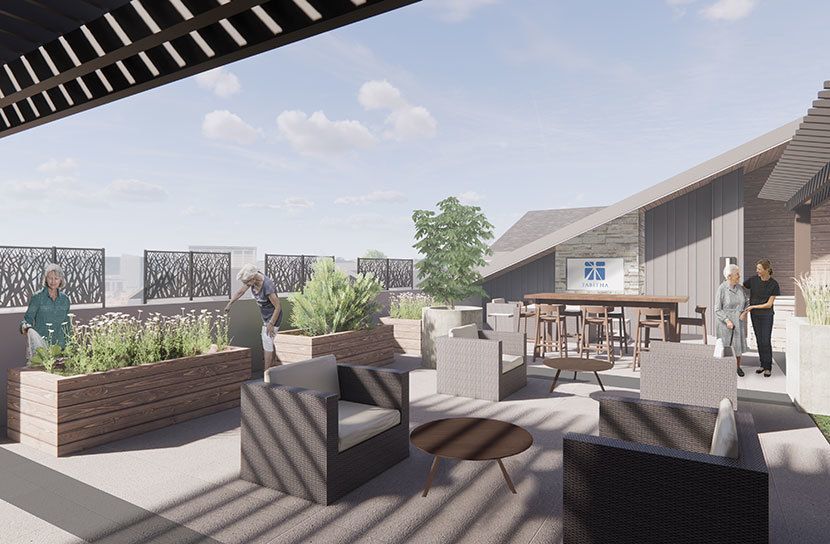 Built Thoughtfully—Designed by Those Who Will Call it Home
InterGen Addresses Three Challenges
1. Epidemic of Loneliness Across Generations
There is a big difference between choosing to be alone versus feeling lonely. Loneliness shows no mercy across the generations. More than three in five Americans are lonely—43% of Seniors and 63% of college-aged Students.
Only about half of us have meaningful face-to-face social interactions on a daily basis. Yet, most wish to be a part of a "community." Togetherness only occurs when we are physically together.
More damaging to health than obesity and smoking 15 cigarettes a day, loneliness is killing us. The COVID-19 pandemic has created necessary but damaging isolation for all. As a result, mental health issues such as anxiety and depression have been exacerbated.
"InterGenerational living and purposeful neighboring have the power to change how the world approaches Senior Living. Loneliness is deadly, and our research shows that college-age Students report an even higher degree of loneliness than Seniors. That is why this matters so much — joy and gratitude will be felt across generations as wisdom, talents and stories are shared from one generation to the other."

— Christie Hinrichs, Tabitha President & CEO
2. Lack of Moderately Priced Housing 
It's projected in 2029 there will be 14.4 million Seniors in the U.S. in need of moderately priced housing.
In the last decade, Lincoln's retirement-age population has steadily outpaced that of younger generations, and housing solutions have not matched demand.
The market has experienced an influx of Senior housing options but they are either too expensive and amenity-rich or they have low income restrictions, leaving Seniors with moderate incomes in a gap without a solution.
College Students seek moderately priced housing that allows them to live, work and go to school in close proximity. 
3. Shortage of Health Care Workforce to Support Seniors
In 2019, the direct care workforce for older adults consisted of almost 4.5 million individuals, including 2.2 million home care workers. 
Direct care workers provide support to 20 million older adults who require assistance with self-care and other daily tasks due to physical, cognitive, developmental and/or behavioral conditions. From 2016 to 2060, the older adult population is expected to double while 18 to 64 year olds will increase by only 15%. 
The caregiver support ratio will decrease from 31:1 to 12:1 during this period. The demographic trends of increasing number of older adults and fewer people of working age as caregivers warns of an  even greater shortage. The Senior Care workforce is projected to add 1.3 million jobs between 2018 and 2029, a 28% growth. Due to the creation of new, plus existing jobs that become vacant, there will be an estimated 6.5 million jobs to be filled.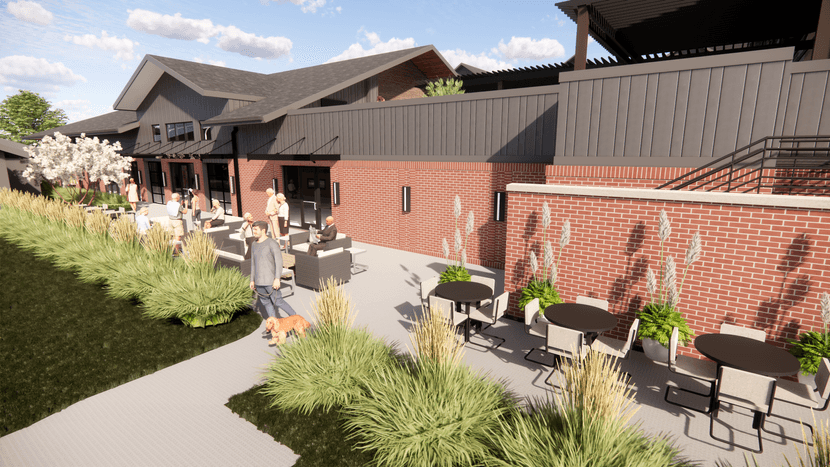 For Two Groups
Seniors

Students
The reciprocal transfer of wisdom and purpose created by this unique mix of individuals provides opportunities to learn and demonstrate how bringing generations together will benefit their lives, our community and humanity. 
Creating an intentional community, diverse in age, income and interests, serves the larger community well, promoting the health, well-being and safety of its residents and ultimately reducing the cost of housing and health care expenditures.
With One Solution
Tabitha's InterGen Community
Lincoln, Nebraska, will lead the way with this unique model of supportive housing designed to promote successful aging and inclusion. Tabitha is eager and poised to create this inventive solution and address the needs of the community.
Together, we will empower people to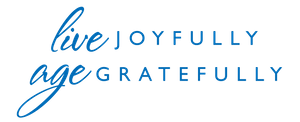 Join nonprofit Tabitha in its boldest and most courageous initiative yet and help bring this innovative, $26-million project to life. Give today!