Welcome to S²age Living, a state-of-the-art-community that older adults* and health sciences college students call home.
This spacious, 150,000-square-foot building provides a mix of 128 micro, studio, one- and two-bedroom apartments featuring the latest in comforts and conveniences. Each residence includes top-of-the-line appliances and premium finishes.
Designed to promote Connection with environments that bring residents and guests together. Inviting spaces combined with great Culture foster meaningful interactions.
*55+

A PLACE LIKE NO OTHER
FIRST-OF-ITS-KIND
IN THE NATION
•   Generations intentionally living side by side
•   Gathering spots such as The Circle in The Square and TV Lounge
•   Built-in sense of belonging for more socially engaging, healthier lives
•   Supportive neighbors sharing wisdom, knowledge and purpose across generations
•   InterGenerational (ING)experiences...cookING, gardenING and gamING
•   Outdoor areas like the Inspire(d) Milestone Pathway along with beautifully designed green spaces and patios
•   Breezy, open-air rooftop terrace with inviting seating, sound system, TV, fire pit and heaters
•   LiveWell yoga studio and a gym featuring the latest in wellness technology and equipment
•   In-house salon
•   Bike storage rack and storage areas
•   Convenient surface parking and secure underground garage parking available
UNCOMMON COMMON AREAS


CONNECTING AND CREATING
The Innovation Studio is equipped with next-generation technology—including computers, tablets, smartboards and TVs—classroom-style tables—and is the perfect spot for staying connected and being creative. The passage in the S²age commons area includes a series of nooks for reading as well.

KEEP MOVING
Designed for those with an active lifestyle, S²age features the LiveWell yoga studio as well as a gym with the latest in wellness technology and equipment. Outdoor areas like the Inspire(d) Milestone Pathway or the rooftop activities area provide additional opportunities for staying well.

CONVENIENCE COUNTS
In-suite laundry
Guest suite available for rent to host friends and family
Pet spa area and fenced dog run
CASUAL COMMUNITY KITCHEN
From weekday continental breakfast, coffee in the cafe, cooking together in the community kitchen to special dining events featuring local restaurants and Nebraska menu favorites, S²age offers options for meal-friendly gatherings.

RELAXING & RECHARGING
Sit back and relax in S²age's breezy, open-air rooftop retreat with inviting seating, sound system, TV, fire pit and heaters, or watch your favorite shows in the TV lounge area.
S²age's welcoming lounge with fireplace and comfy chairs is a great place for unwinding with friends.

STAYING SMART @ S²AGE
Set up with the latest advancements in home automation, a smart house makes life easier and safer, from public Wi-Fi to securing doors, keyless entry and controlling lights/temperature.
FIND YOUR HOME HERE
S²age is located at the corner of S.47th & 'L' streets in the heart of Lincoln, just blocks from shopping, dining and entertainment.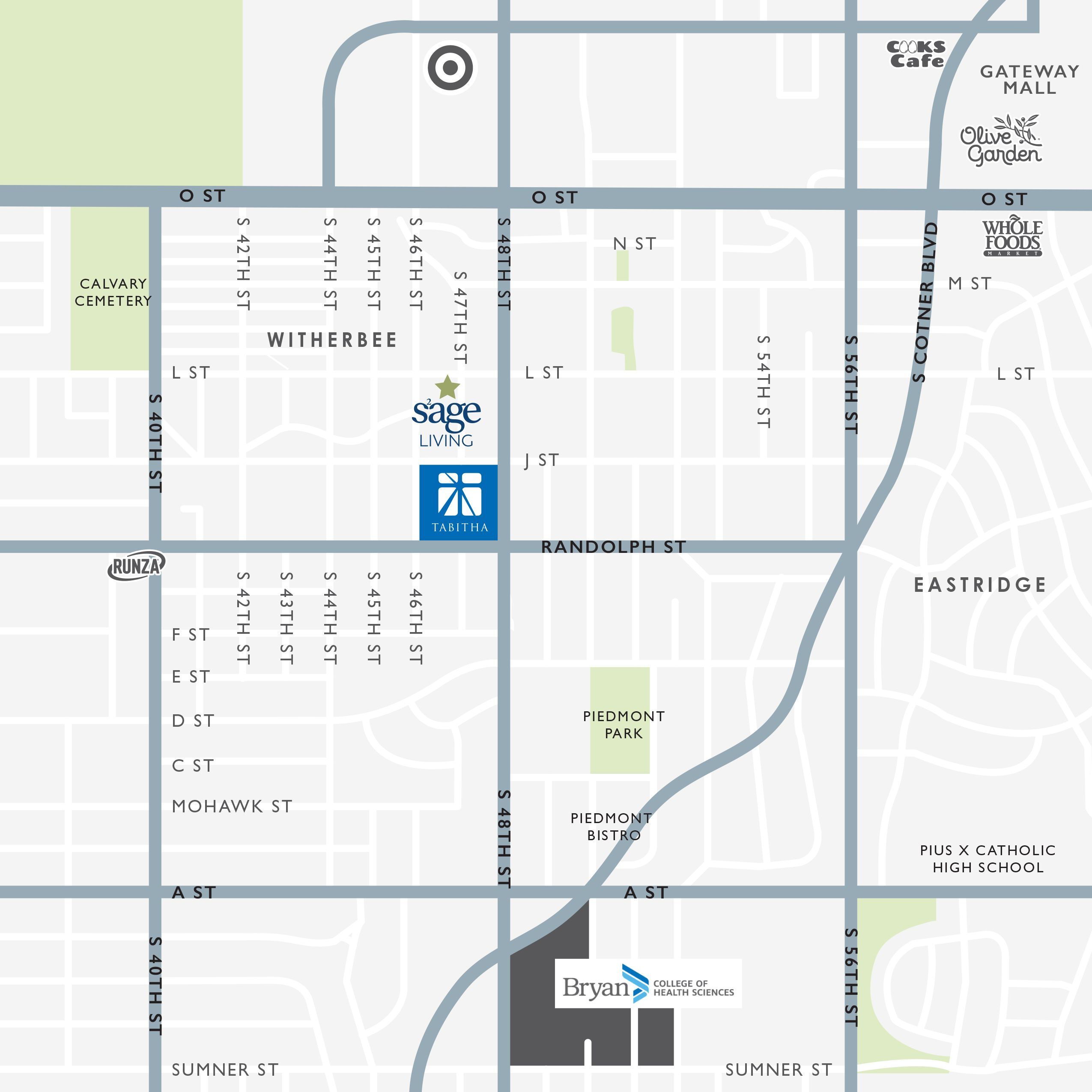 Our expert team of Living Advisors is available to answer all your questions about S²age!

Aubrey Paulsen
Living Advisor Manager
402.486.8520
Email Aubrey