"Jesus said to her, 'I am the resurrection and the life. Those who believe in me, even though they die, will live,'"     
John 11:25
---
If you have information to contribute please complete the following form. All material must be sent in by noon each Thursday to be included in the following Tuesday's email. 
---
Attention Lincoln TEAMembers
Please  note that THURSDAY, April 25, the south TEAMember parking lot will be closed as we welcome outside guests for the OLLI (Osher Lifelong Learning Institute at the University of Nebraska-Lincoln) Tour and Tea. Please make arrangements to park in the west or north lots on this date. The southeast lot that is across Randolph Street will remain open.
Please share with those who do not have access to email.
Thank you for your Collaboration to help make this event a success.
---
We Need to Hear From You!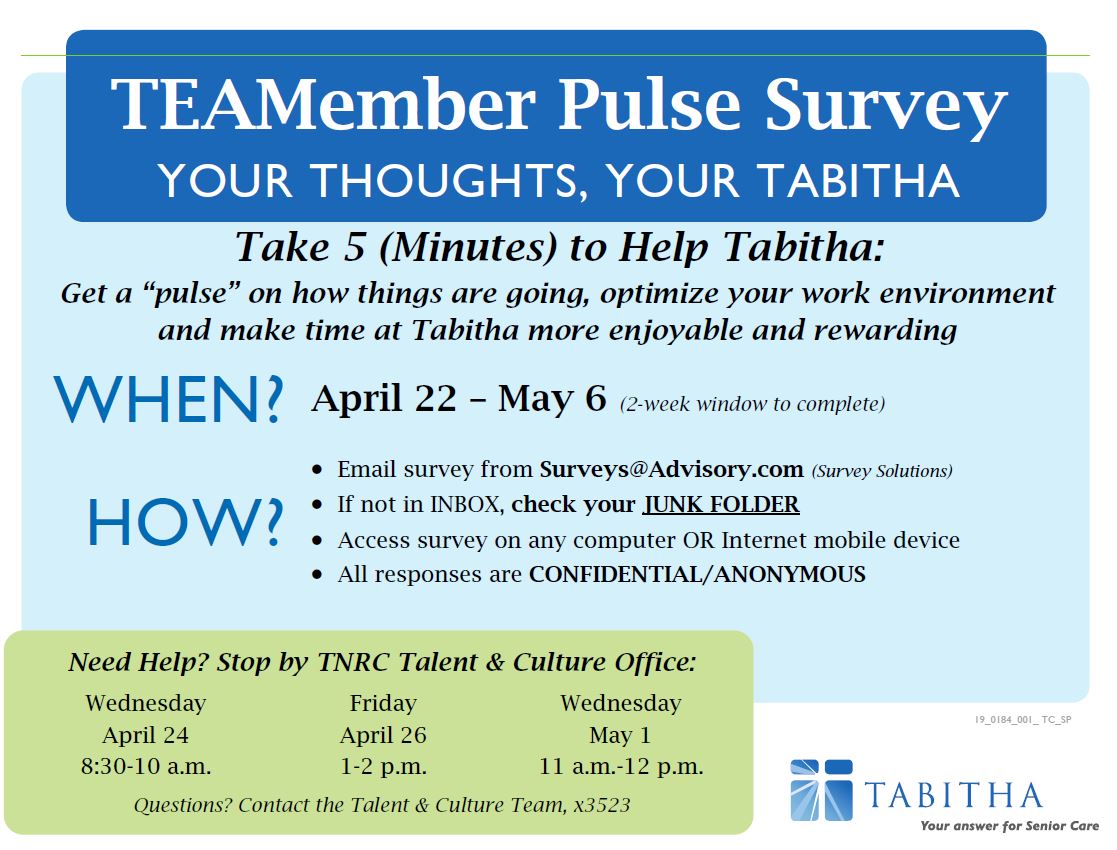 ---
Check Off a Relias Training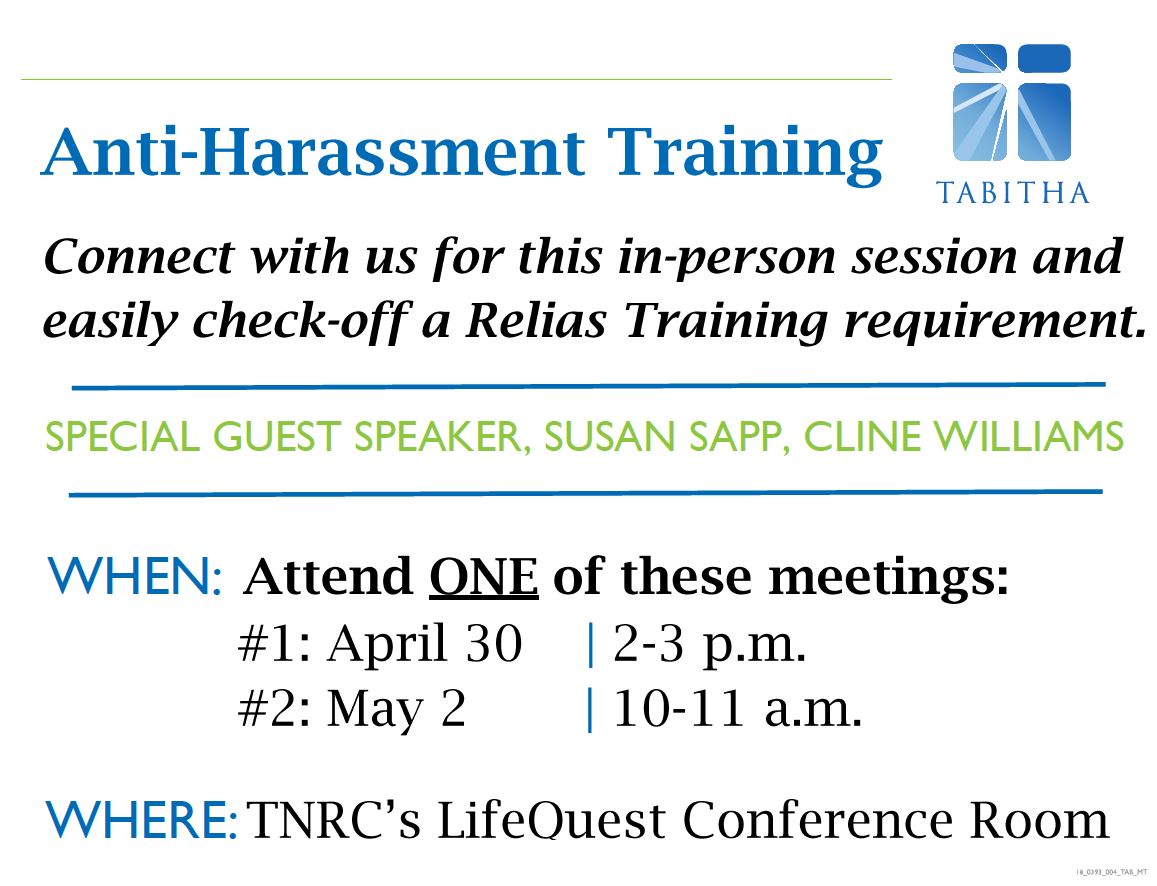 ---
TEAMember Celebration Survey
We need YOUR feedback, whether you were able to attend the Tabitha TEAMember Celebration or not!

Honorees please use the exclusive link that was sent to your email.

Complete the short survey here by Tuesday, April 30 or print off a copy from the message board and submit via interoffice mail to Mary Parker in the Marketing Department.
(Click image below to download paper survey.)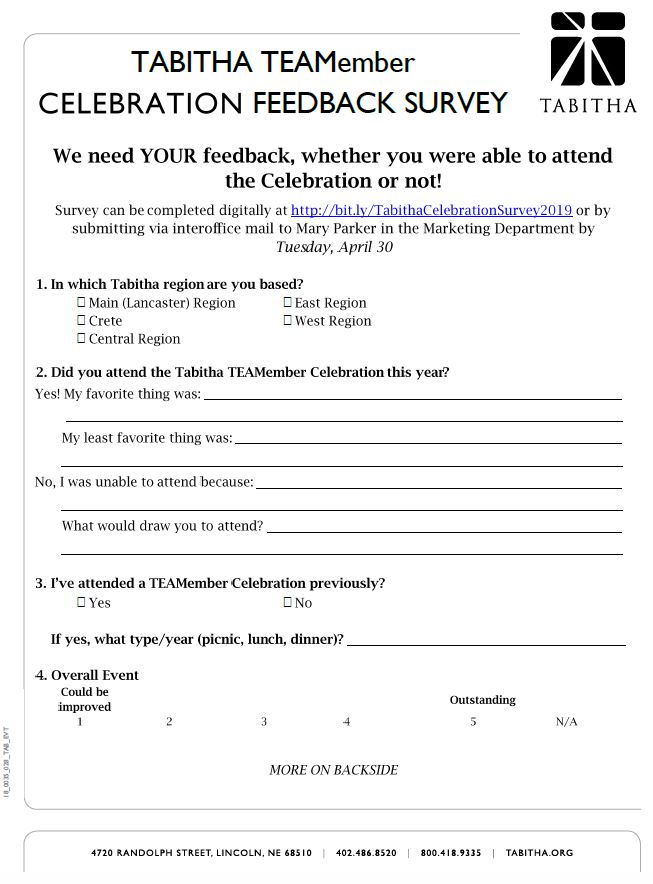 ---
Tabitha May Day Baskets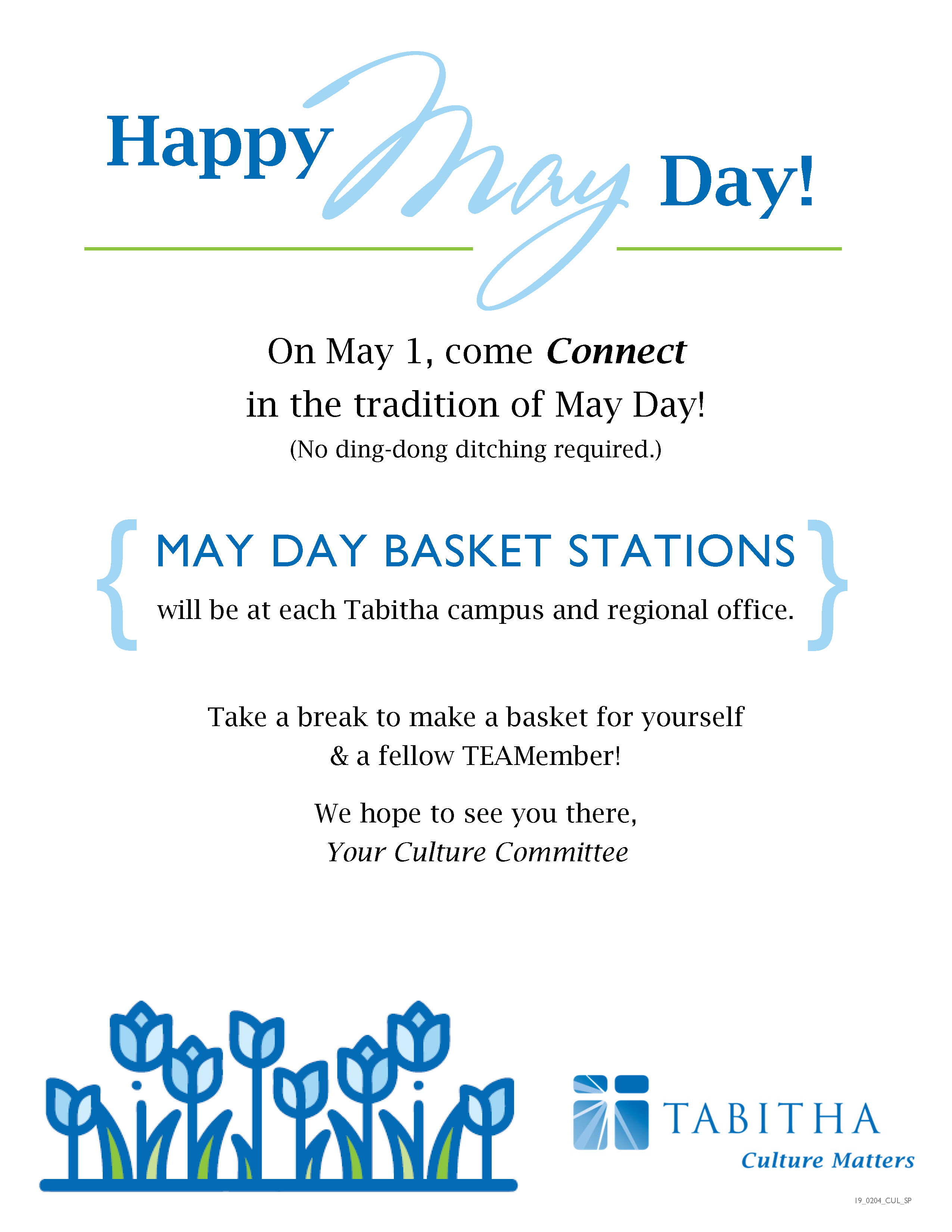 ---
Food Truck Fridays are Back!
---
New Support Group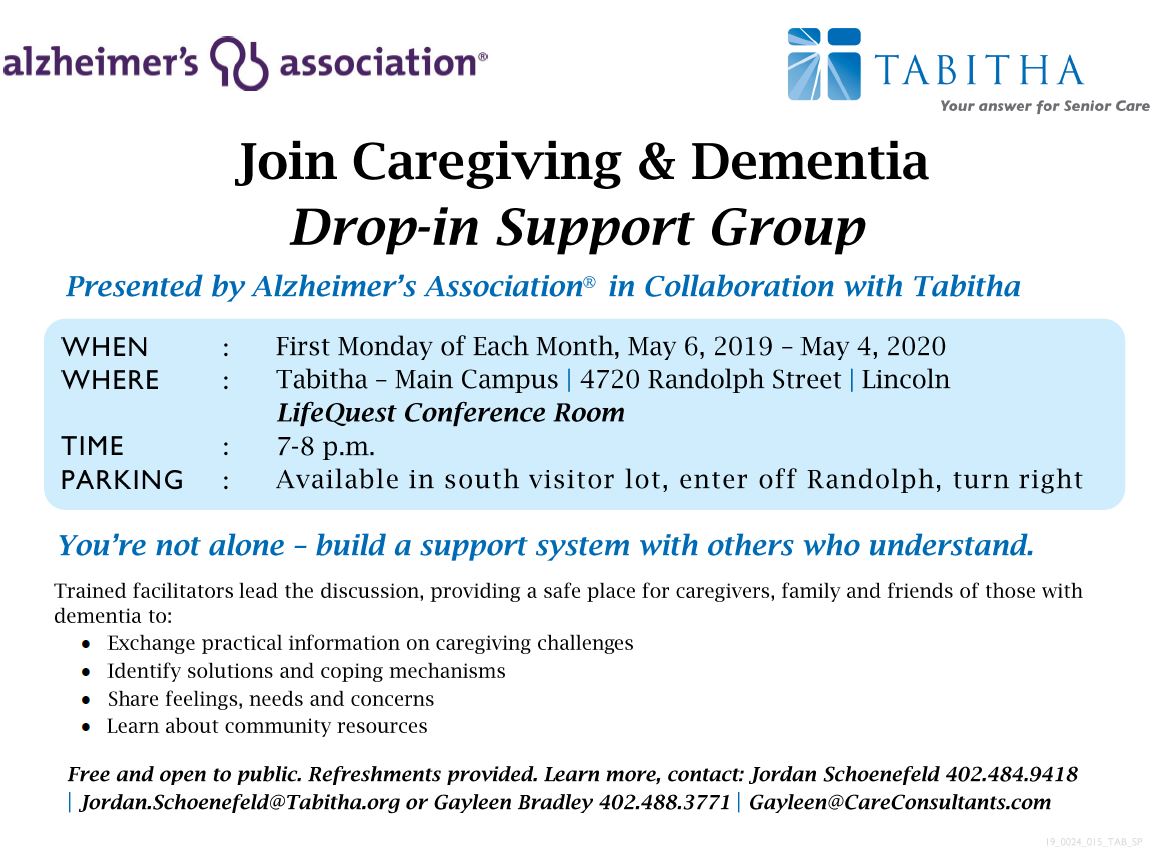 ---
Get Schooled
These schools have just been added and possibly more to come!
Clarkson College
Purdue Global
Southeast Community College (ADN, LPN programs)
Union College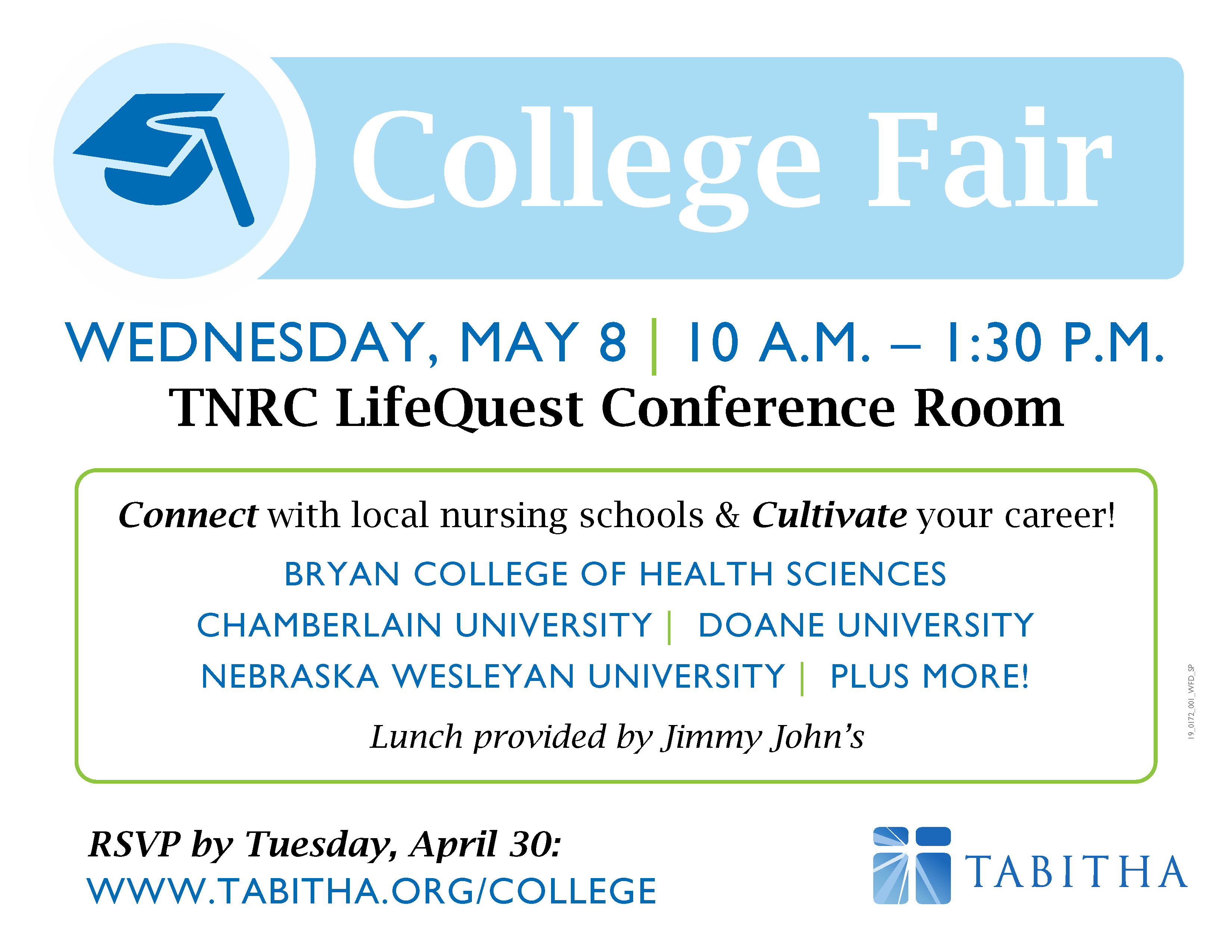 ---
Workforce Development Training Opportunity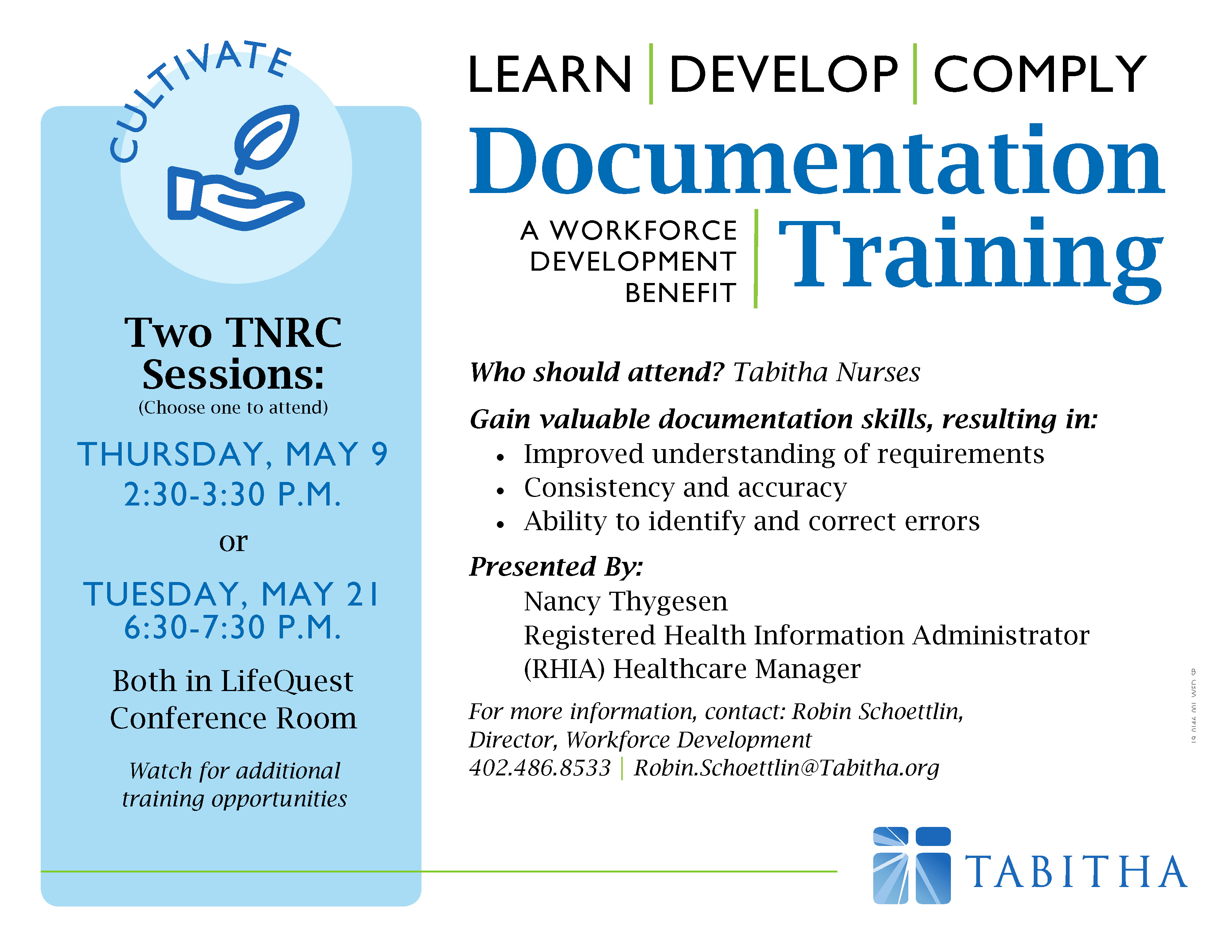 ---
Crete Food Truck
Make sure to swing by Tabitha in Crete for a special food truck event as part of their National Skilled Nursing Care Week celebration:
WHEN: Wednesday, May 15
TIME: 11:30 a.m. – 1 p.m.
WHERE: Tabitha Residences parking lot (in front of garages), 1800 East 13th St., Crete
Enjoy foods like BBQ chicken, sandwiches, nacho supreme, sides and delicious desserts from Dar's Kitchen. Open to public. Bring cash.
---
Disaster Recovery News
The State of Nebraska and the Federal Emergency Management Agency (FEMA) has announced the opening of Disaster Recovery Centers for a limited period in Butler, Custer, Nemaha and Richardson counties. Please find FEMA information regarding the opening of the centers below. Be sure to share with TEAMembers who'd benefit from this information regarding flood relief.
We continue to keep those who are dealing with the effects of the flooding and winter weather in our thoughts and prayers.
(Click on the image below for news release.)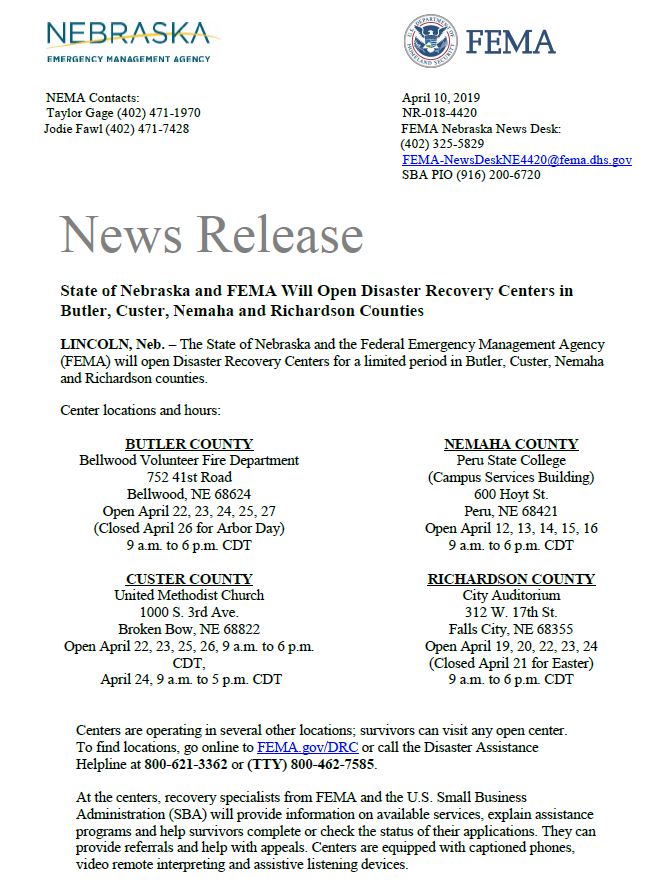 ---
I.T. Help Desk 101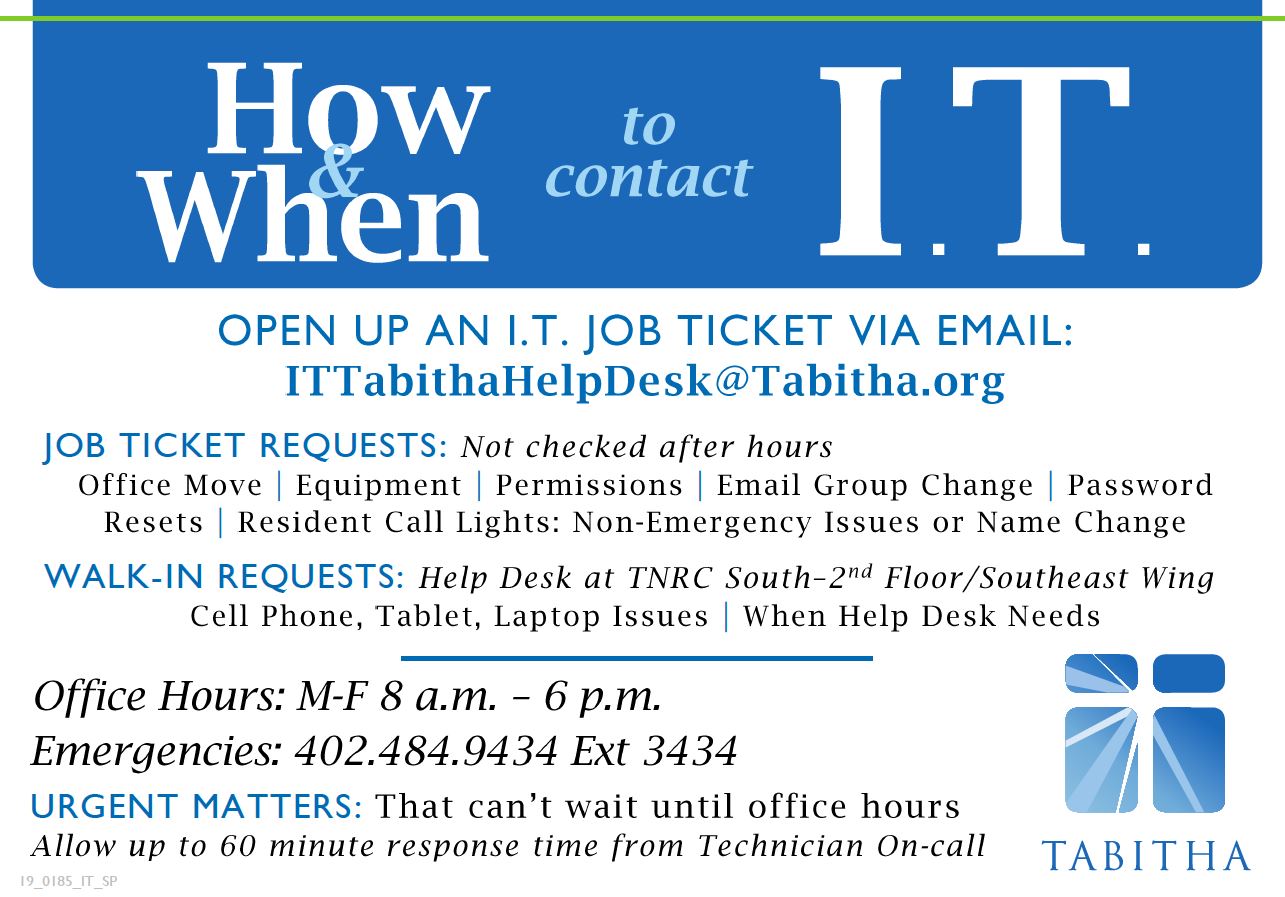 ---
Scrub Drive Thank You
Thanks to Tabitha TEAMembers for donating scrubs and to Tabitha's Laundry Team for Collaborating to get them washed and ready for next steps.
Need scrubs? Stay tuned for shopping information.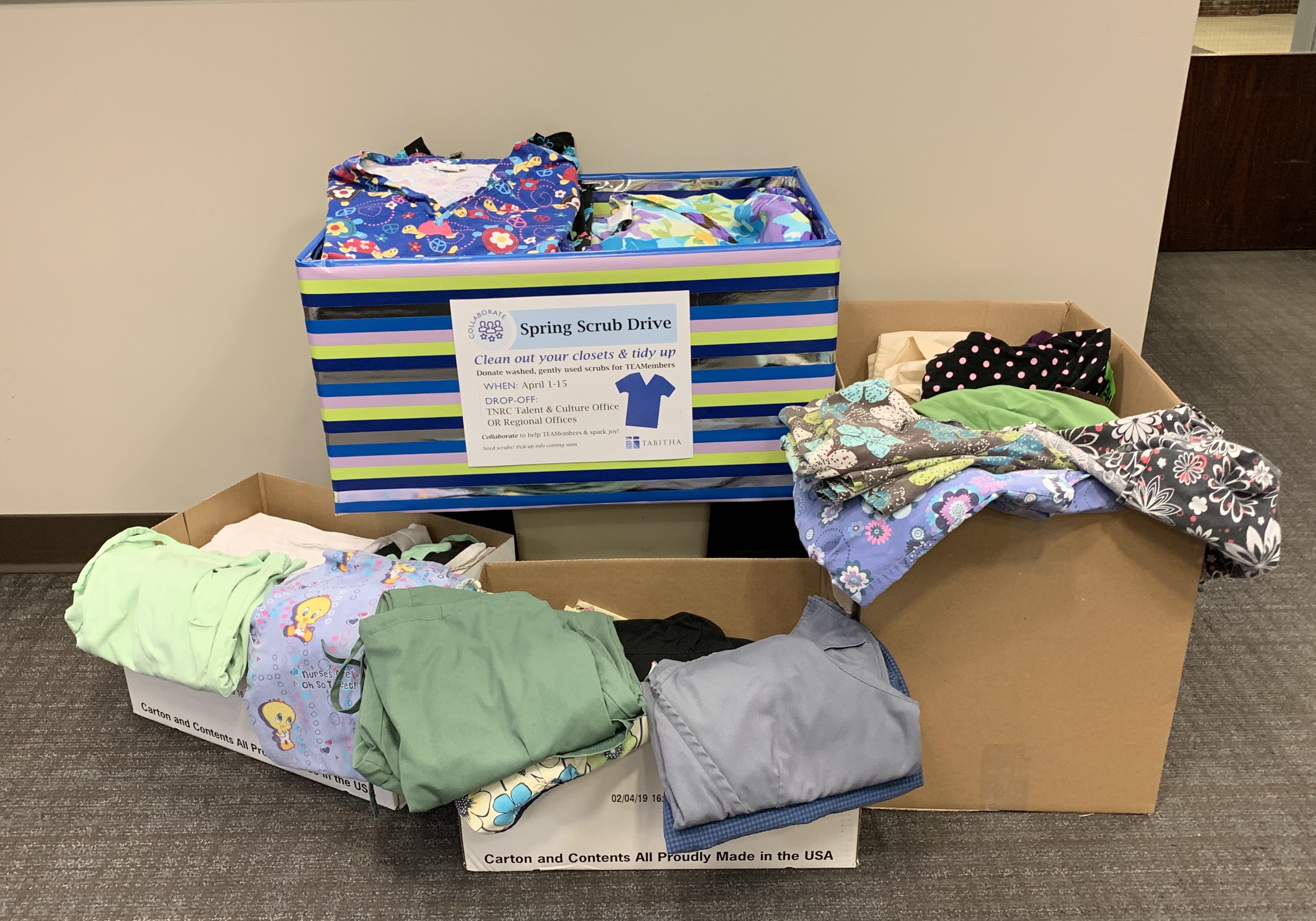 ---
You're Invited
Join Aging Partners of Lincoln for a free community educational session for a look at the emotional aspects of caregiving and helpful tips. See full details below.
To reserve your spot by May 2, simply email dnorris@lincoln.ne.gov or call 402.441.6156 today.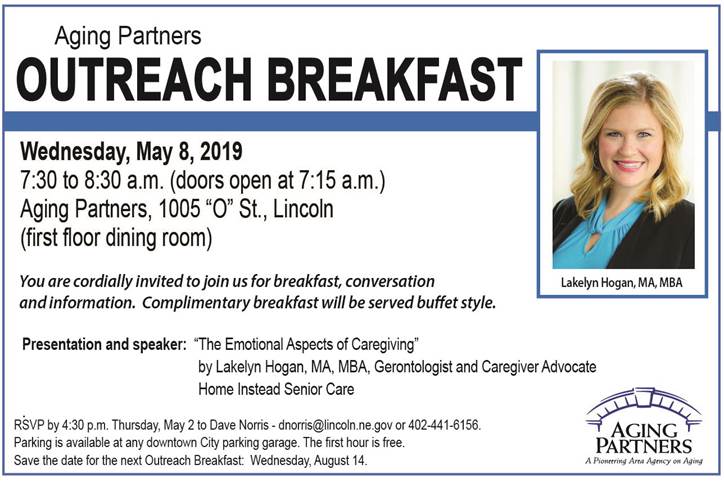 ---
Making a Difference: Your Gifts in Action
The employee campaign invites all Tabitha TEAMembers to recognize that every dollar makes a difference and every TEAMember makes a difference. Because of your contributions, Commitment and compassionate spirit, we can continue to fulfill our mission of service.
Each month we recognize a campaign participant for their contributions.
Congratulations to this month's prize winner: Jessie Nguyen.
---
Hearts of Gold
Through the Hearts of Gold program, clients and families can uplift a Tabitha TEAMember or department by sharing a testimonial and contribution in their honor. The individual or team receives a Hearts of Gold pendant and recognition from Tabitha leaders. Thank you to each one of you who provide Customer Centric and compassionate Care every day to those we are privileged to serve.
Each quarter we will recognize an individual who has gone above and beyond and provided superior service.
Congratulations to this quarter's prize winner: Crystal Steele.
---
Welcome!
Be sure to say hello and introduce yourself to these NEW Tabitha TEAMembers.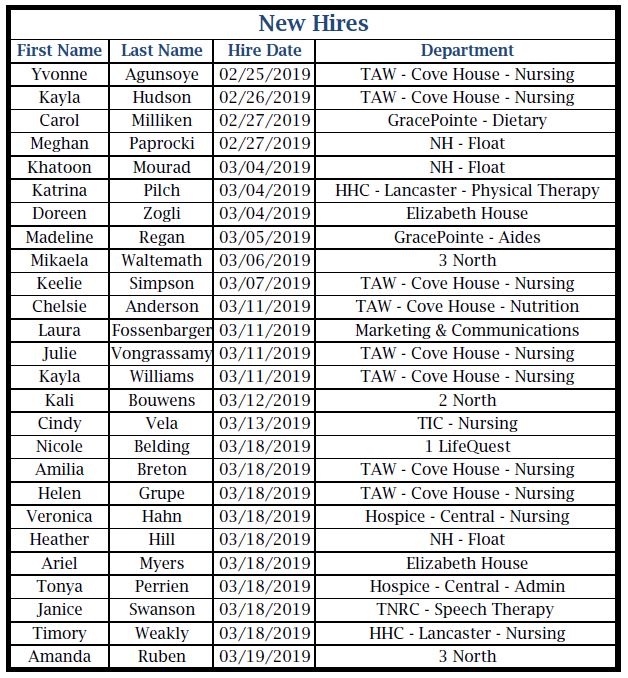 ---
YOUR Comments...YOUR Culture
Thanks to those who provided culture-related feedback by submitting comment cards in our Culture 'Cubes'. For those of you who would still like to submit feedback, there are a few Culture 'Cubes' left in high traffic areas such as the mail room, main staff lounge at TNRC and each of our offices in Nebraska City, Crete, York and Grand Island. Or drop the Refresh Team an email at Refresh@Tabitha.org (ALL comments are absolutely welcome and confidential.)
---
Do You Have Ideas? Please Share!
Ideas@Tabitha.org is a place where everyone throughout the Tabitha Continuum can share their ideas for improvement, cost savings and time management. It is a place to submit new ideas and be heard.
Information will be reviewed by members of the Executive Team and, if applicable, shared via the LIVEing Message Board. Email your ideas to Ideas@Tabitha.org or enter them below. We're listening!
You can also submit your idea below.