"Let all that you do be done in love." 
1 Corinthians 16:14
---
If you have information to contribute please complete the following form. All material must be sent in by noon each Thursday to be included in the following Tuesday's email. 
---
Ready, Set…Race!
Get those sneakers and noisemakers ready for our third annual Tabitha Miles for Meals Run!
The race will be held earlier this year on Saturday, March 30 and will include a NEW course for a 10-mile, 5K and 1-mile Kids Grand Prix in Lincoln.
Sign up early by March 23 for a discounted registration at www.Tabitha.org/Race.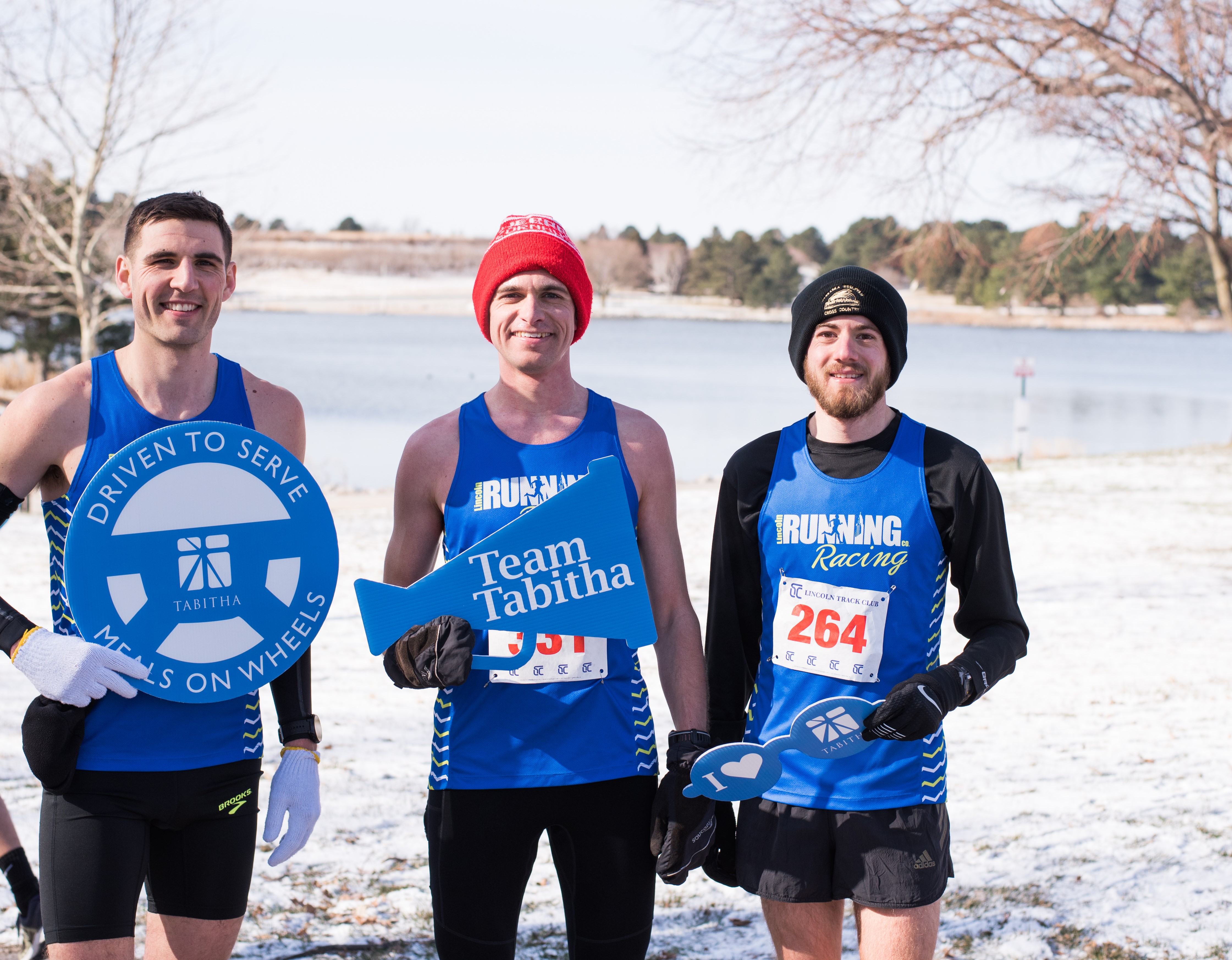 ---
Nominate Tabitha for Lincoln's Choice Awards

Help us continue being the Answer for Senior Care in Lancaster County by nominating us for the following categories in the 2019 Lincoln's Choice Awards:
1. Best Physical Therapy
Under "Health & Well Being"
2. Best Work Environment
3. Best Charity/Non Profit
4. Best Customer Service
Under "Services & Housing"
5. Best Senior Living Community
Under "Services & Housing"
Simply click here to submit your nominations (once per email address) by January 27.
Make sure to share this opportunity with your friends, family and colleagues who live in the area as well!
---
Tabitha in the News
10/11 News' Lance Schwartz rode along with volunteer, Amy Bartolome, last week to experience firsthand the difference delivering meals can make for Tabitha Meals on Wheels recipients in Lincoln.
Tabitha Meals on Wheels needs your help! Learn more about this volunteer opportunity by visiting www.Tabitha.org/Volunteer
To watch the full news story, visit this link.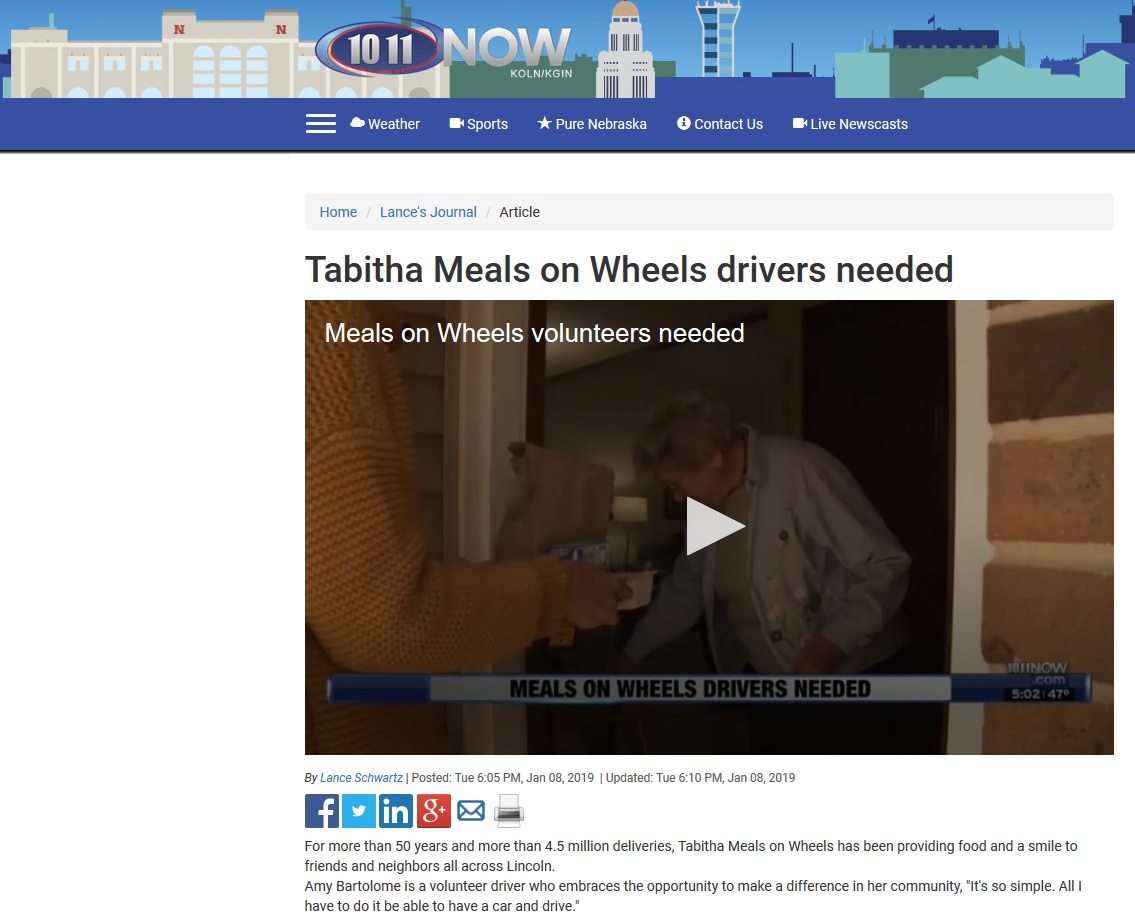 ---
Looking for Your W-2?
Your electronic W-2 is now available on ADP. Log into ADP, go to Myself > Pay > Annual Statements. See the screenshot below for reference.
Paper copies have arrived and can be picked up from the Talent & Culture office this week. Be sure to bring your ID or badge at time of pick up. For those on the main campus who do not retrieve their W-2s by 4 p.m., Fri., Jan. 18, they will be mailed.
For our regional/Crete/Williamsburg TEAMembers, W-2s will be placed in the mail Tues., Jan. 15. 
For questions, contact Talent & Culture or Lindy Mara.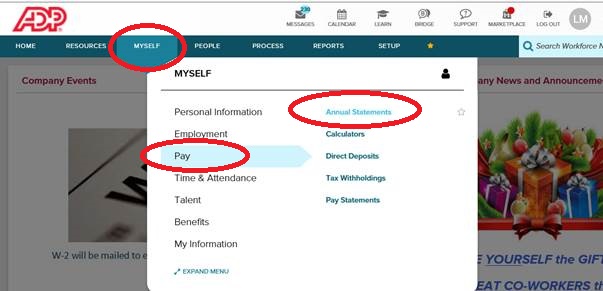 ---
Upcoming LIVE2CARE Sessions
Our first Live2Care session of 2019 will focus on the core values of Care and Cultivate.
This one-hour session will be led by Tami Ocken and Cheto Cerda and provide education to help TEAMembers maintain and improve their overall health and well-being. It will also cover new resources including SmartSelect Program and Online Wellness Platform as well as identify providers who can help TEAMembers save money while delivering a higher quality of care. 
This session is required for all TEAMembers enrolled in Tabitha benefit plans, but is strongly encouraged for all! 
If you're unable to attend in person, a video will be available to watch on Relias following all scheduled sessions:
CRETE:
February 8, 2-3 p.m., Multi-Purpose Room
GRAND ISLAND:
February 12, 11 a.m. - noon, Regional Office Conference Room
LINCOLN/MAIN CAMPUS:
February 13, 3-4 p.m., LifeQuest Conference Room
February 15, 10-11 a.m., LifeQuest Conference Room
February 22, 1-2 p.m., LifeQuest Conference Room
YORK:
February 20, 11 a.m. - noon, Regional Office Conference Room
WILLIAMSBURG CAMPUS:
February 21, 1:30-2:30 p.m., Harbor House Library
NEBRASKA CITY:
February 28, 11:30 a.m. -12:30 p.m., Regional Office Conference Room
---
Postage Rate Increase
Effective January 27, 2019, standard postage rates will increase:
Forever Stamp – 55 cents (formerly 50 cents)
Metered Letter – 50 cents (formerly 47 cents)
TIP: Bulk Marketing Mail now costs 65 percent LESS than using the postal meter.
Does your mailing qualify for the bulk rate?
Mailing must contain at least 200 identical, non-confidential pieces (letters or postcards)
Includes the Tabitha bulk permit in place of stamp (use bulk envelopes or stickers)
If your mailing qualifies for the bulk rate, complete the following steps to send your mailing:
1.     Separate Nebraska and out-of-state mail
2.     Complete Work Order Form, including GL code and count of in-state and out-of-state mail
The Work Order Form can be found on the online toolbox or at the Communications Desk
3.     Communications Desk will prepare check request and deliver to Post Office
For questions, contact Communications Desk by pressing "0" on your ShoreTel phone or calling 402.486.8520.
---
Making a Difference: Your Gifts in Action
The employee campaign invites all Tabitha TEAMembers to recognize that every dollar makes a difference and every TEAMember makes a difference. Because of your contributions, Commitment and compassionate spirit, we can continue to fulfill our mission of service.
Each month we recognize a campaign participant for their contributions.
Congratulations to this month's prize winner: Gloria Asch.
---
Hearts of Gold
Through the Hearts of Gold program, clients and families can uplift a Tabitha TEAMember or department by sharing a testimonial and contribution in their honor. The individual or team receives a Hearts of Gold pendant and recognition from Tabitha leaders. Thank you to each one of you who provide Customer Centric and compassionate Care every day to those we are privileged to serve.
Each quarter we will recognize an individual who has gone above and beyond and provided superior service.
Congratulations to this quarter's prize winner: Christal Outz.
---
Welcome!
Be sure to say hello and introduce yourself to these NEW Tabitha TEAMembers.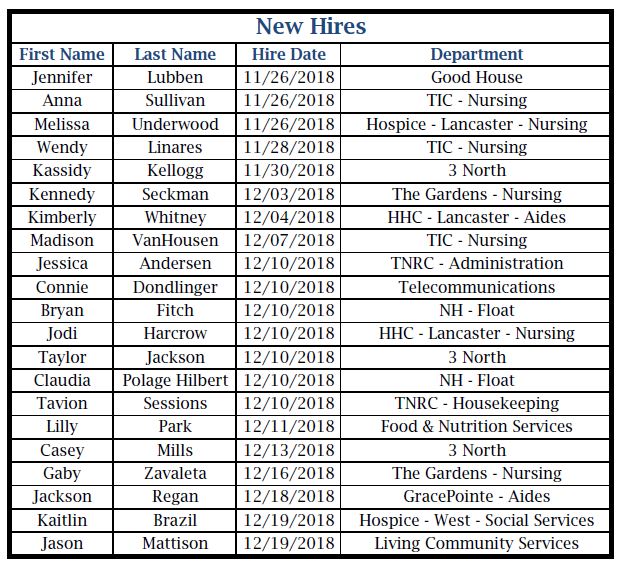 ---
YOUR Comments...YOUR Culture
Thanks to those who provided culture-related feedback by submitting comment cards in our Culture 'Cubes'. For those of you who would still like to submit feedback, there are a few Culture 'Cubes' left in high traffic areas such as the mail room, main staff lounge at TNRC and each of our offices in Nebraska City, Crete, York and Grand Island. Or drop the Refresh Team an email at Refresh@Tabitha.org (ALL comments are absolutely welcome and confidential.)
---
Do You Have Ideas? Please Share!
Ideas@Tabitha.org is a place where everyone throughout the Tabitha Continuum can share their ideas for improvement, cost savings and time management. It is a place to submit new ideas and be heard.
Information will be reviewed by members of the Executive Team and, if applicable, shared via the LIVEing Message Board. Email your ideas to Ideas@Tabitha.org or enter them below. We're listening!
You can also submit your idea below.