"So we do not lose heart. Even though our outer nature is wasting away, our inner nature is being renewed day by day."  
2 Corinthians 4:16
---
If you have information to contribute please complete the following form. All material must be sent in by noon each Thursday to be included in the following Tuesday's email. 
---
RSVP EXTENDED FOR TEAMember Celebration
You now have until Friday, March 22—end of business to RSVP.
Please RSVP, we need to hear from you one way or the other – YES or NO at this link.
Some incentives to attend (in addition to great company)…
Dinner catered by top-rated, Lincoln restaurant - The Venue

Lent friendly main course option of salmon (along with chicken)

Opportunity to take home some great prizes
We'd really love to see you and a guest there!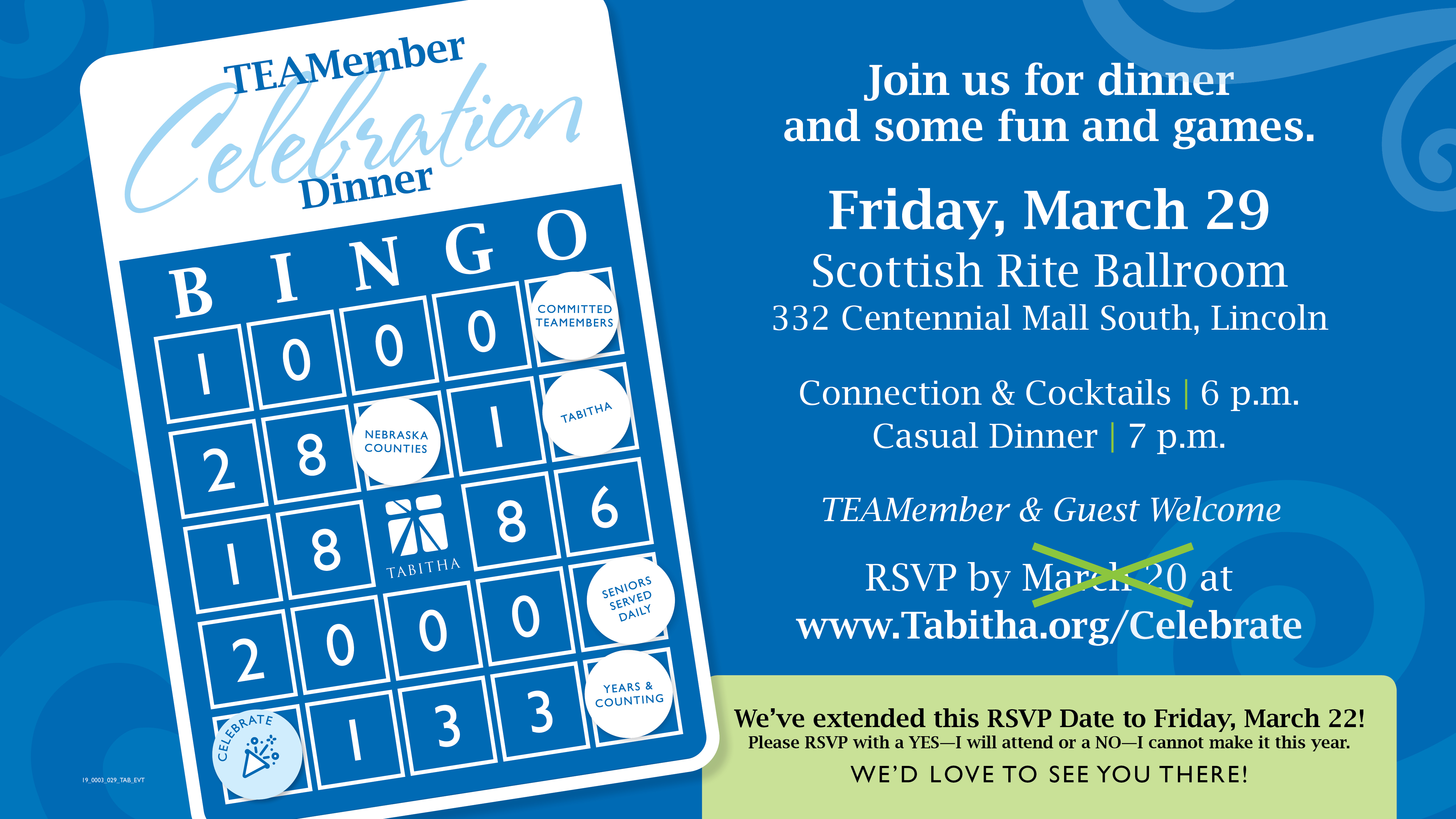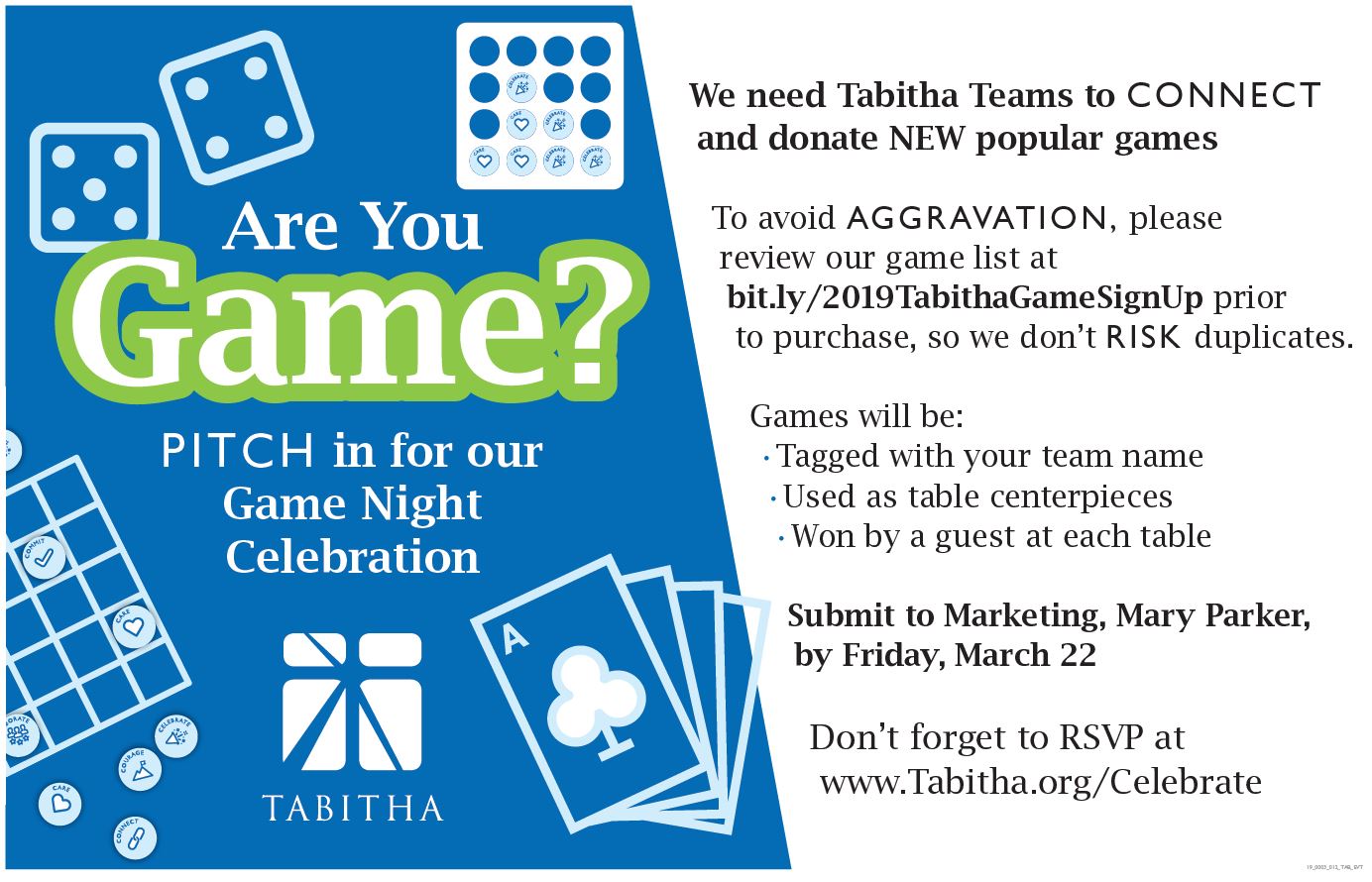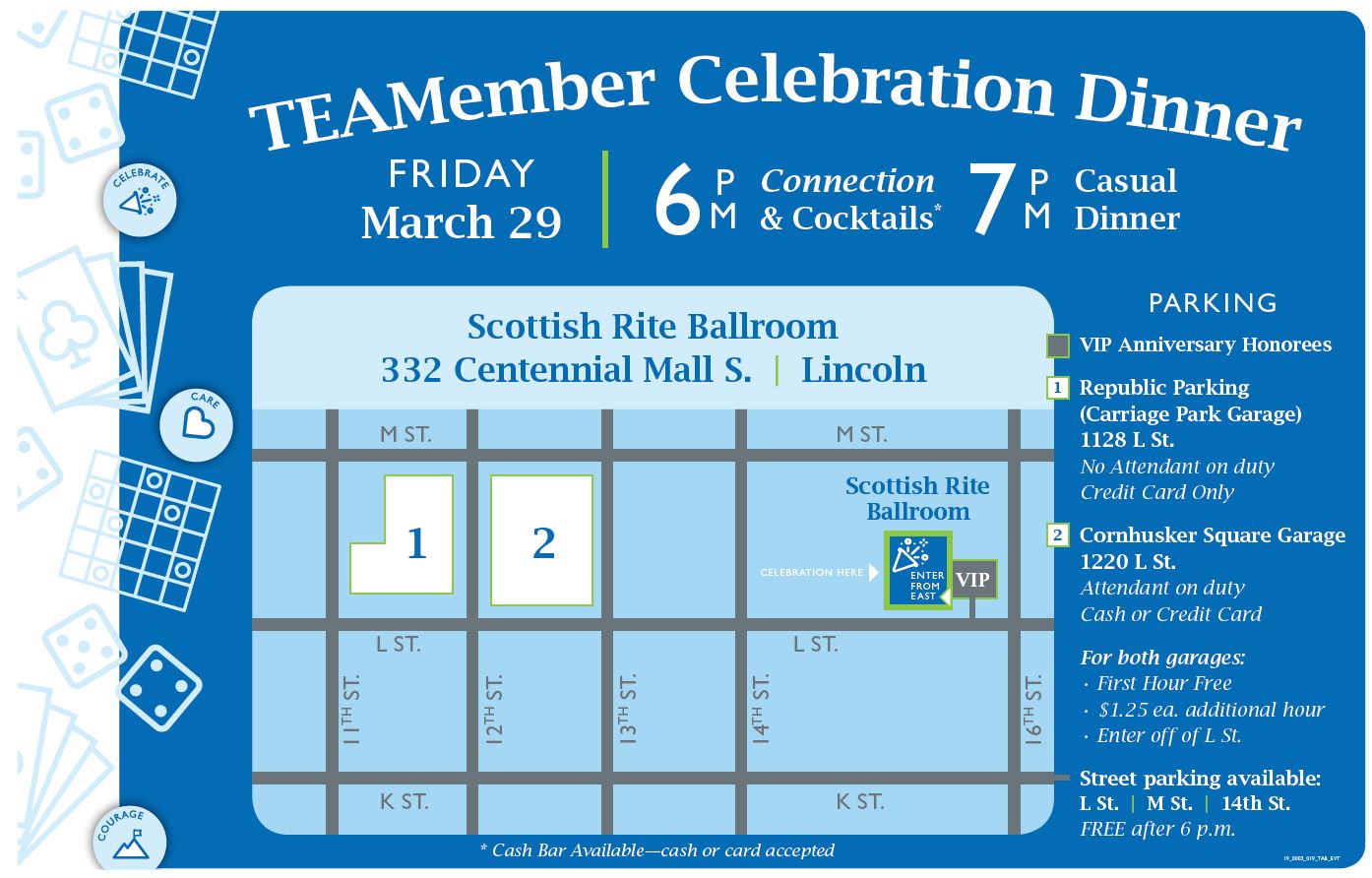 ---
Ready, Set…Race!
Get those sneakers and noisemakers ready for our third annual Tabitha Miles for Meals Run!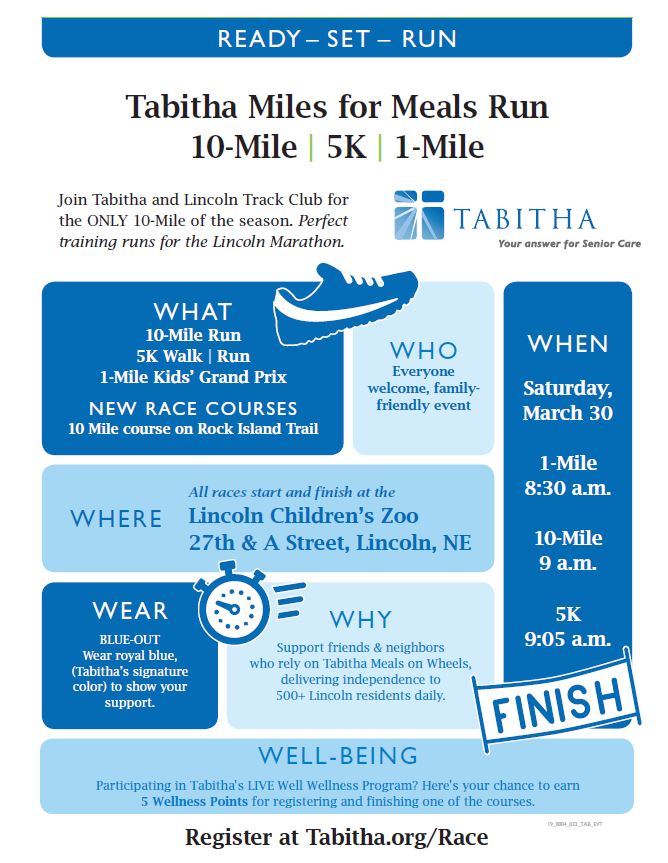 If you'd like a copy of our training programs to help you stay on target, contact Cheto Cerda at 402.484.9820 (x3820) or Cheto.Cerda@Tabitha.org. Always remember to warm up for 5-10 minutes before a workout and perform stretches after.
For those of you walking or running, here are some fellow Tabitha TEAMembers to buddy up with on the course:

---
March IN and Dine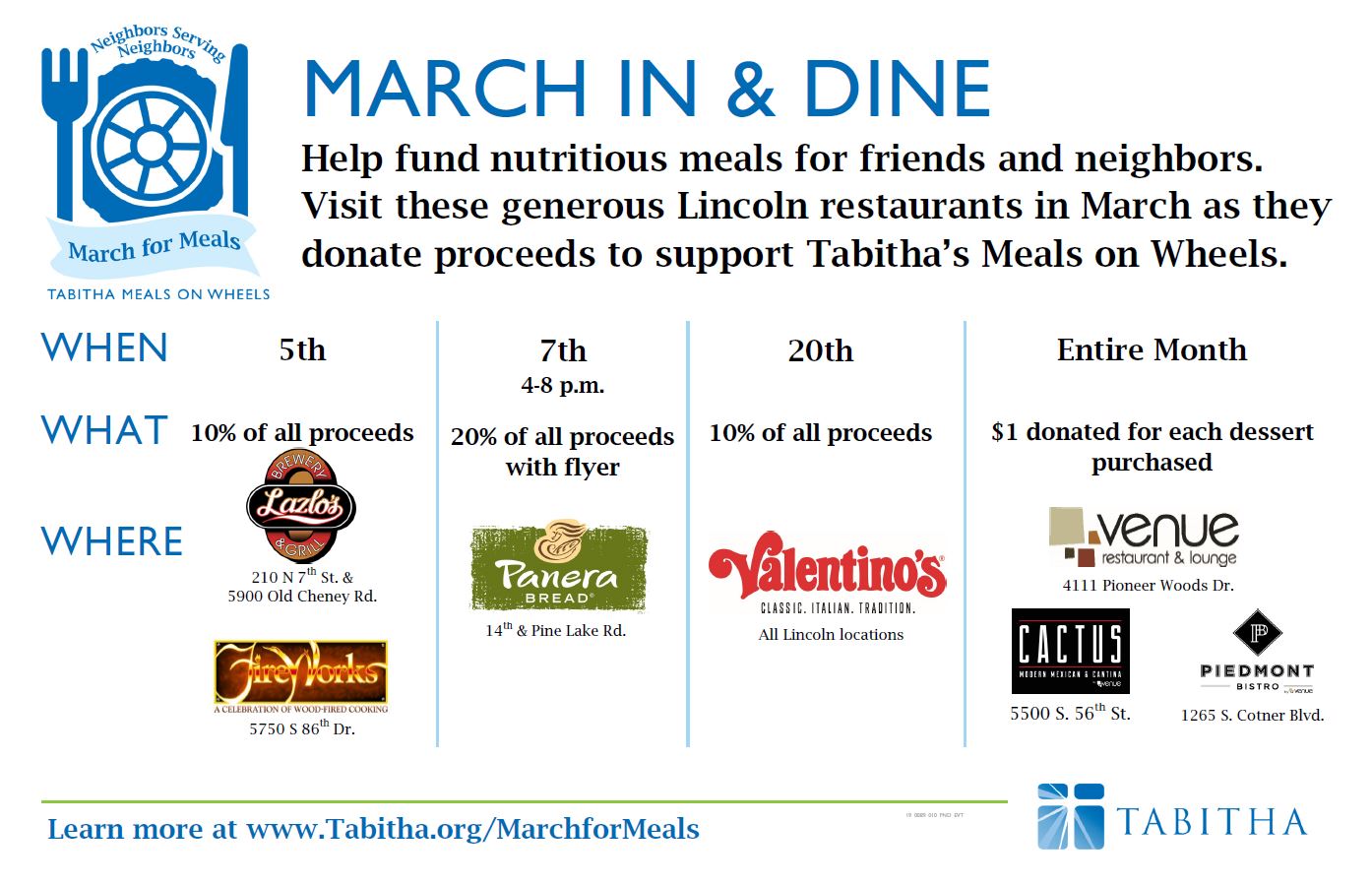 ---
Because Tabitha TEAMembers Care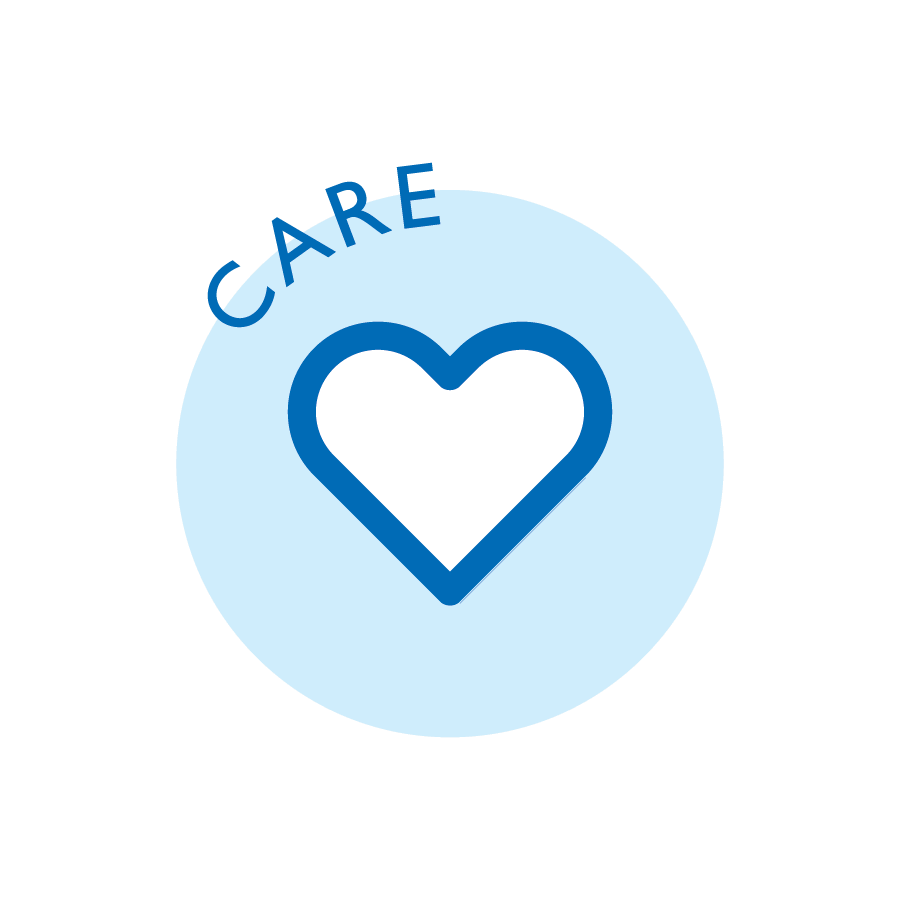 In true Tabitha fashion, several TEAMembers have reached out to understand how they can help victims of the recent devastating flooding. Here are some trusted organizations that would appreciate your support.
Our thoughts and prayers are with TEAMembers and fellow Nebraskans who've been impacted by this ongoing disaster.
Nebraska Synod
If writing a check, please include "Nebraska Floods" in the memo line and mail to:
Nebraska Synod
6757 Newport Ave., Ste. 200
Omaha, NE 68152
American Red Cross
American Red Cross of Nebraska & Southwest Iowa is encouraging residents who want to help others during these floods to donate to their relief fund.
To make a gift to Red Cross Disaster Relief:
Visit redcross.org and select "I want to Support Disaster Relief"
Call 1-800-RED CROSS
Text the word REDCROSS to 90999 to make a $10 donation
Mail check to American Red Cross, 2912 S. 80th Ave., Omaha, NE 68124
Salvation Army
The Salvation Army is in action in northeast Nebraska and western Iowa working alongside first responders and authorities to provide relief to victims of the widespread flooding. You can help relief efforts by donating here.
United Way of the Midlands
100 percent of every donation to the Nebraska/Iowa Flood Relief Fund will be directed to nonprofit programs meeting peoples' needs for emergency shelter, food and more. Donors will have the opportunity to direct their gift to a specific community within Nebraska or Iowa if they so wish. You can text FLOODRELIEF (all caps, no space) to 41444 or visit this website to donate now. United Way of the Midlands encourages everyone in need of assistance to call 2-1-1, text their zip code to 898211 or visit www.ne211.org. The 2-1-1 Helpline will be available 24/7 for the immediate future.
Catholic Social Services
Catholic Social Services of Southern Nebraska says it's accepting monetary donations to assist those affected by the horrific and ongoing flood/storm damage in Nebraska. Checks may be mailed to them at their administrative offices (2241 O St., Lincoln, NE 68510) OR via their website.
If donating by check, be sure to list "flood relief" in your check memo. If donating online, designate "flood relief" in the "specific designation for your gift" field.
Grand Island Community Foundation
The Grand Island Community Foundation has established a Disaster Relief Fund for Central Nebraska. Funds will be available for the local area to assist with relief related to the disastrous flooding seen in the Central Nebraska area. Those wishing to contribute to the fund can do that at www.gicf.org. GICF will be in contact with local communities to distribute the funds.
Kearney Area Community Foundation
The Kearney Area Community Foundation has a Disaster Relief Fund set up to help those in the Kearney area suffering loss from the recent devastating flooding. To show your support, visit this website to donate to the Disaster Relief Fund. All donations will stay in our area.
Nebraska Farm Bureau Foundation
The Nebraska Farm Bureau Disaster Relief Fund is accepting donations at this website to a fund that will go towards providing emergency aid to farmers, ranchers and rural communities in Nebraska affected by the storms and flooding. You can also write a check and send it to:
Nebraska Farm Bureau Foundation
Attn: Disaster Relief Fund
P.O. Box 80299, Lincoln, NE 68501-0299
---
Be a Part of Our March for Meals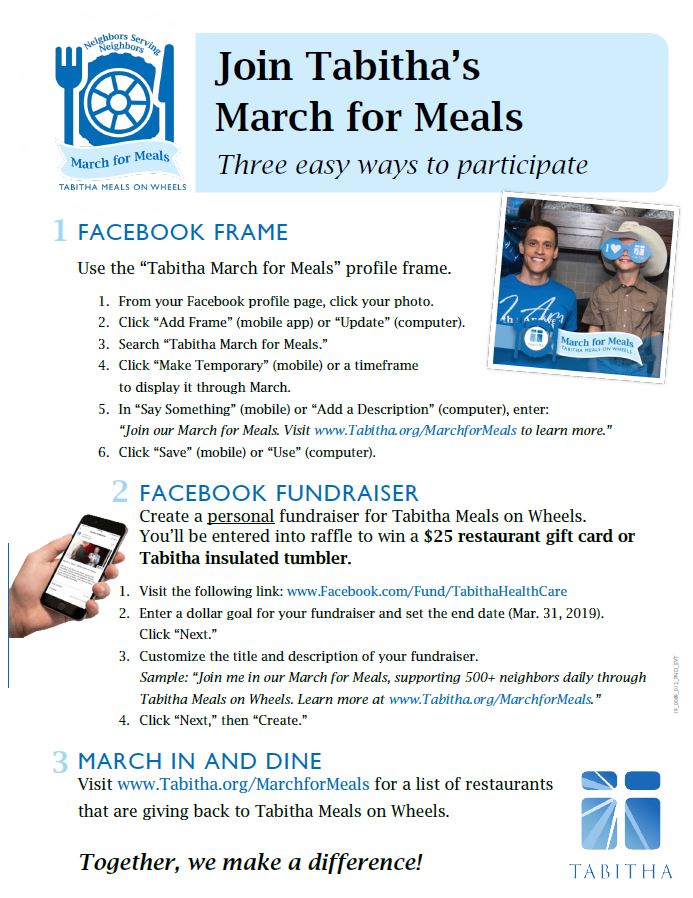 ---
New CPR Lab Coming Soon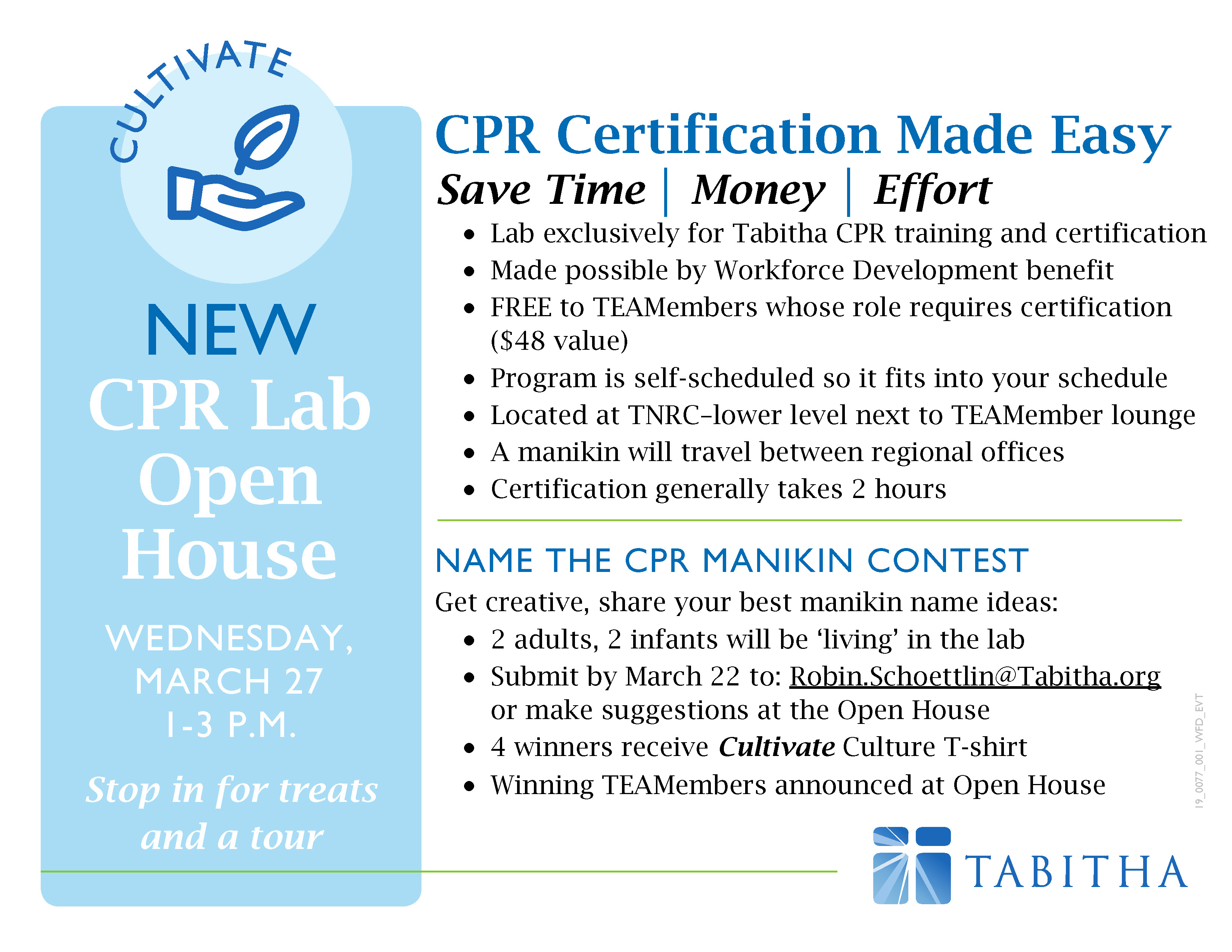 ---
Prepare to Get WOW'd
Please attend an upcoming session near you to learn what WOW is all about: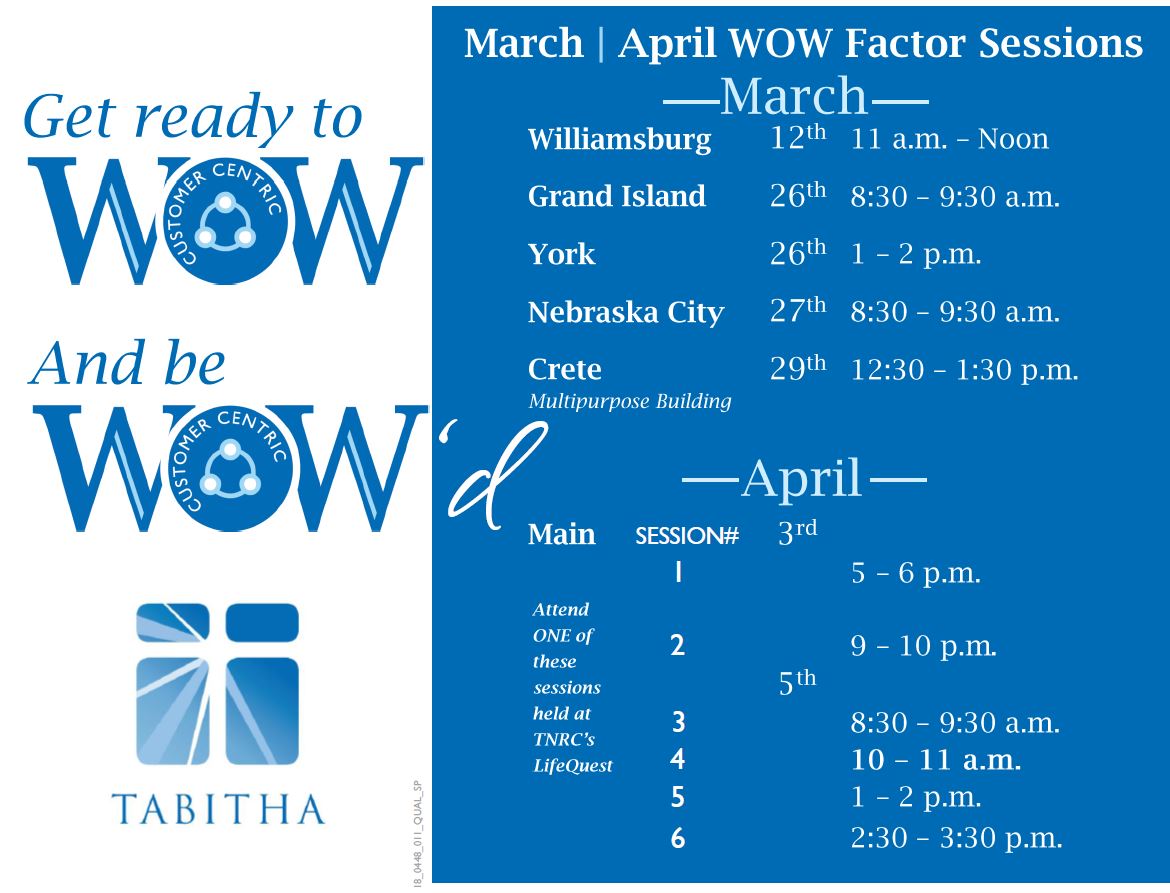 ---
Items Needed for GracePointe Prom
GracePointe needs your help collecting props and decorations for their annual prom. This year's theme is "Springtime in the Country," and it will be held on Thursday, April 25.
Items needed include:
Old clear mason jars (any size)
Wooden crates 
Barn wood scraps
White lanterns
Antique white or brown window frames (no glass)
Strips of old lace
Burlap scraps
Old wood embroidery hoops
Straw bales   
Galvanized buckets                                                                 
If anyone has items they would like to donate or loan, please contact Brenda Potter, 402.484.9861 (x3861) or Brenda.Potter@Tabitha.org. Items must be dropped off by Monday, April 22.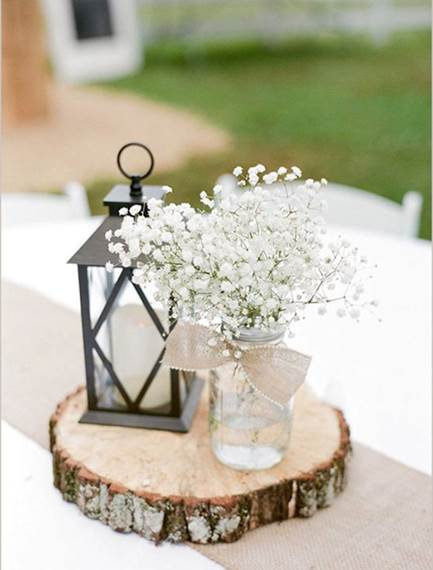 ---
New Caregiver Support Group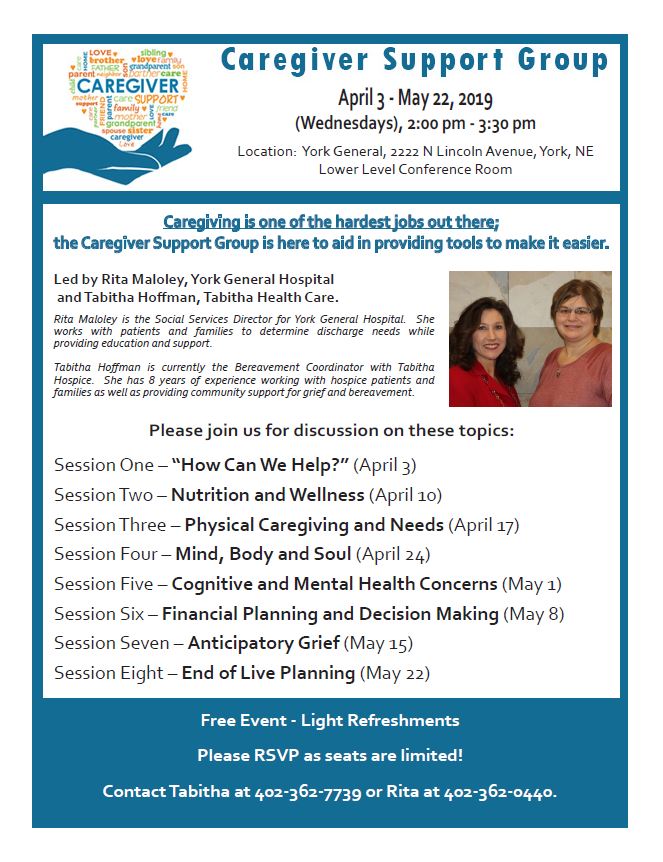 ---
Making a Difference: Your Gifts in Action
The employee campaign invites all Tabitha TEAMembers to recognize that every dollar makes a difference and every TEAMember makes a difference. Because of your contributions, Commitment and compassionate spirit, we can continue to fulfill our mission of service.
Each month we recognize a campaign participant for their contributions.
Congratulations to this month's prize winner: Deborah Mabon.
---
Hearts of Gold
Through the Hearts of Gold program, clients and families can uplift a Tabitha TEAMember or department by sharing a testimonial and contribution in their honor. The individual or team receives a Hearts of Gold pendant and recognition from Tabitha leaders. Thank you to each one of you who provide Customer Centric and compassionate Care every day to those we are privileged to serve.
Each quarter we will recognize an individual who has gone above and beyond and provided superior service.
Congratulations to this quarter's prize winner: Christal Outz.
---
Welcome!
Be sure to say hello and introduce yourself to these NEW Tabitha TEAMembers.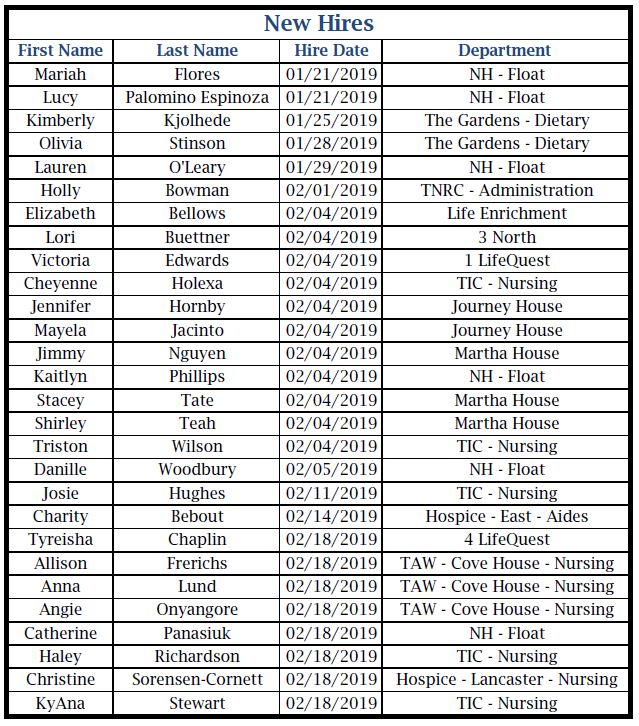 ---
YOUR Comments...YOUR Culture
Thanks to those who provided culture-related feedback by submitting comment cards in our Culture 'Cubes'. For those of you who would still like to submit feedback, there are a few Culture 'Cubes' left in high traffic areas such as the mail room, main staff lounge at TNRC and each of our offices in Nebraska City, Crete, York and Grand Island. Or drop the Refresh Team an email at Refresh@Tabitha.org (ALL comments are absolutely welcome and confidential.)
---
Do You Have Ideas? Please Share!
Ideas@Tabitha.org is a place where everyone throughout the Tabitha Continuum can share their ideas for improvement, cost savings and time management. It is a place to submit new ideas and be heard.
Information will be reviewed by members of the Executive Team and, if applicable, shared via the LIVEing Message Board. Email your ideas to Ideas@Tabitha.org or enter them below. We're listening!
You can also submit your idea below.