"Let your steadfast love, O Lord, be upon us, even as we hope in you."     
Psalm 33: 22
---
If you have information to contribute please complete the following form. All material must be sent in by noon each Thursday to be included in the following Tuesday's email. 
---
Vote Tabitha for Lincoln's Choice Awards

Thanks to your nominations, Tabitha placed in the top 5 for several categories in the Lincoln's Choice Awards this year!
Help us continue being the Answer for Senior Care in Lancaster County by visiting the following links and voting for us in:
VOTE EVERY DAY BETWEEN FEBRUARY 11-24!
Make sure to share this opportunity with your friends, family and colleagues who live in the area as well!
---
Upcoming LIVE2CARE Sessions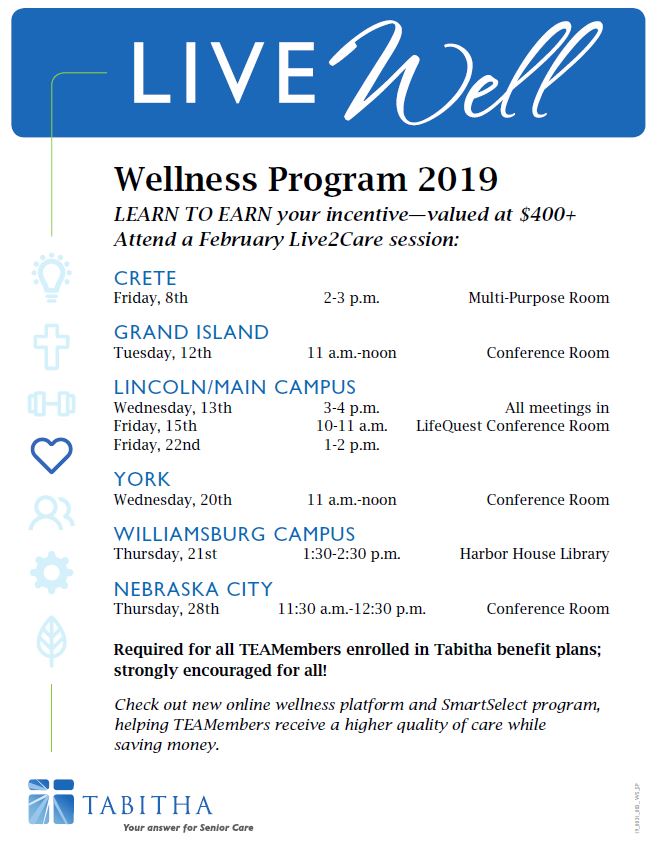 ---
Ready, Set…Race!
Get those sneakers and noisemakers ready for our third annual Tabitha Miles for Meals Run!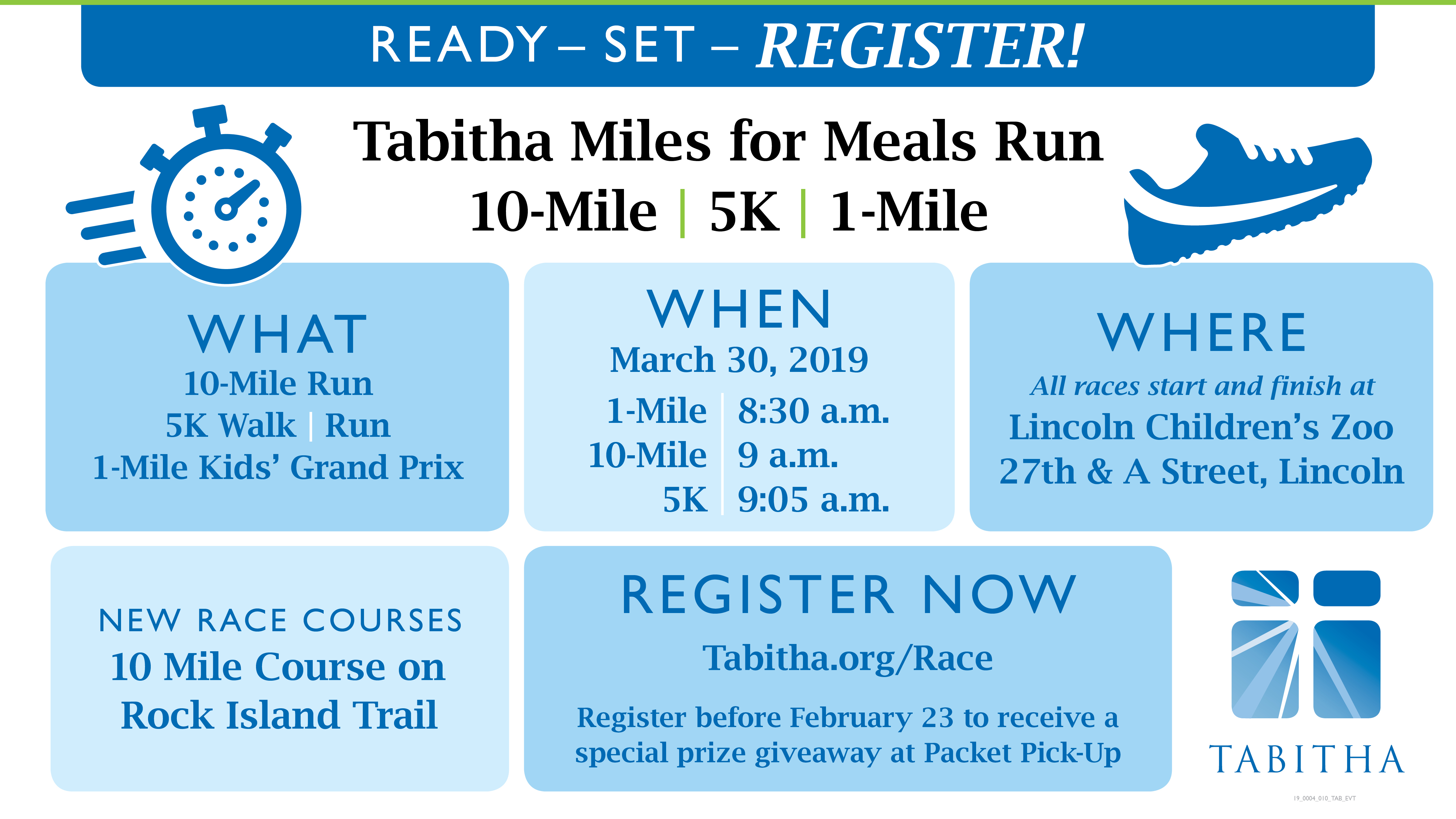 If you'd like a copy of our training programs to help you stay on target, contact Cheto Cerda at 402.484.9820 (x3820) or Cheto.Cerda@Tabitha.org. Always remember to warm up for 5-10 minutes before a workout and perform stretches after.
For those of you walking or running, here are some fellow Tabitha TEAMembers to buddy up with on the course:
Larry Cook III
Jessica Grosse
Sarah Jacobsen
Michelle Janak
Taylor Miller
Christy Prang
Erin Reed
Chloe Seipel
John Seipel
Tasha Bredvick
Catherine Jolito
Valerie Standeven
Marci Whipple
Jenn Leamons
---
New CPR Lab Coming Soon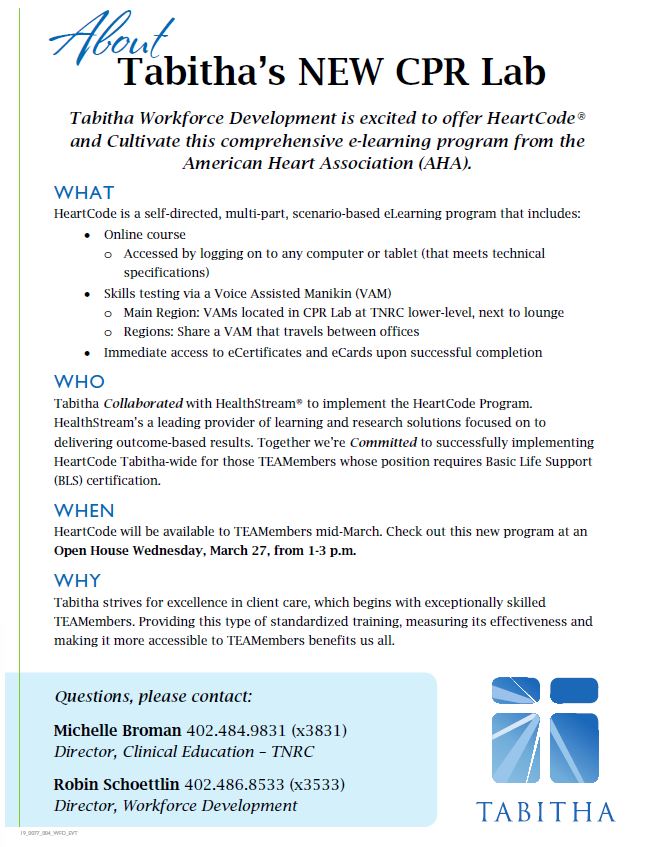 ---
Workforce Development in Action
Earlier this month, 14 Tabitha therapists participated in a 32-hour lymphedema training course and received their certification thanks to a Collaborative effort between Tabitha's Workforce Development and Foundation teams.
Lymphedema is a long-term condition where excess fluid collects in tissues causing swelling (edema). It commonly affects one of the arms or legs, or both, and can sometimes cause swelling in other areas such as the head or chest. There are a number of possible causes including cancer surgery and radiation therapy, infections, injury, inflammatory conditions, trauma and cardiovascular diseases. Although it's incurable, with the right treatment it can be controlled.
These techniques and skills will greatly improve Tabitha's rehabilitation therapy quality, especially for clients with cancer, rheumatoid arthritis and congestive heart failure. Alongside treatment, the therapists will also be able to teach clients massage techniques they can do at home to help reduce inflammation and pain.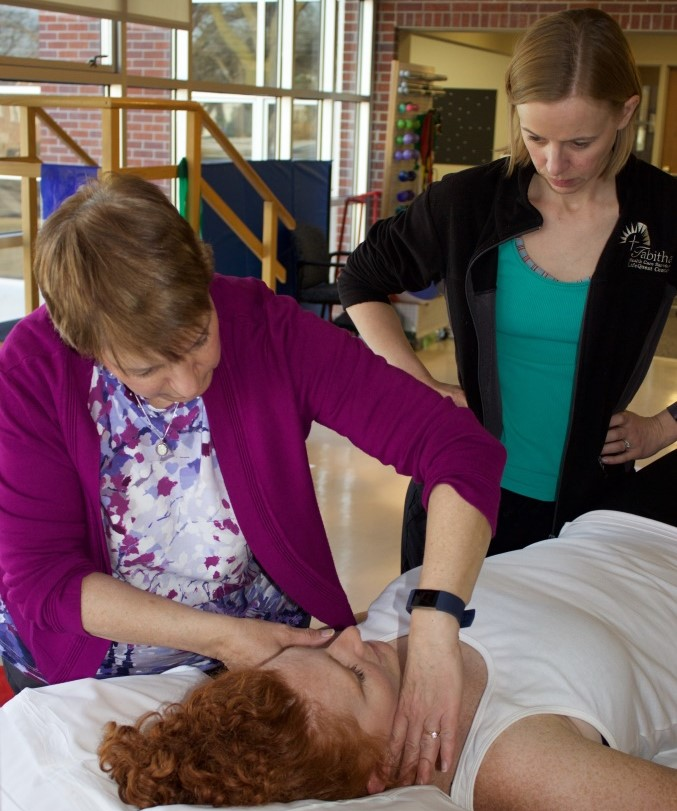 Pictured above, lymphedema specialist and practicing therapist, Ann Elise Kryszak, OTR, CLT, instructs Tabitha TEAMembers on proper treatment techniques.
---
Submit Your Nomination Today
(Click the flyer below to download the nomination form.)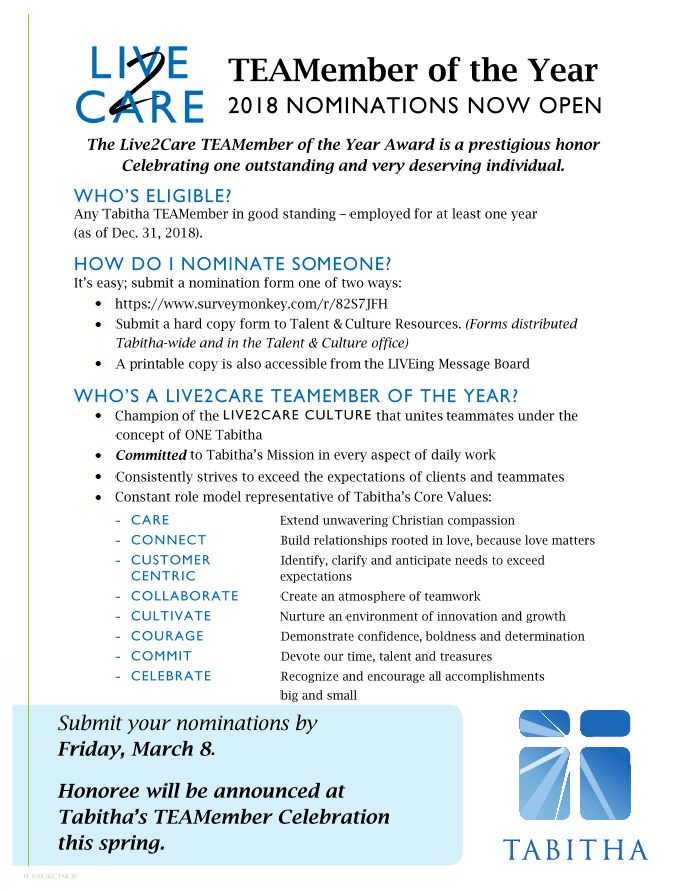 ---
Don't Miss Out on This!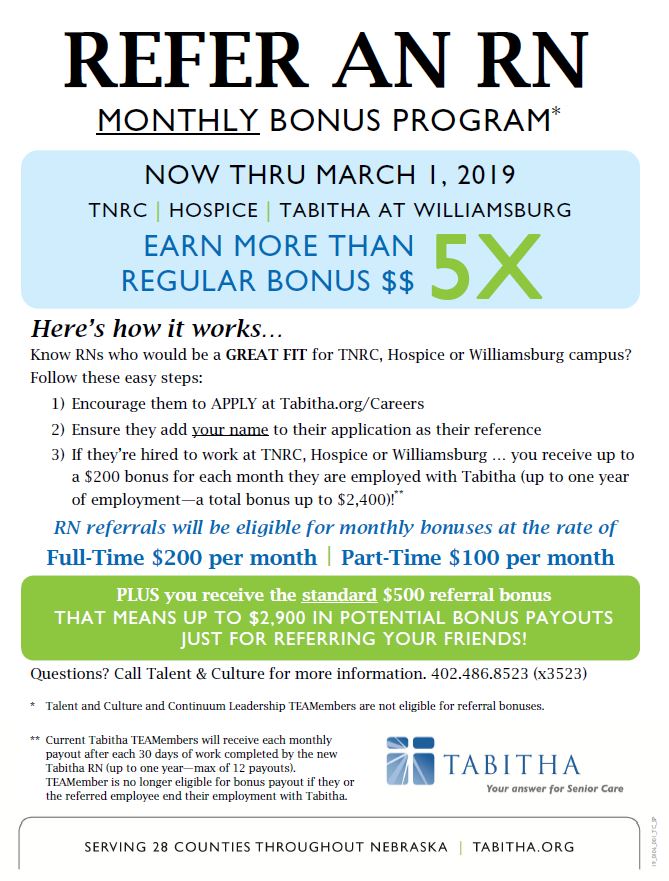 ---
Mark Those Calendars!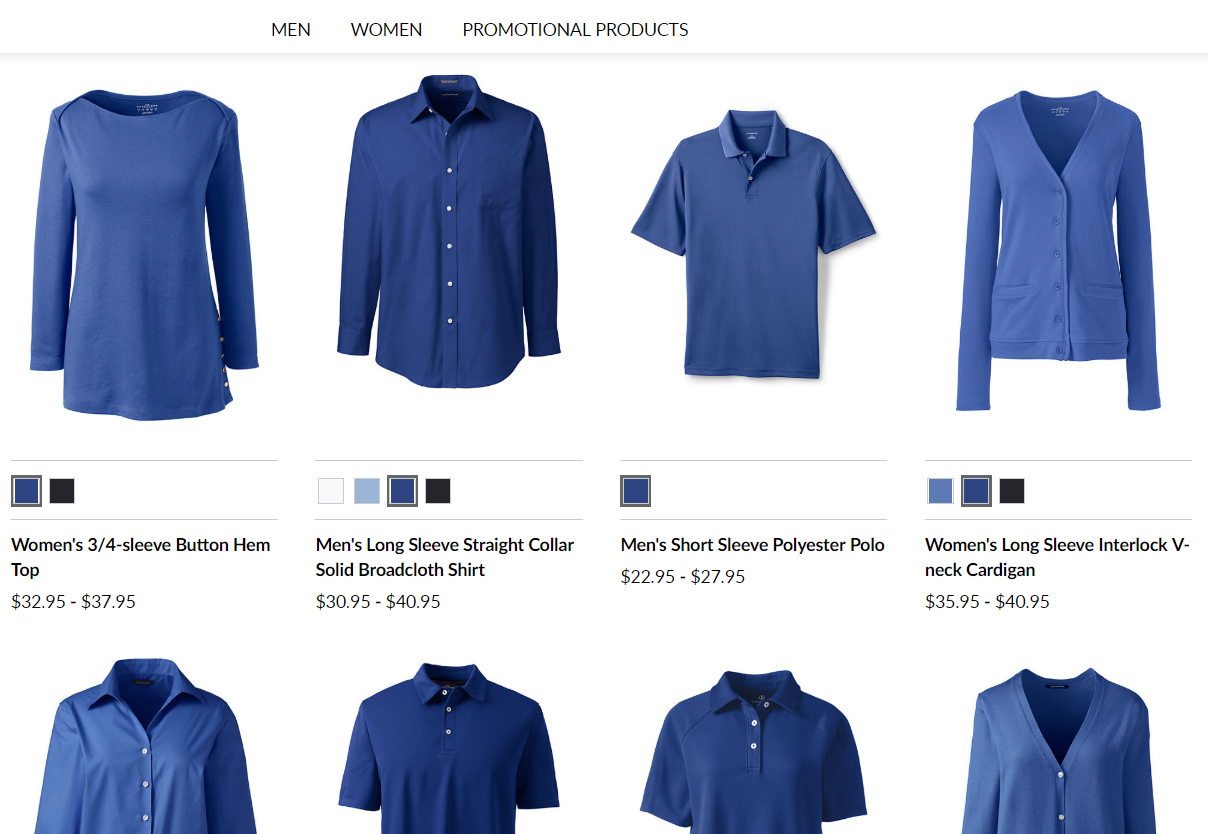 ---
Prepare to Get WOW'd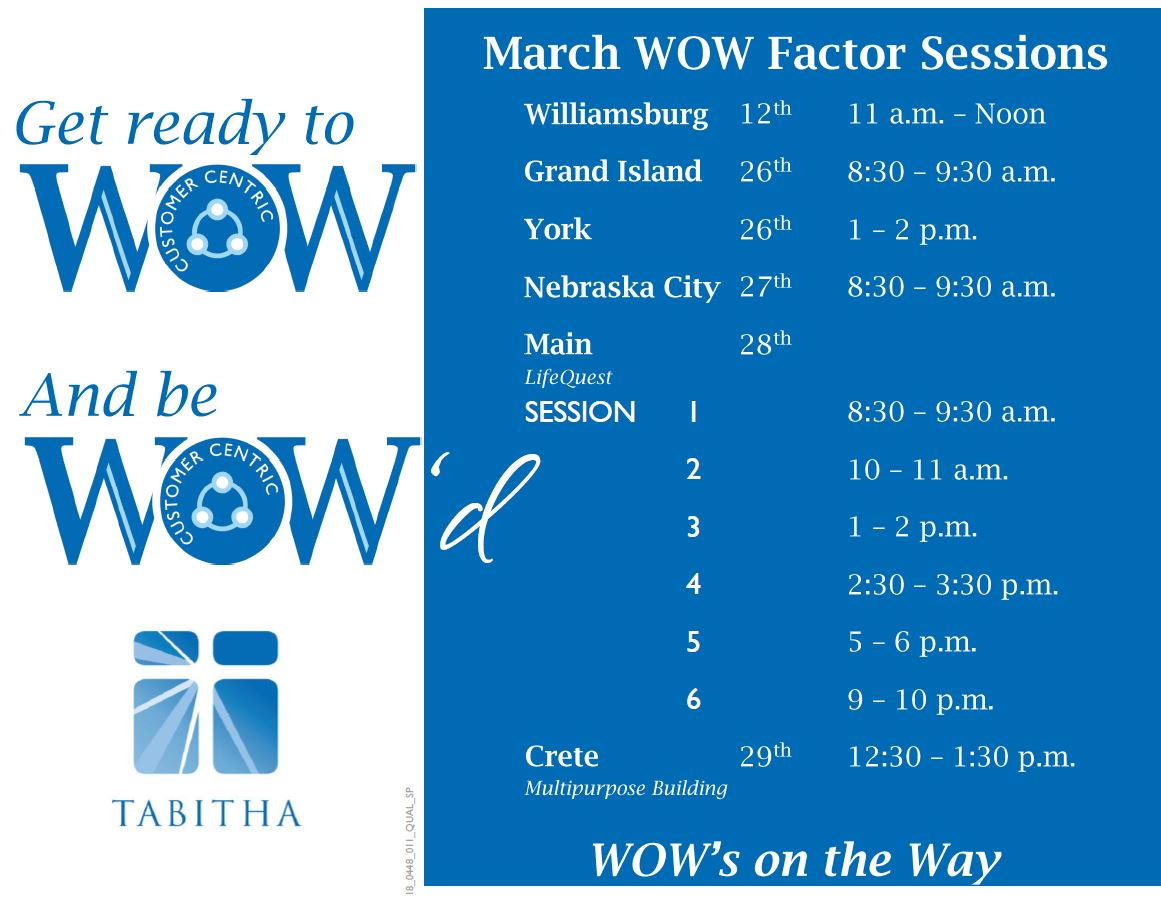 ---
Making a Difference: Your Gifts in Action
The employee campaign invites all Tabitha TEAMembers to recognize that every dollar makes a difference and every TEAMember makes a difference. Because of your contributions, Commitment and compassionate spirit, we can continue to fulfill our mission of service.
Each month we recognize a campaign participant for their contributions.
Congratulations to this month's prize winner: Rosie Dinan.
---
Hearts of Gold
Through the Hearts of Gold program, clients and families can uplift a Tabitha TEAMember or department by sharing a testimonial and contribution in their honor. The individual or team receives a Hearts of Gold pendant and recognition from Tabitha leaders. Thank you to each one of you who provide Customer Centric and compassionate Care every day to those we are privileged to serve.
Each quarter we will recognize an individual who has gone above and beyond and provided superior service.
Congratulations to this quarter's prize winner: Christal Outz.
---
Welcome!
Be sure to say hello and introduce yourself to these NEW Tabitha TEAMembers.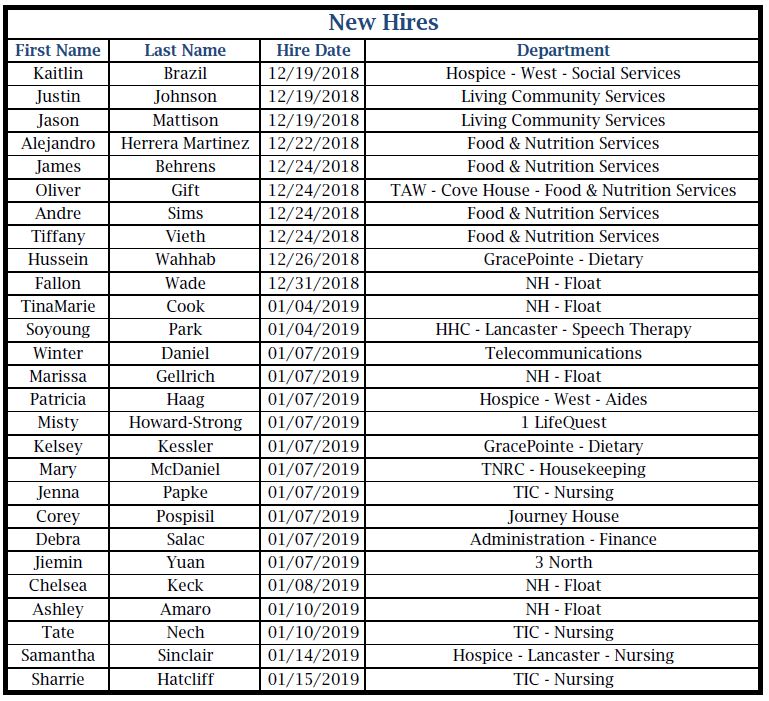 ---
YOUR Comments...YOUR Culture
Thanks to those who provided culture-related feedback by submitting comment cards in our Culture 'Cubes'. For those of you who would still like to submit feedback, there are a few Culture 'Cubes' left in high traffic areas such as the mail room, main staff lounge at TNRC and each of our offices in Nebraska City, Crete, York and Grand Island. Or drop the Refresh Team an email at Refresh@Tabitha.org (ALL comments are absolutely welcome and confidential.)
---
Do You Have Ideas? Please Share!
Ideas@Tabitha.org is a place where everyone throughout the Tabitha Continuum can share their ideas for improvement, cost savings and time management. It is a place to submit new ideas and be heard.
Information will be reviewed by members of the Executive Team and, if applicable, shared via the LIVEing Message Board. Email your ideas to Ideas@Tabitha.org or enter them below. We're listening!
You can also submit your idea below.