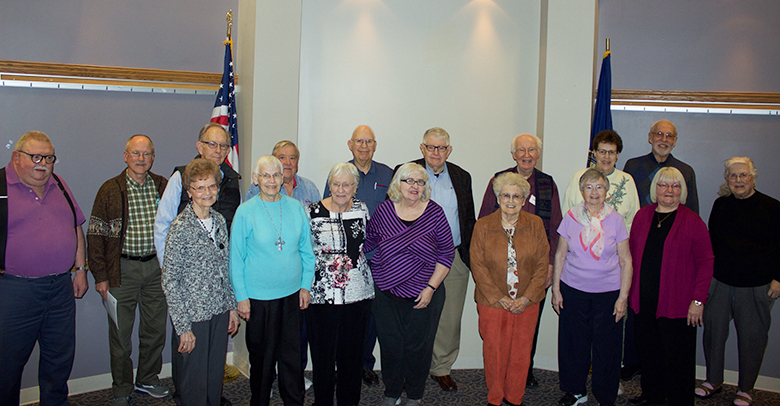 Tabitha Gathers Retired Pastors for Annual Celebration
Tabitha, Nebraska's industry-leading Senior Care provider, was honored to host a select group of retired Lincoln pastors, missionaries and their wives at the annual Amazing Grays Luncheon March 16 at Tabitha Nursing and Rehabilitation Center. Several in attendance have given their time, talent and treasure through donations to Tabitha and volunteering through Tabitha Meals on Wheels and the Tabitha Chapel.
The event celebrated several of Tabitha's key accomplishments last year including the 50th anniversary of Tabitha Meals on Wheels, a community-wide program which delivers a hot, noon meal to over 500 seniors every day. The presentation highlighted Tabitha's first-ever run, Tabitha 10k and 2-mile Race, held at Holmes Lake Park in support of the Tabitha Meals on Wheels program. Several pictures of the grand opening of the beautiful Tabitha Residence—Harbor House, located lakeside in Lincoln's Williamsburg neighborhood, were shared with the attendees. Tabitha was also pleased to reveal the acceptance of the national LeadingAge Trusted Voice Award, a prestigious award given to organizations in the senior care industry, as well as The Best of Lincoln Award for Tabitha Home Health Care.
"We are honored to gather today to celebrate the friendship and generosity of the community," said Tabitha Planned Giving Officer Richard Becker. "The advocacy and guidance from this group of retired pastors and countless others helps strengthen Tabitha's presence and exceptional service to over 2,000 Nebraska Seniors daily."
At Tabitha there are a multitude of ways to support Seniors in your community, including sponsoring special events, providing planned contributions, gift annuities and so much more. Contact the Tabitha Foundation at 402.486.8509 for more information about how you can help make a difference in Seniors' lives.