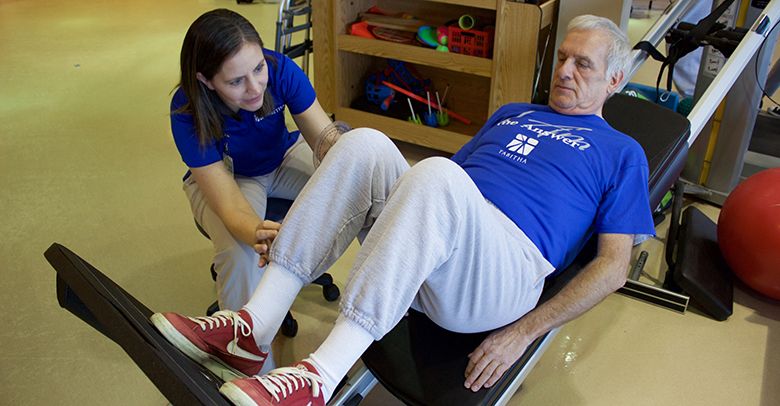 Bounce Back Better
Inpatient, in-home & outpatient care, Tabitha has your recovery COVERED
After bilateral knee replacement surgery, Bruce Christensen seamlessly transitioned from hospital to home thanks to Tabitha's continuum of services. Bruce and his wife, Mary, prepared for the procedure by collaborating with Tabitha Nursing and Rehabilitation Center's (TNRC) Continuum Navigation and therapy teams to develop a post-surgery care plan with his physician. During a quick, weeklong stay, he resided comfortably in a private suite where he had easy access to exceptional nursing care in addition to his daily physical therapy sessions.
"I appreciate how the Tabitha team took extra steps to ensure I was doing okay and that my needs were met," Bruce shared. "I put total faith into the therapists and had the mindset that I was going to get better. Sure, there've been moments of discomfort, but I really feel like I've done well and am so pleased with Tabitha's services."
Due to his upbeat outlook, willpower and the expertise from Tabitha Rehabilitation, Bruce's recovery went according to plan and he progressed to work with Tabitha Home Health Care through therapy sessions in the comfort of his own home. Fast forward two months and Bruce now drives over to Tabitha's main campus, airy state-of-the art LifeQuest Rehabilitation Gym in central Lincoln, twice a week for outpatient treatment.
Erinn Golick, one of Bruce's physical therapists added, "Being proactive and positive, like Bruce, goes a long way. He was ready to put in the hard work, and it paid off. It is not unusual for clients we serve to leave feeling much better than before their surgeries or hospital stays. One of the best aspects of my work is to watch a client's progress. It is fulfilling to help someone get stronger and more stable."
And as if therapy isn't enough, at 72 Bruce is using therapy as a bit of a wake-up call to kick-start a more active lifestyle and is determined to maintain his strength and balance through biking, walking and outdoor activities. He is better prepared to do the things he loves like spending time with grandchildren and traveling. A true inspiration to his family, his wife now joins him in regular exercise.
View more information about Tabitha Rehabilitation here, or contact a Continuum Navigator.