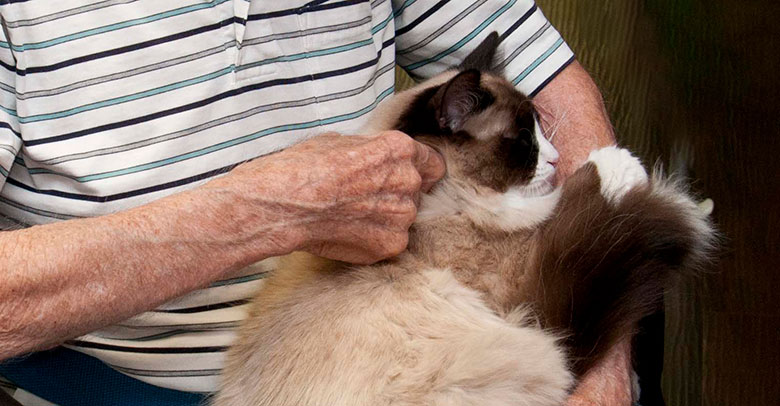 Cat Therapy is for All Ages and Walks of Life
Cats are the most requested therapy animal after dogs, but make up only three percent of all therapy animals, according to Allison Hunter-Frederick of Lincoln Animal Ambassadors. The comfort provided by a therapy cat is a well-kept secret that Allison wants to let out of the bag.
Pet therapy is used to help people with health issues or mental disorders. Pet owners and their animals get evaluated and certified to provide emotional and social support, in addition to helping achieve physical goals. Therapy cats encourage interaction and reduce anxiety as well as provide companionship and entertainment to clients.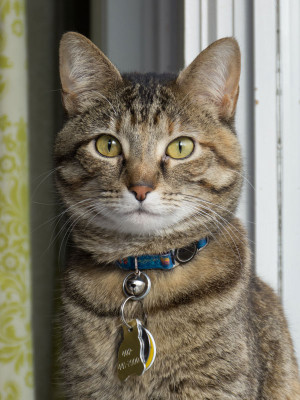 Allison's cat, Rainy, is a certified therapy cat and Tabitha Volunteer. Together, they visit Seniors at Tabitha Nursing and Rehabilitation Center (TNRC), and are also trained Tabitha Hospice Volunteers. The pair work with an organization called Love on a Leash, a nonprofit that helps therapy teams get the training and certification they need to provide support in the community.
How can cats improve patients' well-being?
Lower blood pressure
Reduce stress
Decrease isolation and boredom
Improve communication
Develop sense of community
In addition, the vibration from a cat's purr can actually slow down breathing, improve bone density and promote healing. Therapy cats can also help stimulate memories and emotions in individuals suffering from dementia and Alzheimer's disease. Beyond the patient, cat therapy provides needed comfort and healing for family members, too.
Who can benefit from cat therapy?
Chemotherapy patients
Long-term care facility residents
Memory care residents
People in the hospital
Veterans with post-traumatic stress disorder
Children having procedures
Stroke victims
Rehabilitation therapy clients working to regain motor skills
People with mental health disorders and sensory disabilities
Where is cat therapy used?
Senior living communities
Senior centers
Youth centers, schools and libraries
Hospitals
Hospice (communities or in people's homes)
Drop-in and group homes
Prisons and shelters
How do therapy cats interact with clients?
Clients can:
Watch them play with toys and do tricks
Feed and groom the cat
Hold or let the cat sit on their lap
Enjoy the animal's comforting presence
What is the ideal therapy cat?
Any size or breed
One year or older
Current on shots
Able to wear a leash and harness
Enjoy car rides
House-trained
Comfortable with dogs
Calm and loving
Allison enjoys seeing the joy that Rainy brings to Seniors and their families at Tabitha and encourages cat owners to consider being part of a certified therapy team.
See links below to learn more today: