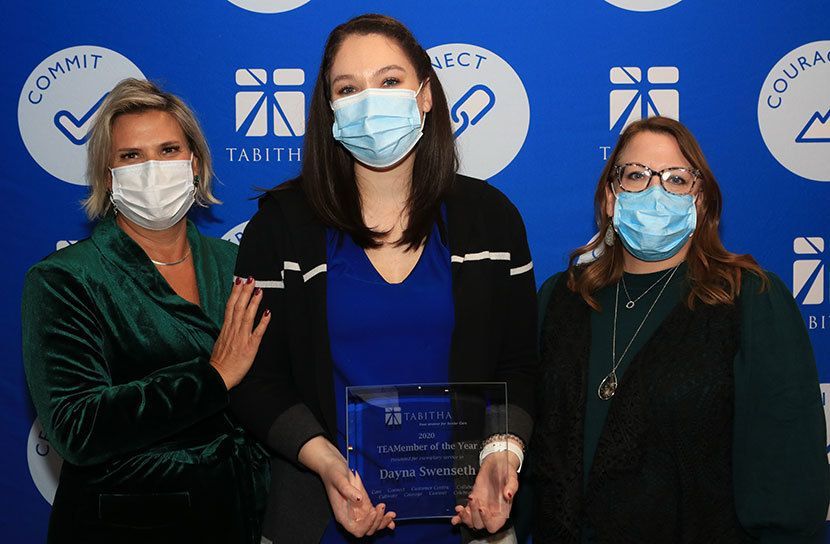 Tabitha Taps Dayna Swenseth as TEAMember of the Year
Nonprofit Tabitha, Nebraska's industry-leading Senior Care provider, honored Dayna Swenseth as Tabitha's 2020 TEAMember of the Year at its TEAMember Celebration event on Dec. 9. As director of nursing, Swenseth is responsible for leading all nursing units at Tabitha Nursing and Rehabilitation Center in Lincoln. She was spotlighted for her successful management of the ongoing COVID-19 pandemic.
Beginning her career in compassion, Swenseth started at Tabitha in 2017 as a nursing manager. Since then, she has also held the positions of: quality assurance coordinator, infection preventionist and assistant director of nursing. She was promoted to director of nursing earlier this year. 
Swenseth reflects all of Tabitha's Core Values, especially those of commitment, courageous vision and collaboration. Tonya Richards, Tabitha Nursing and Rehabilitation Center's administrator echoed the words of Swenseth's peers, "Dayna is ambitious, intuitive, smart and leads by example. She is a true asset to Tabitha, and we are incredibly fortunate to have her leadership. She tirelessly devotes her time and talent to meet and exceed Tabitha's high expectations of quality care, no matter the circumstance." Her exceptional communication has led to cultivating the unique skills of team members and building strong relationships with the Seniors.
"I am so grateful and blessed to work at Tabitha and be a part of this team," Swenseth shared. "To be recognized by my peers is the greatest of compliments. Tabitha has always supported my growth personally, academically, and professionally. I am truly passionate about caring for and about Seniors and their families."
TEAMembers from across the state celebrated Swenseth and 137 other employees who hit major career years of service milestones. This event marked the first time employees and their guests joined together as ONE Tabitha since March 2020, right before COVID-19 hit full force. The event's theme, Better Together, perfectly reflected the mood of the evening as this community of caring was reunited to toast one another's accomplishments. 
For answers to all your aging questions, start with Tabitha. Contact a Senior Care Expert today.