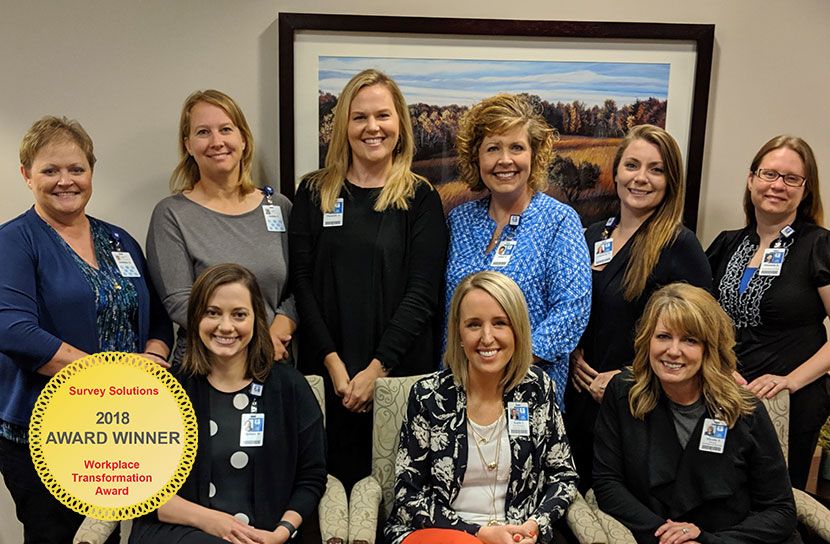 Headline
Nonprofit Tabitha has received the Survey Solutions Workplace Transformation Award. This annual honor is given to hospitals and health care systems, nationwide, which have made a transformational change in employee engagement. Tabitha is one of just six to receive this year's award.
This recognition is a result of Tabitha's outstanding commitment to measuring, understanding and improving the needs of their—1,000+ strong—workforce serving in 28 counties throughout Nebraska. As Tabitha has transformed over the years to become the state's leader in senior care services so has its human resource department. Now called "Talent & Culture," this team holds the ever-important responsibilities of recruitment and retention as well as overseeing investment in the growth and career paths of valuable team members.
Culture also plays a major role in the success of Tabitha's work environment. Every department within Tabitha approaches their work with culture in mind which includes living into the organization's clearly defined vision, mission and core values.
"We are beyond grateful to receive this national recognition," said Tabitha Vice President of Talent & Culture Katie Lechner. "Team members are the most important asset here at Tabitha, and we strive to continuously offer opportunities to help them obtain new knowledge and skills to cultivate their career. Our goal is to LIVE into our work which is an acronym that stands for: Love Your Job, Invite Optimism, Vision Success and Embrace the Mission. We want to capitalize on team members' strengths so they truly love their job."
In 2018, as part of employee engagement survey results, Tabitha introduced a new career-building initiative—Workforce Development program. This initiative encourages personal growth and development through continuing education and exploring new departments, roles and skills. Tabitha also implemented an in-house CPR lab. The lab, which is equipped with voice activated traveling manikins for Tabitha's regional offices, makes it easy and convenient for nurses and aides to keep up with certification requirements. Key industry trainings over topics such as sepsis, clinical documentation and lymphedema have been offered to staff as well, ultimately providing optimized quality care to those served.
To learn more about Tabitha's culture and how you can dedicate your time and talents to their mission, view current job listings at Tabitha.org/Careers today.