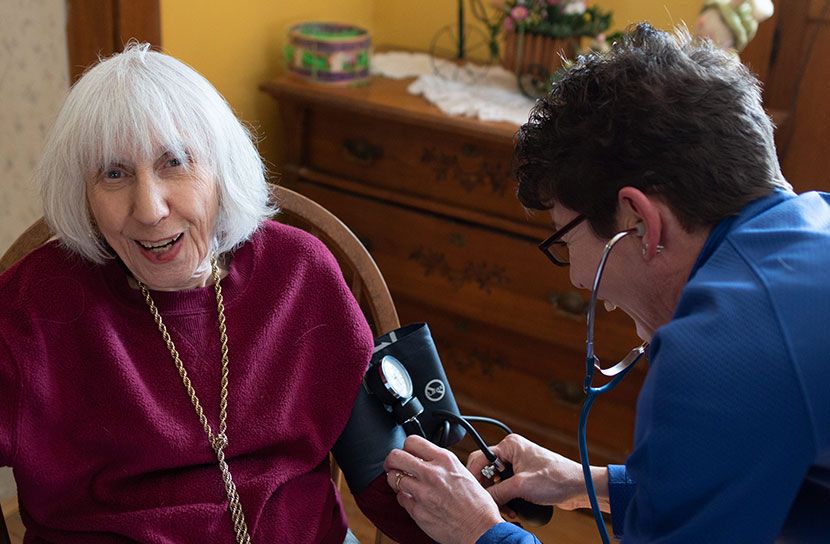 How Can I Control High Blood Pressure?
It's not uncommon for individuals to experience high blood pressure, also known as hypertension, from things such as medication, stress, illness and even genetics. But, high blood pressure is more common in older people and can pose as a major health problem. As we age, our vascular system changes—arteries get stiffer, so blood pressure goes up.
Blood pressure is the force of blood pushing against the walls of arteries and consists of two numbers. The first number, called systolic blood pressure, is the pressure caused by your heart contracting and pushing out blood. Diastolic blood pressure, which is the second number, is the pressure when your heart relaxes and fills with blood. When health care professionals measure your blood pressure, they generally read the systolic number over the diastolic number. The American Heart Association defines hypertension in older adults as 130 or higher for the first number, or 80 or higher for the second number.
If high blood pressure isn't controlled with lifestyle changes and medicine, it can lead to medical complications including stroke, heart disease, eye problems and kidney failure. The good news is that blood pressure can be kept in check in most individuals. Here are just a few tips to prevent issues as you age:
Maintain a healthy weight
Exercise at least 30 minutes a day most days of the week
Eat a diet rich in fruits, vegetables, whole grains, lean meats and low-fat dairy products
Cut down on salt
Drink less alcohol
Don't smoke
Get adequate sleep
Manage stress
Of course, always consult with your primary care physician and schedule routine checkups. If lifestyle changes don't help lower your blood pressure to a safe level, your doctor may prescribe medicine.
For answers to all your aging questions, start with Tabitha. Contact a Senior Care Expert today.