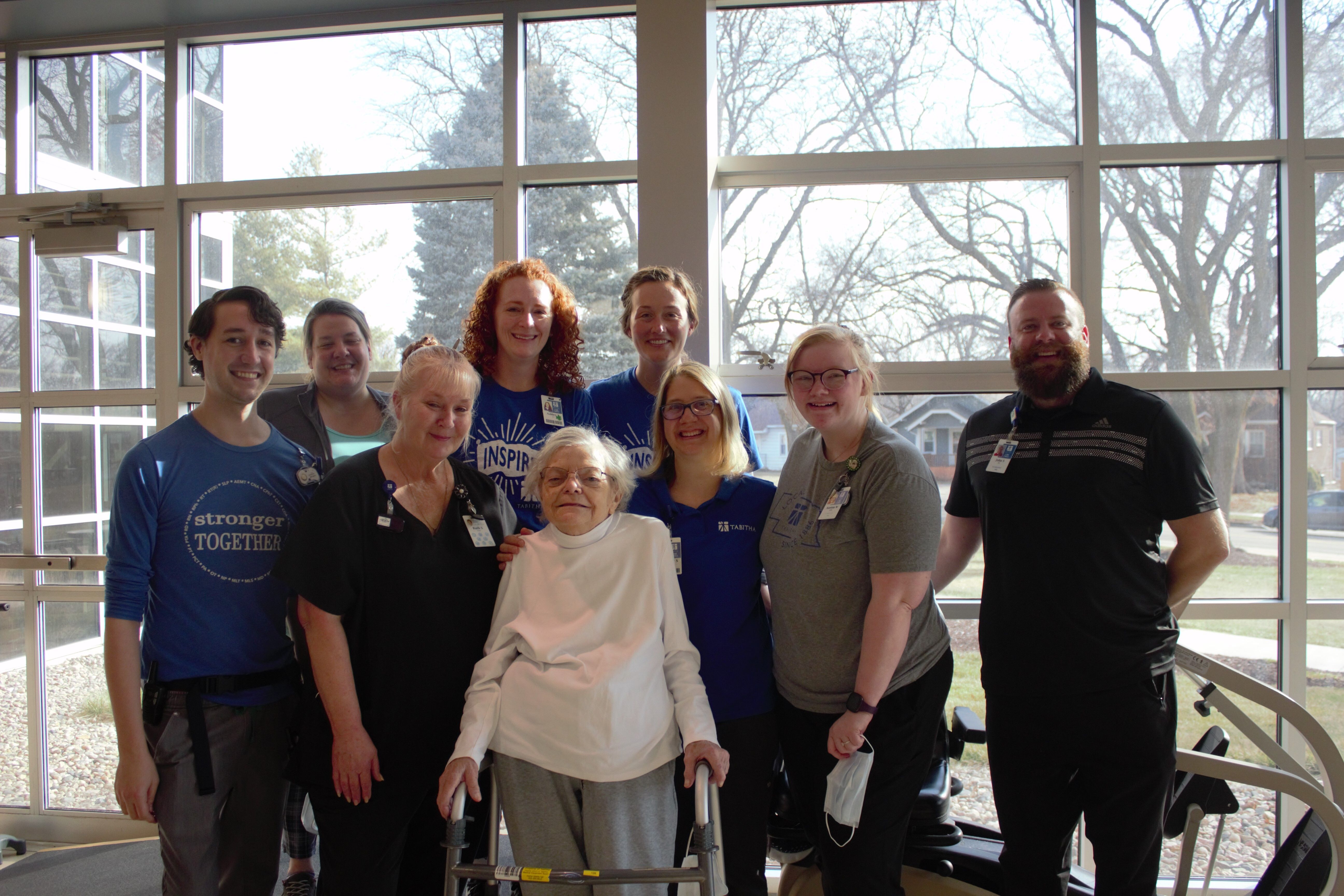 Support Turns Into Success with Tabitha Rehabilitation: Jeannette's Story
Following an injury or major surgery, it may be necessary—and in a client's best interest—to recuperate with a short-stay at a living community that will allow easy access to rehabilitation therapies.
After a month-long hospital stay due to injuries from a fall that required surgery, this was the case for 83-year-old Lincoln resident, Jeannette Metteer. Her daughter took on the challenge of researching Lincoln rehabilitation services, seeking the ideal short-term stay for Jeannette to recover and regain her strength under the watchful eyes of expert nurses and therapists. In the end, great online reviews and positive word of mouth led them to the Answer: Tabitha's LifeQuest.
At the beginning of Jeannette's stay at Tabitha Nursing & Rehabilitation Center (TNRC), she couldn't lift either leg, and required two aides to help get her out of bed. On the day of her inpatient discharge, Jeannette successfully fulfilled her goal of walking independently with the help of a walker. She was beaming an ear-to-ear smile, both in anticipation of returning home, and also for a big event that weekend.
"I have a great-grandson that turns one on Saturday, so I get to go home in time for his birthday party," Jeannette shared. "I'm excited to go home. I've been waiting for this day."
Graduating from the inpatient rehabilitation program is the end goal for Tabitha Rehabilitation Clients, but on the day of Jeannette's departure, the TEAMembers involved in her Care weren't just saying goodbye to a Client, but to a friend. Nurses, rehabilitation therapists and administrative staff gathered to commemorate the special day. They shared well wishes and many hugs with Jeannette, saying again and again how much her positive presence will be missed around the LifeQuest Gym.
Jeannette not only had an impact on TEAMembers — but TEAMembers had a massive impact on her.

"Everyone here is kind, they're helpful and they're encouraging," said Jeannette. "First time I walked across the room, everyone cheered. That was the way it was every time I'd accomplish something."
First floor LifeQuest Resident Assistants Ruth Schell and Matt Champoux made the beginning of Jeannette's stay feel special and less lonesome. She also credited Austen Wurm, LPN at LifeQuest, and occupational therapists Kathleen Fangman and Ashley Schutte for both exceptional care and an array of memories in progress and positivity that she'll hold onto after her return home.
"One day, I was waiting for two people to help me up, and one hadn't come yet," Jeannette recalled. "It was me and Ruth. And she said, 'I think we can do it.' And I said, 'I think so too.' And we did it, and we continued ever since, until I could get up by myself."
Her recovery will continue with many personalized resources to help her continue her upward momentum, such as at-home exercises and the opportunity to call upon a Tabitha Rehabilitation therapist for guidance during her recovery.
"Everything the therapists helped me with was challenging," Jeannette said. "But they were always encouraging me to take one more step. And that was a help, because when I got back to my room, I realized I took one more step toward getting better."
At the end of Jeannette's stay, she left with an experience that had not been the same as any other in her life. She described Tabitha as having no unkind soul, going beyond Care with a "get to know you atmosphere" and boundless support from TEAMembers throughout her recovery journey. These factors made her experience at Tabitha one she won't soon forget.
"Everyone at Tabitha had something to do with my recovery... I think if you need a place to go, choose Tabitha."

 

— Jeannette Metteer, Tabitha LifeQuest Client
For answers to all your aging questions, start with Tabitha. Contact a Tabitha Care Expert today.