Tabitha and Immanuel Announce New Collaboration in Omaha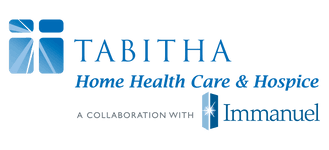 Driven by like-minded values and the strong purpose to support older adults, two longtime Nebraska Senior Care providers are collaborating. Lincoln-based, Tabitha and Omaha-based Immanuel have entered into a new joint venture. Together, they will work to expand Tabitha's award-winning Medicare Certified Home Health Care and Hospice services to the Omaha-metro area. Tabitha was the first in the state to offer these very services, home health care (since 1966) and hospice (since 1979).
These two nonprofit entities are no strangers to collaboration. They have a long-standing relationship and currently join forces to provide innovative senior resources in the Lincoln market. Currently, Tabitha provides Long-Term Care and Skilled Nursing via residential style homes at Immanuel's The Landing, in south Lincoln's Williamsburg neighborhood. In addition, Tabitha Home Health Care and Hospice services are provided on the Landing campus and Immanuel's recently acquired Grand Lodge.
Bringing close to 20 years of experience in the home health and hospice field, the team has tapped long-time Omaha home health and hospice industry professional, Bridget Caniglia, MBA, MSN, RN, to lead this initiative in the Omaha market. Most recently, Caniglia served as a clinical executive within a local nonprofit home health and hospice agency.
Christie Hinrichs, Tabitha President and CEO shared, "This venture plays upon the strengths of Tabitha and Immanuel. We deliver exceptional quality senior care and, combined, have over 269 years of history serving the needs of Nebraskans. In addition to this home health care and hospice focus, Tabitha's Continuum also includes rehabilitation and living communities. With Immanuel's vast senior living portfolio presence and solid reputation, we complement one another well. This will help further our long-term strategic goals and most importantly, fill local community needs."
The joint venture will begin by serving Immanuel's communities, followed by the general Omaha-metro community. The program is slated to start providing hospice services to eligible clients in early 2022 followed by skilled home health care services in mid-2022.
Immanuel's president and CEO, Eric Gurley, noted, "As Immanuel continues to strengthen our vision of integrating medical services into our senior living communities, this is a strategic move to collaborate with Tabitha and provide those we serve access to high quality home health and hospice services.  In addition, it furthers both organizations' missions to fill a need in the Omaha area."
"Tabitha exists to support the community's needs. We are in such great company with a well-regarded provider such as Immanuel. We look forward to offering much-needed services to the areas in and around the counties of Douglas, Sarpy and Washington in Nebraska along with Pottawattamie and Mills in Iowa," noted Hinrichs and Gurley. "Tabitha and Immanuel have a long history in the Heartland. Founded and based in Nebraska, we care deeply about ensuring senior care services are accessible and exceptional. We are invested in seniors and the communities in which we both work and live."
Hinrichs added, "COVID-19 has magnified the need for at-home care. Now more than ever, it is important to have solid resources for older adults that can be delivered wherever they may call home."
The recruiting process has already begun, and open positions can be found at Tabitha.org/Careers.
For answers to all your aging questions, start with Tabitha. Contact a Senior Care Expert today.