Tabitha Gathers Community Givers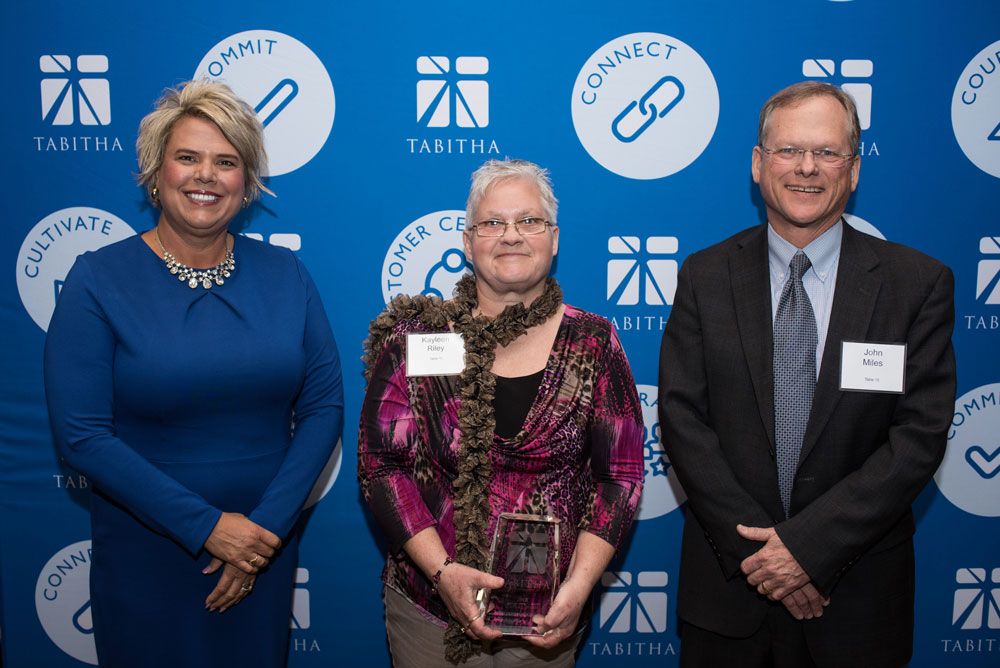 Tabitha, Nebraska's industry-leading Senior Care provider, recognized a select group of donors and volunteers who give extraordinarily in the pursuit of outstanding, compassionate care for Nebraska Seniors. Organizations and individuals were honored during Tabitha's annual Into the Blue luncheon March 7 at the Embassy Suites in Lincoln.
Tabitha honored a notable local organization, church, corporate supporter and two volunteers who have dedicated time, talent and treasure to Tabitha's mission of delivering innovative Senior Care services that promote the dignity, independence and well-being of older adults. Award recipients were: Knights of Columbus, Eastridge Presbyterian Church, Pinnacle Bank and volunteers, Betty Peppmuller and Kayleen Riley.
Commit Award
The Commit Award, honoring an organization that devotes its time, talent and treasure, was presented to Knights of Columbus. This group of dependable and faithful volunteers has adopted two Tabitha Meals on Wheels routes since 1995, committing more than 2,000 hours. They find their own substitutes when needed, reliability that allows the Tabitha Meals on Wheels coordinators to focus on getting open routes covered. Twelve Knights of Columbus members take turns and have made it a family affair, one with his dog, others with young and older children or spouses.
Care Award
Eastridge Presbyterian Church earned the Care Award for their dedication and compassion for Tabitha Meals on Wheels. This congregation has delivered meals to clients since 1990 and continues to recruit volunteers and help pick up more routes, in addition to their church-related deliveries. Nan Nelson has been delivering since the late 1980s, and the Eastridge Presbyterian women can always be counted on to raise funds for the program.
Connect Award
The Connect Award, honoring a volunteer who builds relationships rooted in love, was presented to Betty Peppmuller, an activities assistant volunteer for Tabitha Nursing and Rehabilitation Center in Lincoln. She serves the life enrichment department every week with bingo, transporting clients to and from the event, helping set up and then connecting with clients through conversation and playing the game. Betty always has a smile on her face and ensures everyone is included and having a good time. She is a great role model and mentor for new Tabitha volunteers.
Cultivate Award
Kayleen Riley earned the Cultivate Award for nurturing an environment of innovation and growth. Kayleen has been a dedicated hospice volunteer in Tabitha's west region since 2005. She is caring, humble and listens to the stories clients share about their lives and experiences and finds ways to connect with each of them.
Courage Award
The Courage Award was presented to Pinnacle Bank and its employees for their longstanding support of Tabitha in many ways. Pinnacle Bank team members deliver a regular route for Tabitha Meals on Wheels and provide enough financial resources to support one recipient for an entire year. Pinnacle Bank in Crete was one of the founding members who agreed to support a much-needed building project that transformed the way their aging friends and neighbors are cared for in their rural community. This organization continues to walk beside Tabitha as the company continues to meet the needs of the communities we are honored to serve.
"It's incredibly inspiring to gather such a generous group together to celebrate the community giving that takes place each and every day through Tabitha. We are beyond grateful to have such dedicated supporters," said Christie Hinrichs, Tabitha president and CEO. "The commitment of both volunteers and donors helps strengthen Tabitha's exceptional service to over 2,000 Nebraska Seniors daily."
The Tabitha Foundation relies on the friendship and generosity of donors to help extend the continuum of Senior Care services to older adults in Nebraska. At Tabitha there are a multitude of ways to support Seniors in your community, including sponsoring special events, providing planned contributions, gift annuities and so much more.
Contact the Tabitha Foundation at 402.486.8509 or visit the Giving page for more information about how you can help make a difference in Seniors' lives.