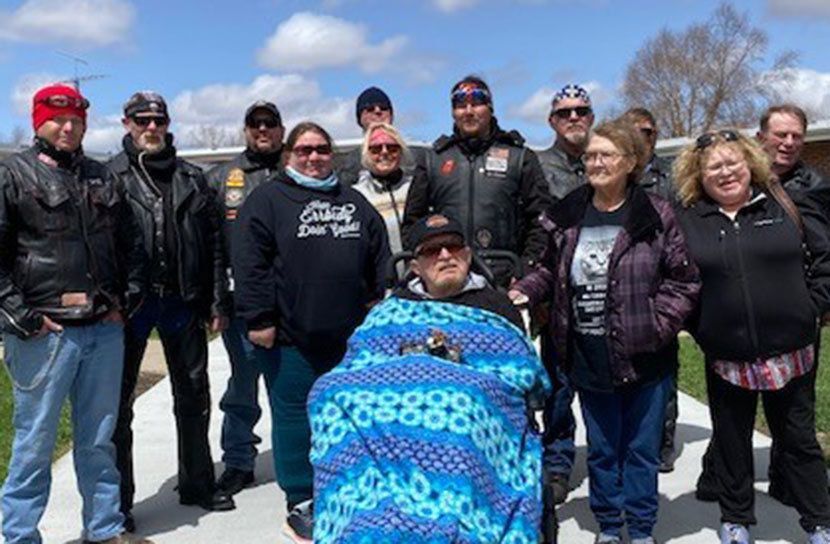 Tabitha Hospice Gives a Lift to Lifelong Rider
Donald Starkey's first ride was a red Cushman motor scooter.
He taught himself how to ride it for trips home to his family's farm outside Albion on the occasional weekends he returned from working the hayfields out by Bartlett during the summer. Better than 100 miles round trip.
Don was 12 years old.
More than 60 years later, with a Honda Gold Wing, a Kawasaki and all the Harley-Davidsons in between, Don still loves motorcycles and the sound of those thundering pipes.
There have been a few bumps along the way. There was the time around 2013 when Don rode up to Niagara Falls and into Canada with his brothers Gary and Doug, and his nephew Shawn. That particular trip involved a jammed trailer hitch, Don's totaled Harley on the side of the road, and a life flight to Toronto with broken vertebrae in his neck and a host of other injuries.
But mostly there's been the beauty of nature—riding alongside his partner Joyce Roper and a wild colt through Theodore Roosevelt National Park in North Dakota—the camaraderie and companionship of his fellow riders, and his love of Harleys.
Time to Rally
Don's always been a fighter. After he totaled his Harley in Canada, the doctors told him he needed six to eight weeks with no activity. A week later, he had picked out and purchased a new Harley, though he couldn't ride it for another two months.
Now 74, Don suffered a major stroke that completely paralyzed his arm and leg on one side, leaving him unable to ride. He is receiving hospice care through Tabitha and is now a Resident at Harvard Rest Haven.
When the teams at Tabitha and Harvard Rest Haven came together to plan his care, they decided to do something special for the lifelong motorcycle rider
It was Rosie Dinan, Don's Tabitha hospice nurse, who came up with the idea.
"Rosie wondered if it would be possible to organize a rally of fellow riders to drive by so that Mr. Starkey could enjoy the sound he hasn't been able to hear for a while," said McKenna O'Rourke, a regional business development coordinator at Tabitha.
O'Rourke reached out to DJ Martinez, who rides with the ABATE of Nebraska motorcycle club—a group known for their involvement in the community. Together, they were able to coordinate a special rally for a special rider. The plan came together in a week.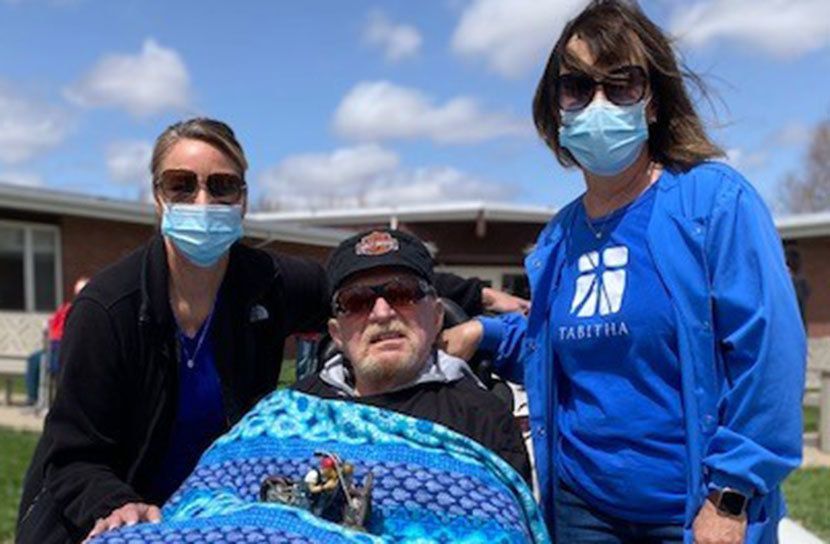 Joining the Club
Don himself was never part of a motorcycle club, per se—other than the Harley Owners Group—but he had buddies he rode with. Guys he met through Alcoholics Anonymous and Co-Dependents Anonymous. Friends he took trips all over the country with, from Arizona and California to Utah and Washington. The ones who went with him to the Harley-Davidson Hometown Rally in Milwaukee, where they all ended up having to share one hotel room. And his family. Don's brothers, two of his four sons. All riders.
He may be a bit of an honorary member of a club now, though.
On April 24, members of ABATE drove through a circle drive at Don's nursing home several times, revving their engines so they roared. He was able to check out their bikes after they parked and even rev one up himself.
"Seeing the joy on his face was magical," O'Rourke said.
Three of Don's four brothers were there too. Gary was on a Harley, while Doug rode a Harley Trike. And Mike rode Don's Can-Am—a trike motorcycle with two wheels in the front and one in the back—so Don could see it again.
After the rally was over, after they had shared stories of their favorite rides and talked about Harleys, the ABATE members had one more surprise for Don: a statue of a motorcyclist kneeling beside a bike and saying a prayer.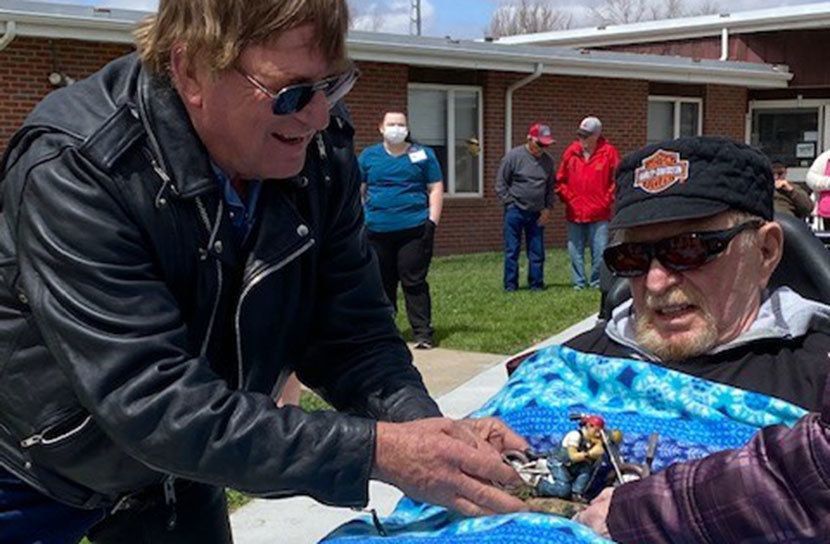 Tabitha Hospice supports clients facing life-limiting illnesses and their families, fulfilling Tabitha's Purpose of empowering people to live joyfully, age gratefully. Learn more about Tabitha Hospice or contact us.