Tabitha Hospice Nurse is a Neighbor Serving Neighbors in Columbus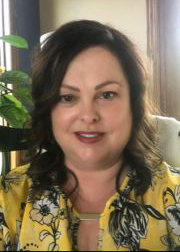 Tabitha believes communities are strengthened when those who live in them inspire, support and serve their friends and neighbors. That is just the case in Columbus where Janelle Prather, Tabitha Hospice RN, lives and works to provide exceptional care to area families. In addition, Prather serves the surrounding region including Genoa, David City and Osceola.
When asked why she chose the hospice profession, Prather stated, "I'm passionate about end-of-life care and helping families through this final journey. Growing up, my main source of support were my grandmothers, so Seniors have always remained first and foremost at the top of my list of people I am grateful to care for on a daily basis. They're the reason I continue to love my job since I began my nursing career 34 years ago."
Prather shared what sets Tabitha Hospice apart: "Tabitha is not for profit, and their approach to care is based on just that—care, compassion and community. That is what attracted me to Tabitha and what drives me every day. I am proud to be part of a very passionate and excellent team."
A graduate of St. Luke's School of Nursing in Sioux City, Iowa, Prather holds a certification in dementia care. Prather has also been honored by those she's served through Tabitha's 'Hearts of Gold' customer satisfaction recognition program. Recently she volunteered as a buddy for the heartwarming Columbus 'Night to Shine' prom event made possible by the Tim Tebow Foundation.
For more information about Tabitha Hospice, contact a Senior Care Expert today, or for information about a rewarding career in hospice, view our current job openings.