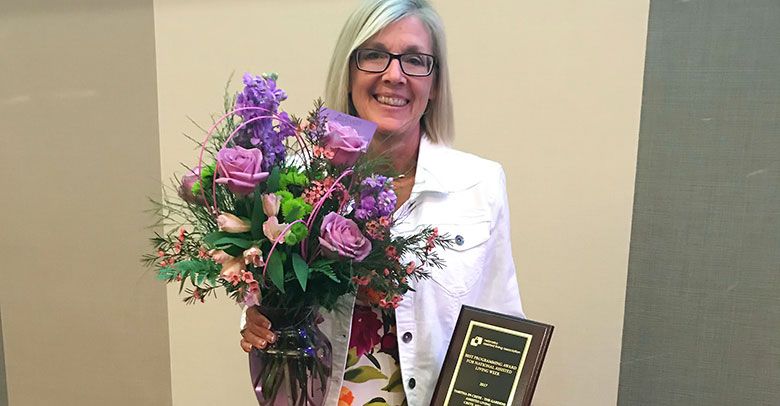 Tabitha in Crete Brings Meaning, Purpose and Joy
Tabitha in Crete—The Gardens Assisted Living community was honored with the Best Programming Award by the Nebraska Assisted Living Association (NALA) at its recent annual spring Convention in Kearney, Nebraska.
The award was presented April 25 to Tabitha's Kim Sasek, The Gardens' Life Enrichment Director. The recognition was based on the successful incorporation of the 2017 National Assisted Living Week theme, "Family Is Forever," into activity plans. Sasek managed to work an extra special week into an already full calendar of activities. With the help of countless volunteers and Tabitha TEAMembers, The Gardens' residents and families enjoyed fun festivities; some of the many highlights included a hayrack ride, a road trip to the Lincoln Children's Zoo and a family picnic.
Sasek has worked with Seniors for over 29 years and is a friend to many neighbors in Crete and surrounding communities.
"Kim was made for her Life Enrichment role here at Tabitha," shared Sherri Due, Tabitha in Crete Administrator. "She caringly and consistently goes above and beyond by providing a wide range of engaging activities for The Gardens' residents. She genuinely connects with each of them and caters to all different interests and skills to create memorable experiences for everyone involved. From staying up late to catch an eclipse of the moon to hosting a tour of unique tractors, Kim makes it happen," Due said.
"Nebraska is filled with outstanding nursing home and assisted living facilities who are providing quality care to their residents every day," said Heath Boddy, President and CEO of NALA. "It is our pleasure to recognize Tabitha in Crete in this way,"
Tabitha in Crete—The Gardens Assisted Living offers exceptional care in a warm and loving small-town setting with all the comforts of home. The community features a variety of suites to accommodate a maintenance-free lifestyle and is located in close proximity to doctors' offices and the town's shopping centers. Alongside a full spectrum of amenities, plus life enrichment and wellness programs, The Gardens is supported by the Tabitha Senior Care Continuum and expert professionals who help individuals determine which care options are right for their situations.
For more information about Tabitha in Crete—The Gardens, contact a Continuum Navigator at 402.486.8520.