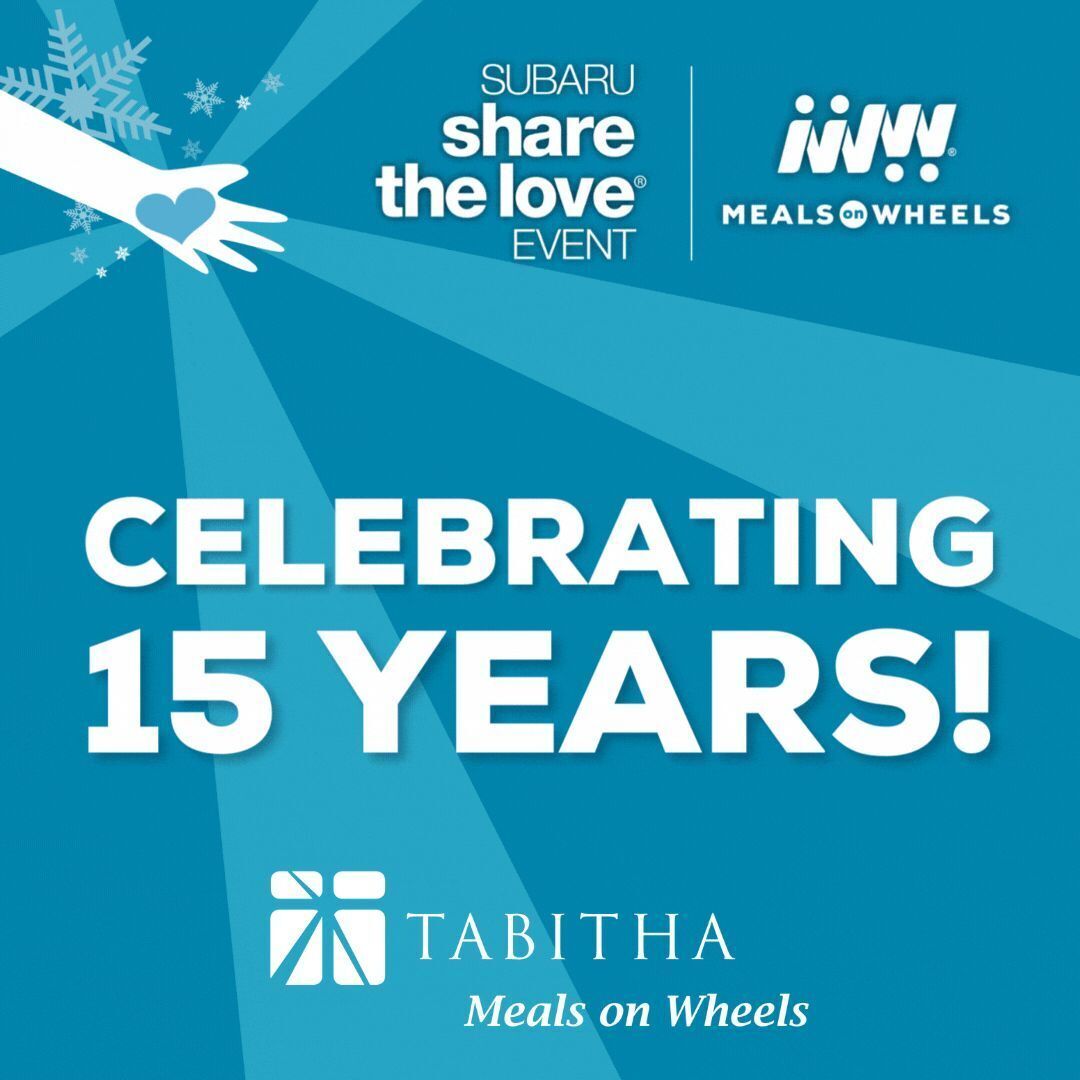 Tabitha Meals on Wheels & Subaru Join Forces to Share the Love
Subaru Share the Love Event® kicks into gear to give back to older adults in Lincoln who rely on Tabitha Meals on Wheels' services.
Nonprofit Tabitha Meals on Wheels is grateful to—again—participate in Subaru's annual Share the Love Event as a member of Meals on Wheels America.
This is Subaru's 15th year promoting organizations that make a difference. Like previous years, Tabitha is Collaborating with another Lincoln original, DuTeau Subaru. This dealership's end-of-year sales focuses on boosting awareness for local charitable causes like Tabitha Meals on Wheels.
The event runs from Nov. 17, 2022 to Jan. 3, 2023. And for every vehicle purchased or leased, Subaru of America will donate $250 to the customer's choice of participating charities.
Nonprofit Tabitha founded this vital program back in 1967. 55 years and five million meals later, Tabitha continues to deliver. Through Tabitha, funds are raised for this lifeline program through generous donors.  Committed Volunteers make the daily deliveries rain or shine. 81% of meal recipients in the capitol city cannot afford the cost, but Tabitha bridges the gaps and ensures anyone in need can still receive this hot meal, wellness check and friendly visit. Because of this service, ninety percent of meal recipients are able to stay safe and independent at home.
"Subaru knows that love makes a difference—Tabitha echoes that exact outlook," shared JP Lauterbach, Development Director for Tabitha's Foundation. "We are incredibly grateful for the Collaboration between Tabitha Meals on Wheels, DuTeau and Subaru. This event makes a positive difference in many lives and continues to be a force for good during the holiday season."
Since the Share the Love Event started in 2008, over $250 million has been donated to local and national causes. Other partners of the Subaru Share the Love Event are the American Society for the Prevention of Cruelty to Animals (ASPCA), Make-A-Wish and the National Park Foundation.
"Causes like Meals on Wheels rely on corporate partners to keep our wheels turning," said Ellie Hollander, President and CEO, Meals on Wheels America. "That's why we are beyond grateful to Subaru of America and their retailers for their astonishing 15 years of partnership and nearly 4 million meals and friendly visits delivered to our aging neighbors."
The Subaru Share the Love event is just one of the ways you can give back to older adults in your community during the holidays this year. By purchasing or leasing a Subaru vehicle before Jan. 3, 2023 and selecting Meals on Wheels America as your charity of choice, you directly support Tabitha Meals on Wheels.
To learn more and spread the word, visit Tabitha.org/ShareTheLove.