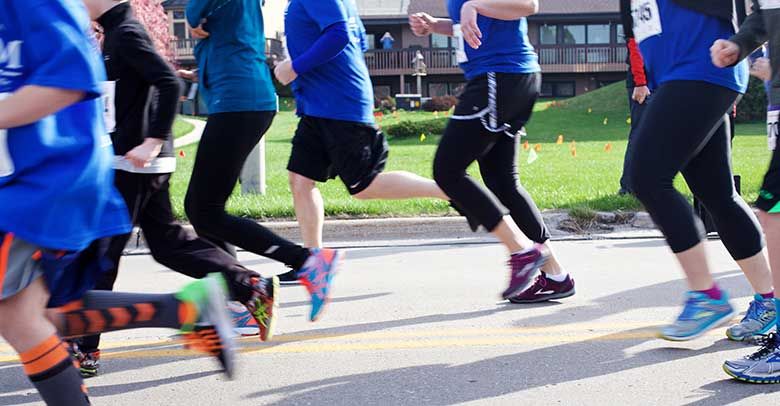 Tabitha Miles for Meals Run Training Plans
Tabitha is proud to partner with the Lincoln Track Club to present the Tabitha Miles for Meals Run on Saturday, March 28, 2020. Making manageable changes in your lifestyle can have a big impact on your health, so start your year off right by setting a goal to sign up and participate in Tabitha's Walk/Run! 
To help you reach your target, we've created training plans based on your level and distance.
ASK YOUR DOCTOR.
Consult with your physician before starting a training program.
CHOOSE YOUR SHOES.
Walk/run in shoes that provide adequate support and cushioning.
FIND A BUDDY.
Once or twice a week try to schedule a time to meet up with someone. Doing this provides a social aspect to training and will keep things fun.
LET PEOPLE KNOW.
When friends, family and co-workers are aware that you're training for a walk or run, it can help to hold you accountable, and don't forget to share the Tabitha Miles for Meals Run event on social media.
STAY CONSISTENT.
If you miss a walk/run day (or two), just pick up where you left off. If you are unable to complete the time/mile(s), don't sweat it; just do what you can. It's always better to do something versus nothing.
With these tips in mind you are ready to go!
Adapt one of these training plans to your individual fitness level. Always warm up for 5–10 minutes before a workout and perform stretches after. If you're looking to improve your speed, endurance and strength increase the pace and intensity on your Tuesday/Thursday runs by adding 1–3 minute on/off speed intervals or plan a running route that has hills.
Training Plan Key
Walk/Run (W/R)
This is a mix between walking and/or running. To complete the desired time or distance you can also incorporate intervals of walking for 2-minutes, then running for 2-minutes.
Run
The pace for most jogging/running should feel comfortable and you should be able to talk without getting too winded. You should feel like you are exerting about 50–60% effort. When in doubt, slow down.
Easy Pace
Walk/run the time or distance at a natural, comfortable pace.
Moderate Pace
Brisk walk/run—enough of an effort to break a sweat, without becoming winded.
Vigorous Pace
Walk/run, enough to break a heavy sweat and experience heavy breathing.
Cross-Train (XT)
Cross-train is an activity besides running. XT is a low-impact activity such as biking, yoga, strength training class, swimming or cardio machine at the gym. Aim for 20–30 minutes at an easy effort.
Rest
To prevent injuries and help your body recover take rest days.
For more information or to register for the Tabitha Miles for Meals Run, click here.