Tabitha Home Health Care's Grand Island Team
Tabitha Named Grand Island's "Best of the Best"
Nonprofit Tabitha, industry-leading provider in care for older adults, was named for several top honors in the Grand Island Independent's annual Best of Grand Island awards for 2023.
Tabitha Home Health Care and Tabitha Hospice were winners in their categories of "Best In-Home Care Company" and "Best Hospice," respectively. Tabitha at Prairie Commons received "Community Favorite" results for "Skilled Nursing Care" and "Long-Term Care."
This is the fifth consecutive year that Tabitha Home Health Care has won the local vote and the second consecutive year for Tabitha Hospice.
"This is a testament to Tabitha's Home Health Care's dedicated TEAMembers," said Charity Ebert, Administrator of Tabitha Home Health Care. "We work to ensure clients receive exceptional quality Care, 365 days a year. It is a team effort that requires strong TEAMember Collaboration. Receiving this recognition reinforces that we are on the right track. We thank Grand Island area residents for showing their trust and support to Tabitha Home Health Care!"
Tabitha Hospice has served Grand Island since 1979 with individualized, compassionate end-of-life care. Its renowned TEAMembers affirm each Client's dignity, respect and choices, providing pain and symptom management, as well as emotional and spiritual support, in life's final chapter.
"Living joyfully and aging gratefully throughout life is possible, and choosing hospice care for yourself or a family member sets you on a path to making the very most of the time you have together," said Karen Cheesman, Administrator of Tabitha Hospice. "Hospice services have immense value. We are honored to have Grand Island locals recognize that and name us as the best. Tabitha Hospice is proud to support families during one of the most challenging points of life; you do not have to do it alone."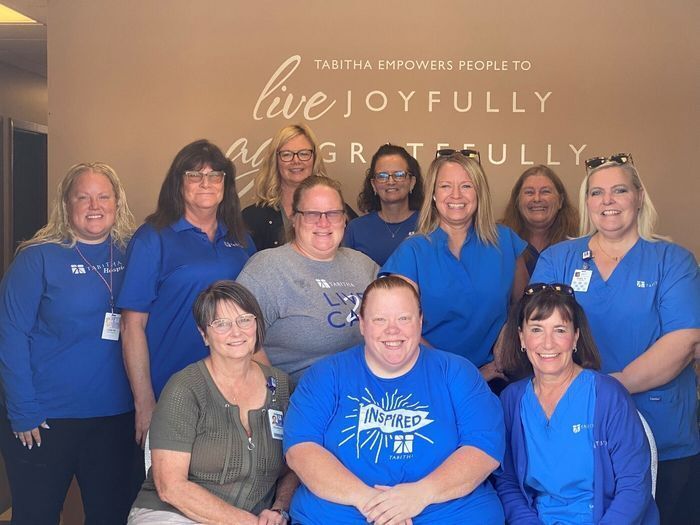 Tabitha Hospice's Grand Island Team
This year marks the first time that Tabitha at Prairie Commons appeared on the Best of Grand Island ballot, as it only recently opened its doors to the Grand Island community in March 2023. Since opening, the senior living community has solidified itself as a top choice for those seeking independent living (55+), assisted living, memory care and long-term care/skilled nursing in the Hall County region.
"Our team is beyond grateful to be receiving recognition in our first year of service to Grand Island," said Tonya Van Pelt, Administrator of Tabitha at Prairie Commons. "We owe it all to our pioneering nurses, culinary teams, support staff and administrative TEAMembers that work together to make Prairie Commons the premier place for older adults to thrive. Thank you to Grand Island for welcoming us with open arms and to everyone at Tabitha for setting the standards for quality, Culture and purpose for Nebraska."
For answers to all your aging questions, start with Tabitha. Contact a Tabitha Care Expert today.