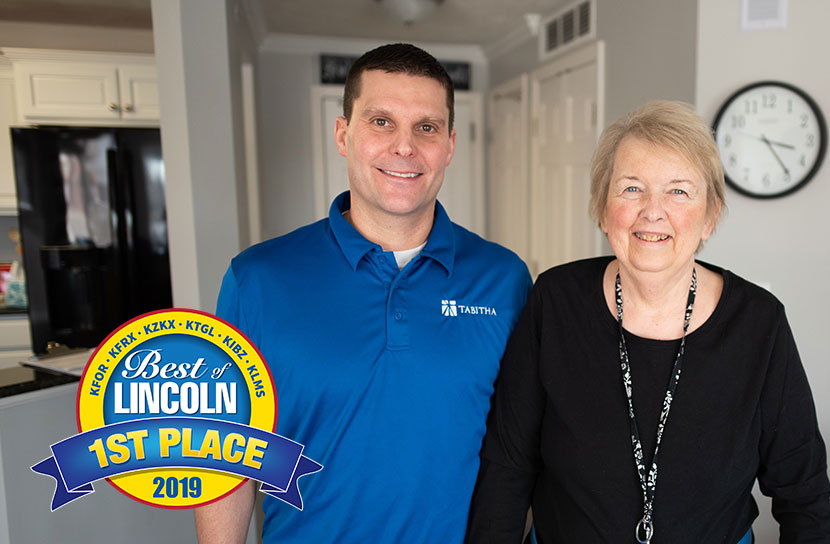 Tabitha Recognized as Best in Home Health
Tabitha, Nebraska's industry-leading Senior Care provider, was again voted the Best Home Care Provider in Lincoln by area residents. This is the 11th year in a row that Tabitha's Home Health Care program has landed at the very top in the annual KFOR Best of Lincoln's rankings.
"To be honored directly from the friends and neighbors we care for and about is the greatest form of recognition," shared Tabitha Home Health Care Administrator Marci Whipple. "Tabitha's dedicated to providing exceptional and compassionate care to Lincoln's Seniors and their families. We understand the desire and importance of older adults remaining safe and independent in their own homes and are grateful for the kind support of Lincoln residents."
Tabitha Home Health Care plays an integral role in the lives of Seniors. The program provides customized support including medical care, physical, occupational and speech therapies, medication management, personal care assistance and other medical services based on individual needs.
Tabitha also was a top finalist again in the retirement community and physical therapy categories.
Nonprofit Tabitha is able to continue its purpose and commitment to Lancaster County thanks to the countless supporters in the community.
For answers to your Senior health questions, contact a Senior Care Expert or call 402.486.8520 today.