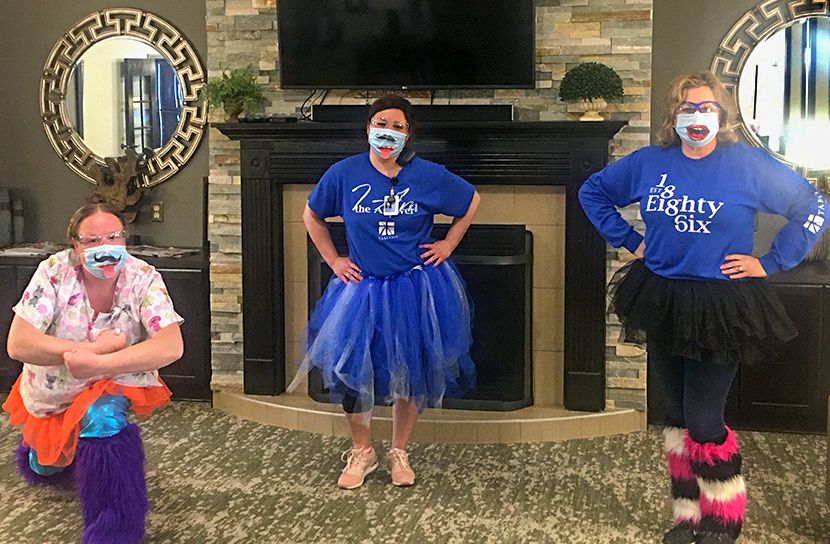 Tabitha Recruits While Others Freeze
During this pandemic shutdown, unemployment is rampant across our country and state, and many companies have announced hiring freezes. Since March 1, however, Tabitha has added 95 new TEAMembers and hiring continues.
"Senior care is a solid career in any market, but needed now more than ever," said Nicole Smith, Executive Director, Tabitha Talent and Culture Resources. "And it's not only nurses and aides we're hiring, we are also searching for non-clinical caregivers, culinary and housekeeping teams and more."
Below are just some of the key areas where Tabitha is hiring.
Nursing Teams
Tabitha currently employs about 1,000 TEAMembers, a majority of them direct caregivers such as Registered Nurses (RNs), Licensed Practical Nurses (LPNs), Certified Nursing Assistants (CNAs) and Medication Aides. With 13 Senior Living Communities—two campuses in Lincoln and one in Crete, NE—and home health and hospice services across 28 Nebraska counties, Tabitha is always looking for exceptional nursing staff who fit into our Culture and exemplify our Core Values.
Personal Care Attendants
In an abundance of caution to keep Seniors and TEAMembers safe from Coronavirus, Tabitha chose to close its doors to visitors. We know that loneliness and isolation are big issues facing Seniors, so we immediately went to work looking for ways to connect Residents with their families.
Tabitha created the new role of Personal Care Attendants to help fill this gap. These carefully selected individuals are being hired to relieve nursing staff of some non-clinical care duties and to assist with life enriching activities to keep Residents comfortable, engaged and in touch with family members regularly.
Culinary and Housekeeping Teams
With many restaurant closings and layoffs due to COVID-19 hitting the hospitality industry, Tabitha has reached out and encourages this workforce to apply to fill much-needed positions in food services and living community services like housekeeping and maintenance. It's a win-win for all; Tabitha offers great benefits, competitive pay and a family culture.
Hiring Events
So far, Tabitha has turned two traditional job fairs into virtual hiring events, conducting remote interviews and job offers, with great success. The recruiting team is able to screen candidates over the phone or through text messages. Tabitha also participated in Prosper Lincoln's Drive-Through Career Fair, where 500 information packets were distributed to local job seekers. Another Drive-Through Career Fair in Lincoln is planned for July 14 at Gateway Mall.
Tabitha is also holding a Drive-Up Hiring Event Wednesday, June 17, from 10 a.m. to 2 p.m. in the Southeast parking lot of its main campus at 4720 Randolph St. in Lincoln. 
View current job openings and complete the online application here.