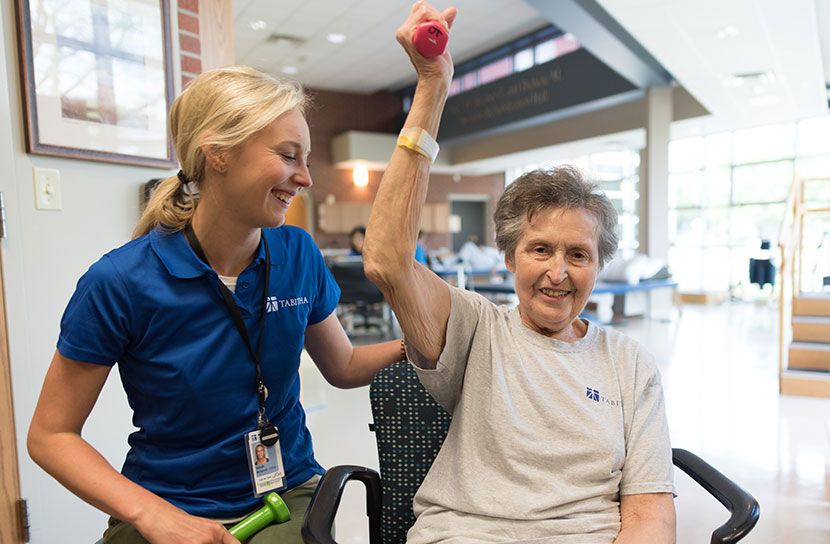 Tabitha's Short-Stay Rehabilitation Provides Peace of Mind
Tabitha, Nebraska's industry-leading Senior Care provider, recently expanded—adding 14 new private suites and spa area dedicated for short-stay rehabilitation care at Tabitha Nursing and Rehabilitation Center (TNRC)—LifeQuest. Located on Tabitha's main campus in the heart of Lincoln, Neb., these airy, comfortable suites are perfect for those recuperating from a planned surgery or unexpected illness or injury.
While at Tabitha LifeQuest, clients receive convenient physical, occupational or speech therapy, based on their care plan, in two bright and open, state-of-the-art gyms. An exceptional skilled nursing team works alongside Tabitha therapists to provide expert support throughout the recovery journey.
"We are thrilled to continue to grow and serve those who need just a bit of assistance before they return home. A brief stay at Tabitha allows you to focus on recuperating," stated Tonya Richards, Tabitha Nursing and Rehabilitation Center administrator. "Tabitha's goal is to provide results-driven, targeted therapy with easy access sessions that ensure you get the daily activity needed to smoothly recover. Our team is continuously acquiring new specialized training and recently underwent Lymphedema Certification, helping clients manage and prevent inflammation. Our quality care gets you safely and successfully back home, wherever home may be."
Once clients return home, Tabitha provides other rehabilitation options if more therapy is needed. For those who may not have access to transportation, sessions can be provided by skilled nurses and therapists in the comfort of their home. Tabitha has been voted the Best Home Care Provider by Lincoln residents 10 years in a row. Seniors can also arrange outpatient therapy by-appointment in Tabitha's LifeQuest gym. 
To learn more about Tabitha's award-winning rehabilitation and schedule a free consultation, contact a Senior Care Expert today.