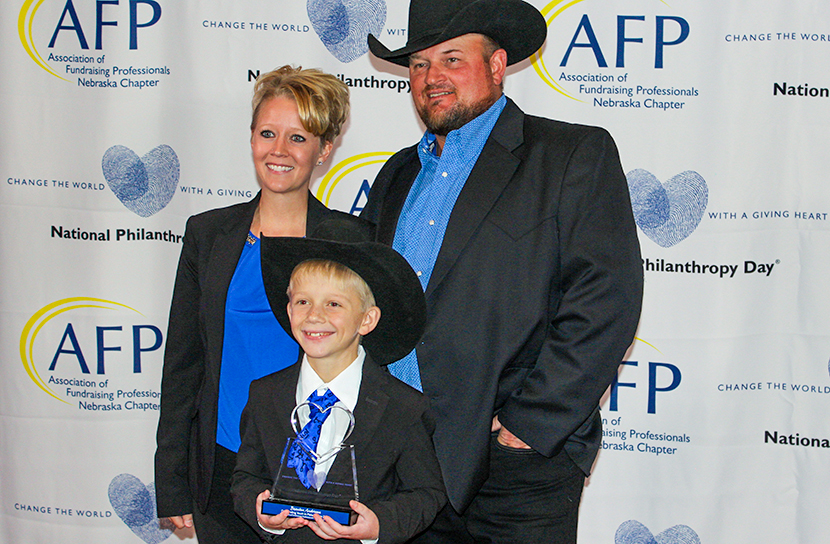 Tabitha's Youngest Donor Recognized for Commitment to Philanthropy
Tabitha, Nebraska's leading Senior Care provider, celebrated its youngest donor, 11-year-old Callaway, Nebraska, native Braxton Anderson. He received the Outstanding Youth in Philanthropy Award at the annual National Philanthropy Day Luncheon, held by the Association of Fundraising Professionals Nebraska Chapter.
This award recognizes a youth who demonstrates outstanding commitment to their community through direct financial support, development of charitable programs, volunteering or leadership in philanthropy. This describes Anderson perfectly.
Anderson often overheard family conversations surrounding the power of giving back. His fundraising efforts all started when he approached his cousin, Tabitha President and CEO Christie Hinrichs with 12 quarters as a donation to Tabitha's longstanding Meals on Wheels program in Lincoln.
He understands firsthand the struggles of getting proper nutrition as he has spent a lifetime with health challenges and wants to ensure others get the daily meals they need. Anderson was born with his intestines outside of his body. He spent 11 long months at the University of Nebraska Medical Center fighting for life. 100 surgeries later and despite continuing health challenges, he serves as an example of selflessness and giving to all.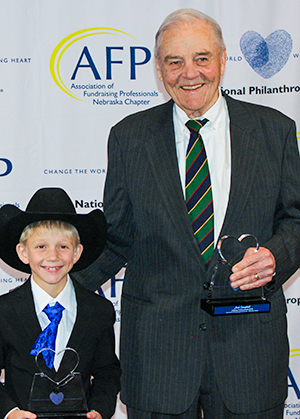 Inspired by the positive reaction of his $3 gift, he set out on his bike asking anyone who crossed his path to match his donation. The young philanthropist's story went viral and soon friends, family and Tabitha Board Members were matching funds and encouraging others to do the same. The heartwarming story eventually made its way to the Lincoln chapter of the charitable 100s of Women Who Care, who generously added $10,000 to his collection. Through these dedicated efforts and support of the community, Anderson helped raise $16,000 and counting for the Tabitha Meals on Wheels program.
"Brax's can-do attitude displays how one person can truly make a big difference," said Hinrichs. "He holds more than his own with longtime philanthropists and was courageous enough to be the only honoree to ask for a donation in front of the 350+ crowd. He's a natural and is setting the standard for young and old alike. He truly inspires us and we are so grateful for his commitment to Tabitha."
Because more than 81 percent of Tabitha Meals on Wheels clients cannot afford the $6.25 cost per meal, Tabitha supplements $700,000 annually and relies on 1,000 volunteers to help deliver this vital program. Join Anderson's cause and help serve 500 vulnerable neighbors daily—visit Tabitha.org/Give to contribute.