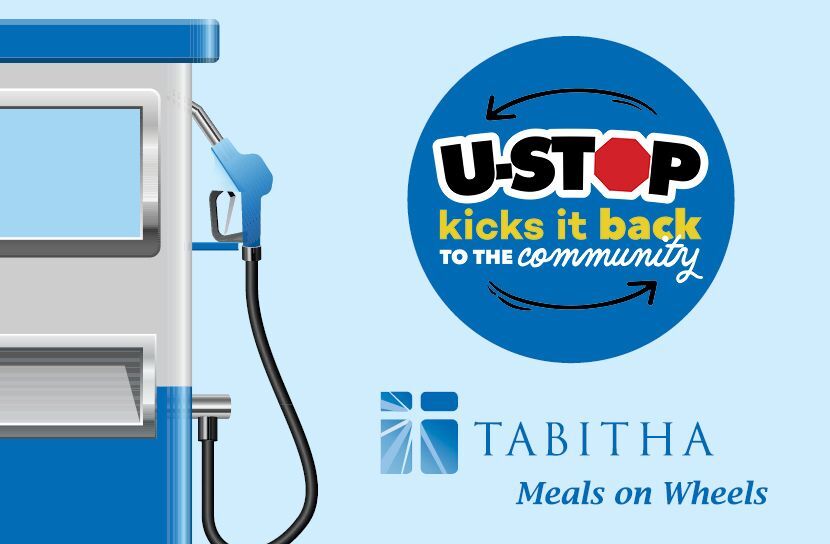 U-Stop Pumps Up Support for Tabitha Meals on Wheels
Tabitha Meals on Wheels is excited to partner with the U-Stop Kicks it Back to the Community program. This initiative raises money and awareness for a different charitable organization each month, and in July, Tabitha is the fortunate recipient.
Every Tuesday in July, U-Stop will give two cents from every gallon of gas sold to help support local Seniors through Tabitha Meals on Wheels. Donations are also collected in canisters at the front counter of every store. Funds raised help supplement the lifeline program, as 80% of Tabitha Meals on Wheels recipients are unable to afford the cost of the delivered meal.
"We're honored Tabitha has been selected to be a part of this campaign and are grateful for such a thoughtful and community-minded organization as U-Stop," said Tabitha President and CEO Christie Hinrichs. "Tabitha has faithfully been serving up meals for the past 55 years and is powered by dedicated volunteers. Currently, about 450 Seniors depend on Tabitha Meals on Wheels every day to deliver more than a meal, but also a friendly visit and well-being check. Choosing U-Stop to fill up is an easy way to give back."
Last year, U-Stop raised a total of $88,000 for local charities through the U-Stop Kicks it Back to the Community program. By pumping gas at U-Stop, money is being pumped right back into the community.
Learn more at U-Stop.com.
For more ways to give back to Tabitha Meals on Wheels, visit Tabitha.org/Meals.