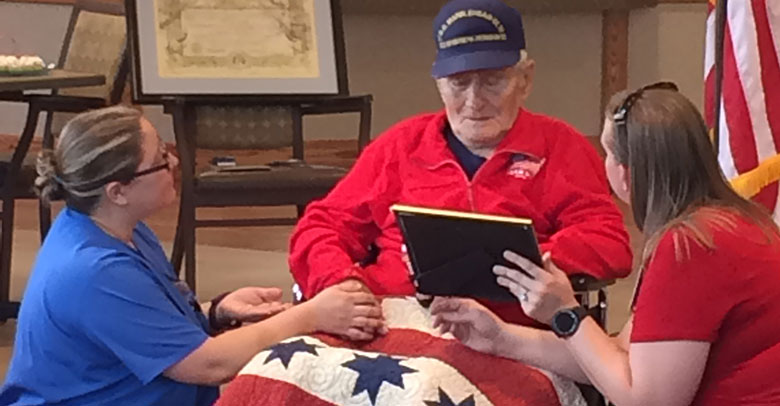 Tabitha Proudly Serves those Who've Served
Tabitha is privileged to care for our nation's heroes and cater to their unique needs. As a member of the We Honor Veterans program, Tabitha Hospice provides specialized services to veterans who are facing a life-limiting illness.
"It is an absolute privilege to serve those who served us as they transition into the end-of-life journey and reminisce about a lifetime of memories," said Tabitha Hospice Administrator Chris Wismer.
Tabitha has served thousands of America's veterans, and with each comes amazing stories. Take Ralph Welte's Pinning Ceremony, which brought out heartwarming moments and memories, long stored away.
Ralph's Story
After graduating from high school, Ralph decided to enlist in the U.S. Navy in 1942. He was trained in aviation mechanics and then set sail on the USS Marblehead. Little did he know that soon he'd be treading in dangerous waters in the Atlantic and Pacific Oceans.
As World War II continued to unravel, he was reassigned to the USS Raymond W. Herndon, an escort ship located off the coast of Japan. While onboard, in 1945, he witnessed a momentous day in history, the surrender of Japan to the U.S. and Allies. During his tenure as Yeoman Second Class V6, he collected numerous medals including Victory of World War II and Bronze Star Medals.
Once back home, Ralph and his wife, Beth, went on to build a solid fleet of their own with a family of five children. And as is so common with the greatest generation, he kept the World War II memories to himself. As Tabitha Hospice team members engage with veterans and their families, such as Ralph's, they uncover stories that allow us to celebrate their contributions and sacrifices with these special Pinning Ceremonies.
Tabitha Hospice Veteran Services
As a We Honor Veterans hospice provider, Tabitha enhances the veteran's experience. The National Hospice and Palliative Care Organization, in collaboration with the Department of Veterans Affairs, created this organization to empower hospice and other healthcare providers across America to meet the unique needs of seriously ill veterans and their families.
Pinning Ceremonies
Tabitha collaborates with local community organizations to host pinning ceremonies to honor those who have served our country. This celebration may be attended by a Tabitha social worker, nurse, chaplain and/or volunteer coordinator. The ceremony is tailored to meet the needs of the veteran, including requests for private ceremonies. Tabitha recognizes veterans by providing them with a pin and a certificate that reflects their branch of service. Prayers, uplifting songs and poems are shared while surrounded by the love and comfort of family and friends.
Make-It-Possible
Tabitha aims to make dreams come true for seniors, and in doing so, improving the quality of their lives in ways medicine alone cannot. Tabitha gives veterans and their loved ones the opportunity to have an experience that otherwise may not be possible. This may include having a friend brought to the bedside for a few final moments of comfort or visiting an old neighborhood full of cherished memories. The Tabitha Foundation works alongside the hospice team by coordinating these last wishes to help older adults live life to the fullest.
Vet-to-Vet Volunteer Program
Tabitha Hospice volunteer coordinators can arrange for veteran volunteer visits for veteran clients. These volunteers are specifically trained to work with clients under hospice care.
As we celebrate our nation's heroes this Veterans Day—and every day of the year—we must not forget that it is never too late to give them a hero's welcome home.
To learn more about Tabitha's We Honor Veterans program, contact us or call a Tabitha Senior Care Expert at 402.486.8520.