When Every Day Counts, So Does Expert Leadership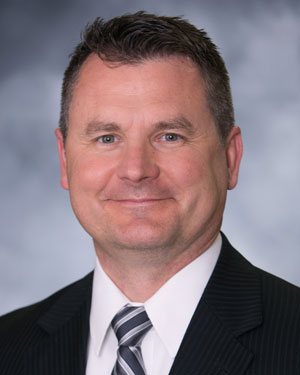 Dr. Kevin Reichmuth
To someone with a terminal illness, every day matters. That is also the philosophy of Tabitha Hospice care, from the volunteers and aides to the administration and medical director. Knowledgeable, experienced leadership is essential, and Tabitha Hospice utilizes Dr. Kevin Reichmuth as medical director and local expert.
Dr. Reichmuth has served as Tabitha Hospice medical director since January 2017. He plays a vital role in Tabitha's industry-leading program, collaborating with clients' physicians, families and the Tabitha Hospice team to ensure client care plans and wishes are met.
"I've always had a desire to help others alleviate suffering and optimize the quality of life especially in individuals diagnosed with terminal illness," said Reichmuth. "My passion for hospice care was strengthened by working with the wonderful team at Tabitha. I am inspired and feel blessed every day to work alongside such a selfless, committed and compassionate group that goes above and beyond for each of client."
Reichmuth joined Tabitha with over 22 years of extensive experience and is currently board-certified in internal, sleep and pulmonary medicine as well as critical care. He has served in the military for 28 years and is currently a Colonel and the state surgeon for the Nebraska Army National Guard. In addition, Reichmuth aids in the oversight of local medical centers in Lancaster, Platte and Saunders counties. Throughout his medical career, he has written several publications that have appeared in prestigious national journals for organizations such as the American Geriatrics Society.
"Providing the highest quality of care that's backed by the industry's best medical practices and supports the clients' needs, values and beliefs are fundamental attributes of Kevin's leadership." Tabitha Hospice Administrator Chris Wismer said. "He's a well-respected leader, and Tabitha is very grateful to have his expertise."
As the first and most experienced provider of hospice care in the state of Nebraska, Tabitha Hospice is the gold standard for quality, compassionate, end-of-life care. Tabitha Hospice Care is provided throughout 28 Nebraska counties, wherever a client calls home, as well as at an innovative hospice residence, the Journey House, on Tabitha's main campus in Lincoln. Tabitha provides the best clinical care, symptom control and pain management, plus emotional and spiritual support to clients and their families so final months can be spent according to their wishes.
For more information about Tabitha Hospice, contact a Continuum Navigator here or call 402.486.8520 today.