A Great Match Matters
How a couple's evolving needs were met through Tabitha's Continuum of Care
Longtime residents of Lincoln's Havelock neighborhood, Arthur (Art) and Bernadette (Bernie) Reinhart were never far from one another. Married for 68 years, both living to the age of 90. Their story began back in the third grade at St. Francis School in their hometown of Humphrey, Neb. Art could always be found at Bernie's house. With only one brother, he loved being in on the action with her 11 siblings.
After graduating high school, Art went on to serve in the Army, but returned right back to his childhood sweetheart after being stationed in Guam. Their love and faithfulness was apparent; they were meant to be.
Married in 1950, they raised four daughters and four sons. Bernie worked in the local Isco factory for 15 years then dedicated her time to the family. Art found his passion in the print industry, working for the Humphrey Democrat and Lincoln Journal Star newspapers. He logged over 32 years as a type setter for Peterson Typographers, now known as The Nebraska Printing Center in Lincoln, Neb.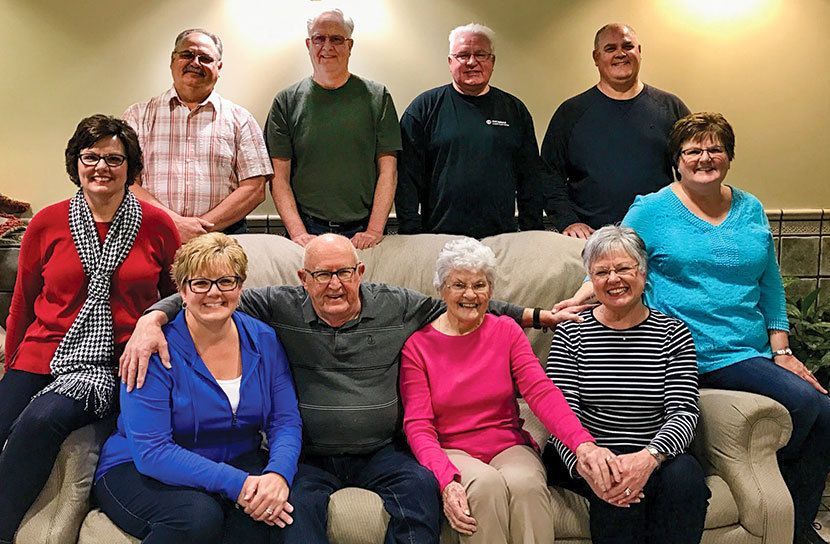 Art and Bernie (middle of couch) surrounded by their loving eight children: Mary, Lynn, Don, Larry, Tom, Connie, Beth and Cindy.
They had a beautiful and quiet life together, watching their children raise families of their own. With 17 grandchildren, 12 great grandchildren and another on the way, they adored every moment with them. The couple also shared a love of the St. Louis Cardinals baseball team. You'd often find them wearing shades of red, and of course, matching shirts.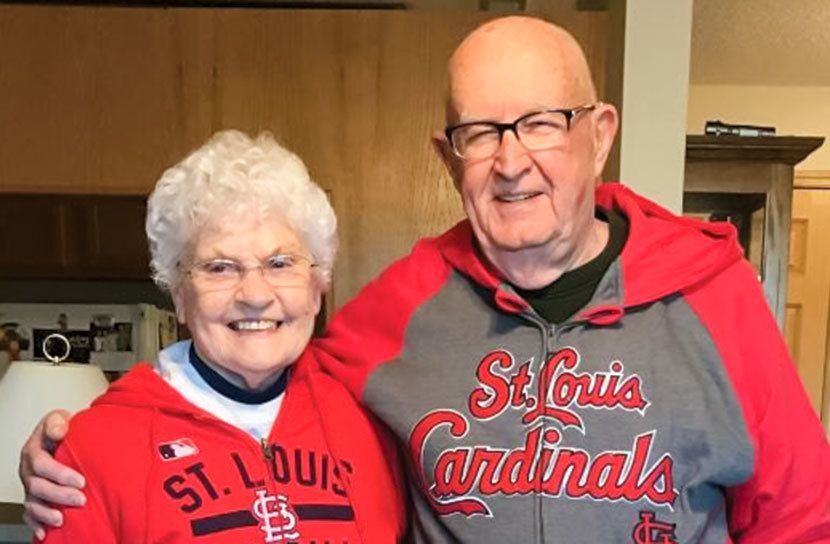 Art and Bernie were devoted Cardinals fans
After 60 years of living in their family home the Reinharts' health began to decline and they made their move to Legacy Terrace in 2014. It was there that Bernie first discovered how Tabitha's Home Health Care could assist her at home after a hospital stay. As her medical needs progressed, she then moved to Tabitha Nursing and Rehabilitation Center (TNRC) where she received expert skilled nursing care. Bernie's final home was at Tabitha's Journey House, a unique and tranquil house dedicated to hospice care.
Art was at Bernie's side—holding her hand, to let her know, as always, he was there for her. She peacefully passed away in 2018. And when Art started to have more major medical concerns, the family knew—without hesitation—where to turn, Tabitha. 
"We wanted Mom and Dad to have the best care," shared their youngest daughter, Cindy Martins. "We knew there were other providers out there, but for us, Tabitha was the only one."
Art received compassionate Tabitha Hospice Care in the comfort of his home. He looked forward to great conversation during his visits with his nurse, Christal. His final days were spent with those he loved most, getting the opportunity to spend time with each of his children before passing away earlier this year. Martins added, "There isn't one thing we truly regret. But if we'd known then what we know now, Mom and Dad would have been evaluated sooner and able to use all the benefits of hospice care. Tabitha worked with us every step of the way, answered all of our questions and made the transition to each type of care smooth and easy. We couldn't have done it without them, and we are very grateful for the team." 
Tabitha is here for you whenever, however and wherever you need us. Learn more about our Senior Care services today.