Commit: A Word from Christie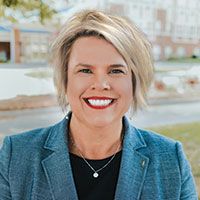 Friends of Tabitha,
At Tabitha we're Committed to Commitment—it can be found at the heart of all we do. It's what drives us to provide the best quality care for older adults in the state. It's doing what we say we'll do. It's coming through for the families who've entrusted us to care for loved ones.
This 'all in' attitude resonates throughout nonprofit Tabitha's 130+ year history. From our humble beginnings as an orphanage to the industry-leading Senior Care provider of today, we carry a strong sense of duty to deliver. Don't get me wrong, Tabitha is not without challenges. There's a reason 15 nursing facilities have shut their doors in Nebraska this year. We are constantly adjusting to face the ever-changing governmental regulations and lack of funding that does not even begin to cover the cost of the exceptional care we provide. Tabitha has chosen to take on this venture, and we continue to work diligently to find innovative solutions.
Unlike others, Tabitha—Nebraska founded and based—has kept its long-standing Commitment to Seniors despite going through turbulent times in its history. Families have always been able to count on Tabitha to be here for them.
We're continually evolving our services to meet regional needs from bustling towns to remote rural spots. We are a proud team working and living where we grew up and are invested in the area's success. We understand that when we lift each other up, we all benefit.
The success of Tabitha is due to the combined effort and motivation of TEAMembers, volunteers, donors and supporters, like you. Tabitha is proof that when you're Committed to the right things, for the right reasons—great things do happen. And with your strong support Tabitha will be here for years to come, Committed to you.
Inspire(d),

Christie Hinrichs
President & CEO