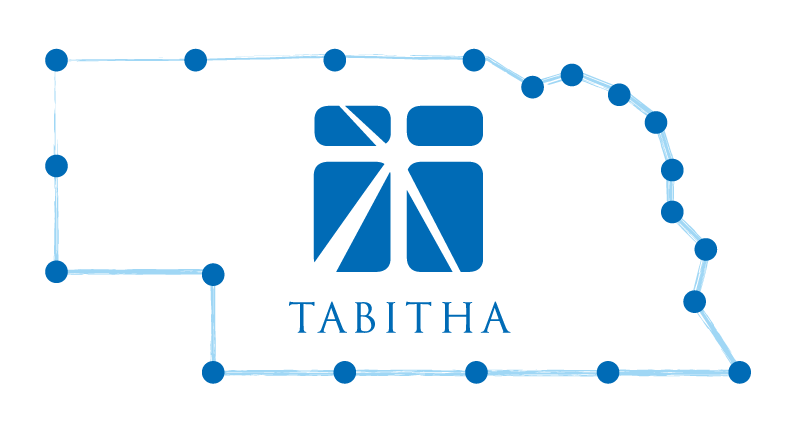 Connect: A Word from Christie
Friends of Tabitha,
Connecting the dots, it's one of the first type of puzzles tackled as a toddler. Who knew this simple activity would follow us through life? Each day at Tabitha we outline plans to get to the big picture and work to strengthen our bond with those we serve. Tabitha's ties to Nebraska run deep from our humble beginnings as an orphanage to today's industry-leading Senior Care services.
That's why the word "Connect" lives as a Core Value within Tabitha's Culture and plays a role in all we do—building relationships with clients, families and those we work alongside, forging new opportunities with our board, partnering with local, like-minded organizations, sharing industry resources and developing TEAMembers to strengthen our communities.
Just how connected are we? One in ten Nebraskans over the age of 70 have been served by Tabitha. Over 1,000 Tabitha TEAMembers live, raise families, contribute and are invested in the very cities and towns where they work. Add another 1,200 dedicated volunteers. Tabitha covers 28 counties throughout the state. More than 2,000 clients and their families are served daily. Not to mention the 500 face-to-face deliveries we make every day through Tabitha's Meals on Wheels longstanding program.
As a nonprofit, mission-based organization our focus is on the well-being of our communities. No matter how straightforward or how intricate future Senior Care needs may be, Tabitha's continuum exists to help friends and neighbors.
My hope is that you consider yourself a 'connector' and share the scope of Tabitha's resources with family and friends. Think of Tabitha as a 'go-to' when, where and however you may need support for the aging journey.
Inspire(d),

Christie Hinrichs
President & CEO