Friendships Formed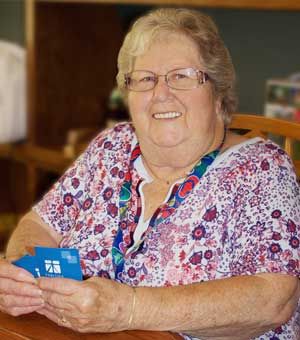 One hand at a time
At age 73, Tabitha Volunteer Judy Zimmer is retired and has spent a lifetime meeting and getting to know individuals from all walks of life. She shares in memories of the past with Tabitha residents as she shuffles a deck of cards.
Over the past five years, Judy has hosted a card club, first at Tabitha Nursing and Rehabilitation Center (TNRC) and now at Tabitha Residence—Elizabeth House in Lincoln. Every Wednesday a group of Seniors gather around, eager to play a game of pinochle, canasta or their favorite—pitch. Usually Judy deals the cards, keeps score, assists with game rules and every now and then she'll step in and play a few hands herself.
More than playing cards, Judy truly enjoys getting to know the residents. She's found she benefits from donating her time and talents as it fills her spare time in meaningful ways and allows her to remain social with others her age. Reminiscing about their childhood and living on a farm are just some of the great memories they share together. But most important are the friendships she's formed across the table.
"I look forward to spending time together as much as the residents do," added Judy. "I just really like being here and volunteering. No matter where I go throughout Tabitha, I feel welcomed. For me, it is a home away from home."
Volunteer opportunities are endless here at Tabitha. To learn how you can enrich Seniors' lives and your own through YOUR interests and skills, visit Tabitha.org/Volunteer today.