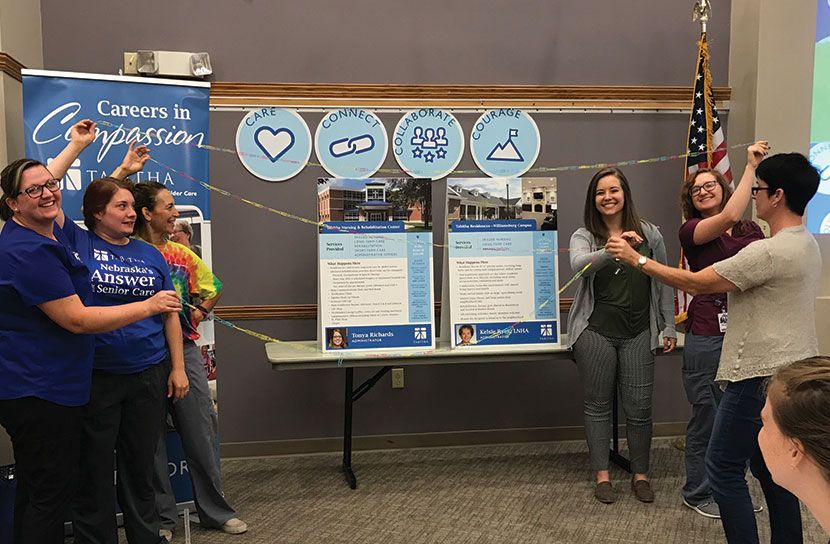 Getting It Right From the Start
Delivering an exceptional employee onboarding experience
Do you remember your first day of school? Your first date? Your first day at a new job?
First impressions of a workplace can make or break it for new employees. Starting a job comes with hope and excitement, yet 20% of new employees in the U.S. leave a job after just 45 days. According to the Society for Human Resource Management, this turnover costs the company 50–60% of that lost employee's salary.
Nebraska's unemployment rate is well below the national average and there is a critical shortage of licensed nurses and aides, so it's more important than ever for Tabitha to get it right from the very beginning.
So far this year, Tabitha has seen a 23% increase in new hire retention in the first 90 days, and a 13% increase between 90-180 days. Tabitha's Talent and Culture team attributes this to an increased focus on TEAMember onboarding in 2019.
To make an impact, Tabitha rolled out the following onboarding initiatives:
Online Applicant Assessment
A big part of keeping great employees is hiring the right employees from the start. Tabitha partnered with HealthcareSource to assess all candidates, indicating whether or not they may be a fit based on performance, commitment, service and values.
Revamped Orientation
The Talent and Culture team gave its onboarding process an overhaul, resulting in a more engaging and interactive experience. The gatherings make new hires feel more at home and bring Tabitha's rich history, innovative range of services and Live2Care culture to life.
Preceptor Program
Tabitha's Workforce Development and Clinical Education departments teamed up to launch a preceptor program. Pairing experienced nurses and aides with new hires to help teach important clinical skills, model quality care and provide timely feedback to help them grow in their careers and provide optimized care to Tabitha clients.
New Hire Surveys
What better way to measure and adjust than to ask TEAMembers how onboarding is going? Tabitha utilized WeCare Connect to touch base with all new hires at multiple touch points, facilitating open communication and highlighting areas of opportunity.
At Tabitha, loving your job is ingrained in the culture. Ensuring each new employee has the same orientation experience results in consistent staffing and exceptional quality care to clients.
Be a part of our growing team.  Visit Tabitha.org/Careers for current job openings.