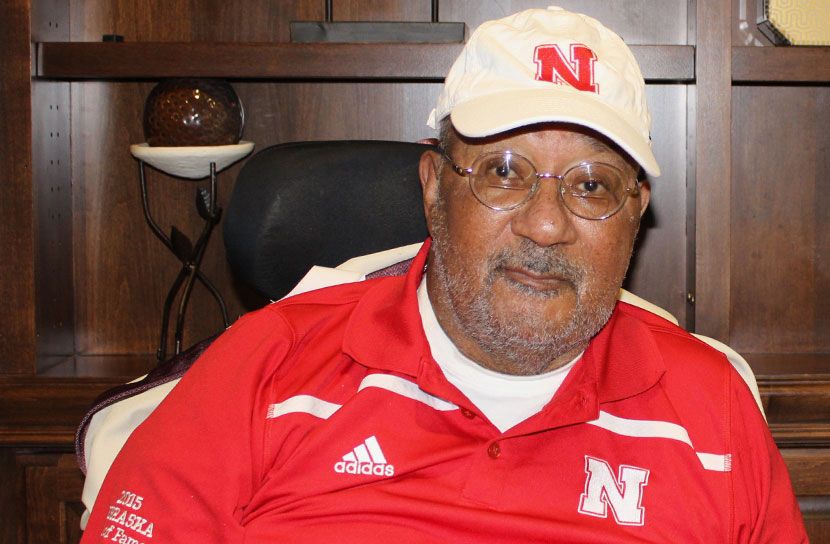 Good as Gold
An Olympian Lives Here
Once known as the "World's Fastest Human," Tabitha resident Charlie Greene relishes his track and field days. But what he's most proud of is his family, his longstanding support of student athletes, his alma mater—the University of Nebraska—and his country. 
Charlie was born in Pine Bluff, Arkansas, raised by his single Mom, Bertha and grew up in Seattle, Washington. As a kid, he enjoyed running and was naturally fast. He tried out for track at O'Dea High School and lettered as a freshman. It was apparent that he was destined for great things. In 1963 he earned a track scholarship to the University of Nebraska—Lincoln (UNL), and the rest is history. 
Charlie went on to win six NCAA track titles, was a seven-time All-American and 11-time conference champion. At the end of his college career he had the most NCAA titles of any Nebraska male track and field student athlete. After graduating in 1967 with a major in physical education and athletics, he started grad school and became a member of the U.S. Track and Field team. 
Competition was fierce on the 1968 USA team but Charlie held his own and was one of three who tied for the world record in the men's 100-yard dash at 9.1 seconds while competing in the championships in Sacramento, California. Full of confidence and talent he entered as a sprinter in the 1968 Olympics in Mexico City. The first and only sprinter to wear sunglasses while competing, he set himself apart—visually and physically. 
Charlie won the bronze medal in the 100-meter dash. His U.S. 4x100-meter relay team won the gold medal with a world-record time of 38.19 seconds. As a two-time U.S. Olympian, he was also recognized as the first Husker student-athlete in the history of Nebraska Athletics to win a gold medal. Amidst these Mexico City victories, while on a blind date, he also met his wife, Linda, a Philadelphia Inquirer reporter covering the games. 
They married in January 1969 and shortly after, Charlie began his career with the ROTC. He served for 24 years, where he rose to the rank of major. He also served in the military's equal opportunity and race relations programs. Charlie then became an executive for Special Olympics International in Washington, D.C., and circled back to Lincoln spending his last six working years in student affairs at UNL before retiring. 
Along with focusing on his career and raising his two beloved daughters, Mercedes and Sybil, he also volunteered in UNL's Life Skills program and helped train student track and field athletes at Lincoln and Lincoln Northeast High Schools. 
Charlie's amazing accomplished earned him spots in the Hall of Fame for USA Track and Field, U.S. Olympics and Nebraska Athletics. 
As life slowed down for Charlie, due to some medical complications and surgeries, he received short-term therapy care at Tabitha Nursing and Rehabilitation Center. After determining a need for more long-term nursing support, he now resides at Tabitha Residence—Cove House in south Lincoln's Williamsburg neighborhood. 
"When you're healthy and all is well, you don't think about the types of services Tabitha offers but thank God they exist," Charlie added. "I am grateful for the professionalism and the attention the Tabitha team provides. The nurses have your best interest in mind; they know what works to get you feeling your best and help you help yourself in this journey we call life. This is a fantastic place!" 
Today, you'll find Charlie, now 75 years old, visiting regularly with track and field colleagues, going on outings with his family and staying up-to-date on local and national news. No doubt, he will be in front of the TV this summer taking in all the runners at the Tokyo Olympic Games and reflecting back on all of his accomplishments. 
Charlie attributes his implausible achievements to discipline, working smart and his favorite expression...
"Do what you're supposed to do."
Learn more about Tabitha Residences' gold standard  of care and perfect 5-Star Overall Quality Rating. Contact a Senior Care expert today.
---