Hearts of Gold—It Takes One to Know One
Resident Marge Musil, 75, understands the importance of customer centric service.
ROAD TO TABITHA
Lincoln natives, Marge and her husband, Frank, were married 53 years and blessed with three children, Christina, Frank and John; eight grandchildren and one great granddaughter. After raising their family, they moved to an assisted living community. 
In 2017, the couple began to surpass the level of care their community could provide. Frank was in the last stages of Alzheimer's, and Marge had been diagnosed with Parkinson's.
 
After visiting several places, she chose Tabitha Nursing and Rehabilitation Center.
MAKING THE MOST OF IT
Within three weeks of making the big move, Frank sadly passed away. And after four years of focusing on his care, Marge suddenly found she had some time for herself. Marge sought independence and Tabitha's nursing team found ways to get her out and about to enjoy time with friends. "It was what I needed more than anything," and she is forever grateful the team recognized it.
She also sought to get healthier. Thanks to Tabitha's nutrition and therapy teams combined with Marge's willpower, she lost more than 100 pounds her first year at Tabitha. Then proceeded to shed 50 more.
Overall, Marge appreciates not being alone and having the assistance she needs at Tabitha.
"Everyone is dedicated to doing things just as you want them done," she shared. "They never enter a room without knocking or leave without asking if there is anything else you need."
STAYING CONNECTED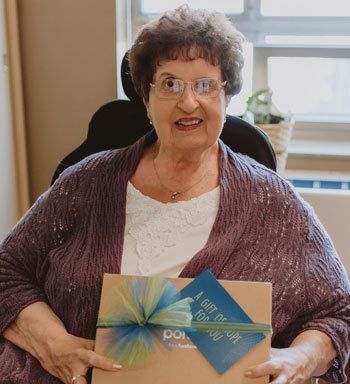 Portals make connecting easier
Marge finds many ways to pull people together. She is a valuable member of the Resident Council. She embraces technology to communicate with friends and family, especially during the ongoing COVID crisis. In fact, Marge is so active on social media that she ranks as one of Tabitha's top Facebook fans and puts a generously donated Facebook Portal to good use. 
She also leads the 'Yarn and Yammers,' a knitting group made up of Residents, friends and neighbors. Once the pandemic hit she got to work creating 240 "ear savers"—extenders to make mask wearing more comfortable—a big hit with Tabitha TEAMembers and Residents. "I need to be busy, qualify my time, have something to plan for each day," she shared.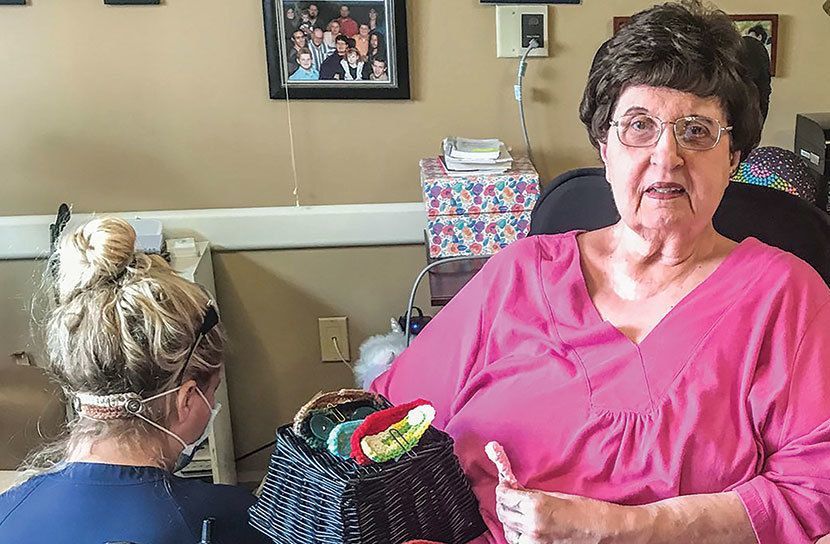 What advice would you give for people to 'Live Joyfully, Age Gratefully?'

"Find something that fills your day with joy. For me, that's connecting with friends and family." –Grateful Tabitha Resident, Marge Musil
PAYING IT FORWARD
Marge knows a thing or two about the power of Culture, positive interactions and being recognized for a job well done. After all, she worked 21 years at the global powerhouse, Gallup, where these values were deeply rooted. One of her favorite memories was receiving the 'Mountain Top' Award at their annual World Conference for her exceptional work as an executive assistant.
Because she's delivered it, Marge can spot great customer service when she sees it. In turn, she has shown her gratitude by thanking those who support her through Tabitha's TEAMember recognition program, Hearts of Gold. Here's two out of the many TEAMembers she's lifted up:
Food Service Supervisor, ALI ABDULAALI

Ali was delivering coffee to the room Marge had reserved for a large family gathering. He found Marge concerned as the tables had not yet been set up. He immediately gathered a team and prepared the room beautifully with tablecloths and centerpieces. "He went beyond the scope of his position and pitched in to help where needed," Marge shared. "I wanted to thank him."

Ali humbly stated that it is his privilege and honor to provide customer-centric care for Tabitha Residents. "The love and compassion embedded in Tabitha's Culture gives me a great sense of pride for what I do every day," Ali shared. "Supporting Senior Residents is my number one priority."

Med Aide, MARTIN MODI

Martin's name had come up at TNRC Resident Council sessions on many occasions. So much so, that Marge lead the charge and recruited other Residents to let him know just how much he was treasured. "Martin goes beyond his regular duties and assists the nursing assistants when it gets busy," she said. "He is helpful, courteous—willing to do whatever is necessary—and never makes you feel he doesn't have the time for you."
Marge believes strongly in showing gratitude to employees, letting them know their time and patience are appreciated.
"These employees are vital to our needs. They come to us when we need help with something we can't do," she explained. "Those who go beyond the regular expectations should be commended for their efforts."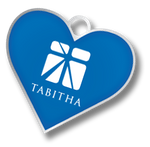 Tabitha's Hearts of Gold program provides clients and their families a way to acknowledge TEAMembers. Staff are spotlighted and awarded with a pendant and certificate. In addition, an optional donation may be given in their name. Visit Tabitha.org/HeartsofGold to find out how you can share your gratitude.