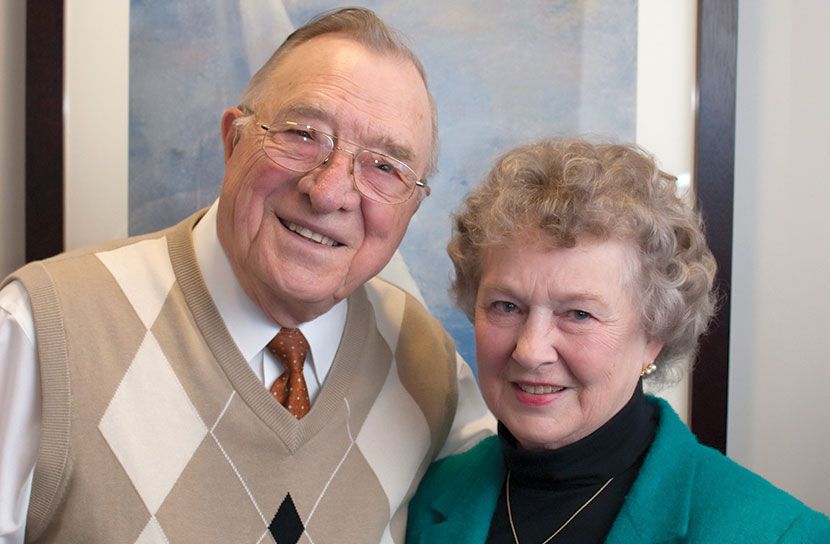 Leaving a Legacy
A lifetime of giving shapes the Dietze family
Longtime Lincoln residents Sally and Dwayne Dietze grew up giving back to the community in all sorts of ways. Both of their families instilled in them the importance of faith, family and philanthropy. The Dietze family philosophy is summed up in the words of Winston Churchill:
"We make a living by what we get, but we make a life by what we give."
Dwayne's work in the financial industry, providing credit to farmers, shaped his desire to help others succeed. He also served as president of the Lincoln Northeast Kiwanis Club, Lt. Governor of the Nebraska and Iowa Kiwanis district and was a member of Tabitha's Foundation Board of Directors, serving on its investment committee for 12 years.
Sally was the foundation at home—the rock of the family—and a community volunteer, including delivering Tabitha Meals on Wheels. Grounded in their faith and family, Sally and Dwayne raised three wonderful sons, Paul, Tom and Dan. Always putting others first, Sally and Dwayne inspired their life's passion for giving to their entire family.
When Dwayne passed away in December 2018, youngest son Paul reflected on the calming and pragmatic influence of his father. Paul would consult Dwayne's wisdom with nearly every major decision in life. Both of them quite alike, Paul recalls them starting casual debates that ended in agreement. Sally laughed saying, "They were so alike, I often had to interrupt and tell them they were actually agreeing."
As an ophthalmologist in Hastings, Nebraska, Paul believes one of the best ways to honor his family is to utilize his gifts in serving his patients. He also shares God's blessings through his church and several other charitable organizations. Seeing his father through life's final stages was difficult, yet impactful. Paul appreciated the team at Tabitha's Journey House and honored them with Tabitha Hearts of Gold recognition because they had compassion and provided exceptional hospice care not only to his dad, but to their entire family.
Tom is the middle son, also an ophthalmologist in Corpus Christi, Texas. Tom often encounters patients going through a difficult time. He shares that his parents gave him a lifelong gift by teaching him about empathy. Having endured significant loss himself, his calling is to be an inspiration to others. Tom's message is to stay standing and keep going forward: "Life can only be lived forwards, but only known backwards."  
Oldest son Dan found his calling serving others through several decades as a Commander in the U.S. Navy. Residing in King George, Virginia, Dan considers himself lucky to have been raised with Midwest values instilled by his parents and grandparents. In his retirement, Dan has gone back to work as a teacher. Remembering the time spent with family, Dan recalls his upbringing centered on what mattered most to his parents—faith, family and service to others.
Grandchildren and great-grandchildren have always been important to Sally and Dwayne. In fact, just last year the entire family gathered in Texas to celebrate Dwayne's 90th birthday. They laughed and cried together, reminiscing about all of the ups and downs of life. The family believes God had a hand in bringing them all together one last time.
Dwayne was always well studied and thoughtful in all that he set out to accomplish. He had a plan throughout his life, as well as one for after he was gone. Even though Dwayne managed many of the financial aspects of their lives, he and Sally made the decisions together. Giving back was at the top of their list. For decades, Tabitha has been the benefactor of generous gifts from the Dietze family.
When Dwayne passed away, the sons wanted to honor their parents' legacy of giving through Tabitha. The result of their generosity is the Sally and Dwayne Dietze Workforce Development Fund, established to provide Tabitha's dedicated caregivers and employees the financial support needed to continue education and grow their skills.
Leaving a legacy is not just remembering the past, but taking action to honor those who have influenced our lives to shape the future. The Dietze family legacy is thriving more than ever through their gifts at Tabitha. Their commitment to faith, family and philanthropy is expressed each and every day when a compassionate team member supports a Senior with exceptional quality care.
---
How You Can Help
Consider a gift to support local Seniors in need.
Mail: Tabitha Foundation, 4720 Randolph St., Lincoln, NE 68510
Online: Click here to give
Phone: Tabitha Foundation, 402.486.8509