Making Connections Happen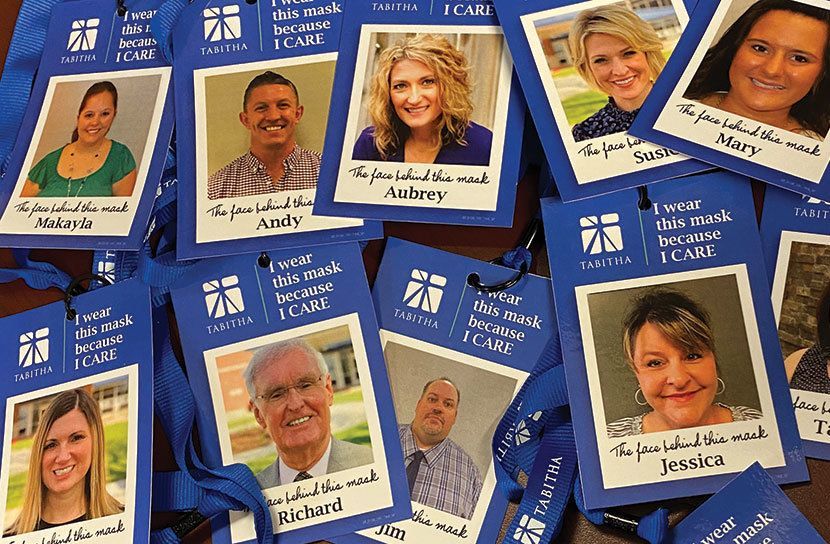 The COVID-19 pandemic has caused senior living communities around the nation to be in a constant cycle of temporarily opening to visitors only to close again based on government mandates that can impact Tabitha differently each day.
As Tabitha quickly enacted safety and health precautions to fight the spread of the virus, we immediately recognized that it was equally important to fight Resident loneliness and depression.
THE GOAL: Ensure Tabitha Residents remain active, engaged and well-connected with the family and friends they love.
THE RESULT: A robust Connector Program designed to do just that—Connect Residents to a friendly and familiar TEAMember to facilitate communication that meets the unique needs of each Resident and their family.
THE COLLABORATION: Optimize the efforts of the clinical, social services and life enrichment teams to support Seniors during this uncertain time. 
And support families and friends from around the globe.
THE TECHNOLOGY: Deploy the tools needed to make Connections easy ... from iPads, iPhones, laptops, speakers, oversized monitors and Facebook Portals to even headphone sound amplifiers.
THE TRADITIONAL: Utilize landline calls as well as letters and cards through the U.S. Post along with face-to-face visits with Connectors. 
THE CONNECTORS: A select group of 14 TEAMembers from cross-functional areas of Tabitha assigned to each Resident across Tabitha's 13 living communities in Lincoln and Crete, Neb. 
The Connector Program is proving to be meaningful for everyone involved—including the Connector. This gives families peace of mind knowing their loved ones are well cared for and about and they are able to have thoughtful conversations that improve the Resident's outlook.
Relationships matter even more today. They are a large part of who we are as individuals, and they help keep us grounded. Being able to hear and see familiar faces and voices is comforting. Reminiscing and sharing a laugh with someone lifts spirits, and brings hope for the future when we can all safely be together again.
Follow Tabitha's Facebook page to see how Connectors make a difference.