Commit: A Word from Christie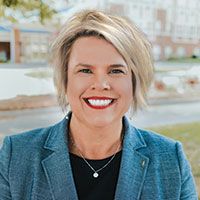 Friends of Tabitha,
Ever thought about what your purpose is? Do you have a sense of your true self and the values you choose to live by? Some spend a lifetime without ever really figuring it out. And then there are those who are lucky enough to be born with it in clear view. 
Tabitha's PURPOSE is to empower people to live joyfully, age gratefully. This concise, uplifting statement is why Tabitha exists and serves as our compass to guide us to what's next.
Thankfully, I figured out my life's calling fairly early on. I am blessed to be a part of Tabitha—caring for and about Seniors and their families. With each passing year, Tabitha's purpose grows stronger and stronger, and this resilience serves as confirmation that we are headed in the right direction. 
One of my most important roles at Tabitha is to ensure TEAMembers connect and put their purpose to its best and highest use. This makes for an amazing work environment and results in delivering outstanding, quality care.
Studies show that when you lead a purpose-driven life you are more fulfilled and even live longer. You lean in and make the most of each day because you know who you are, where you're from and where you're going. The same can be said for Tabitha. We stand today because we are steadfast in caring for and about Seniors first.
Purpose—we all need one—it gives us optimism, energy and guides us to what matters most. If you haven't already, I encourage you to reflect on what you deeply care about and therein lies your purpose.
Inspire(d),

Christie Hinrichs
President & CEO