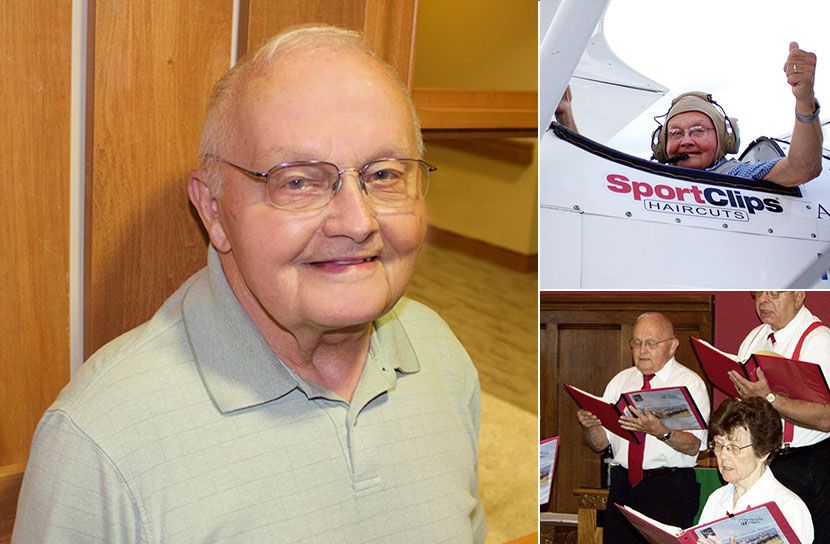 The Advantage of Really Being Connected
When we say 'connected' these days our first thoughts tend to go to the digital revolution fueled by busy lives and a flurry of emails, text messages, social media and our ever-present cell phones, computers and iPads. But in this case we mean 'connected' in terms of developing and maintaining solid, true, face-to-face social relationships and being present in the moment.
What would you do with more free time—if you didn't have to worry about laundry or lawn work, cooking or cleaning? For Dr. Gerald Tharp, U.S. Army Korean War Veteran, retired University of Nebraska (UNL) physiology professor and GracePointe by Tabitha resident, the answer is easy. It's all about friends, family and the things he enjoys most.
Research has found that social support plays an important role in overall health as we age. Spending time with people and doing activities we love boosts quality of life. The stronger the bonds in our trusted personal connections, the more we reap the health benefits that are especially important as we grow older.
Experts say frequent socialization can slow cognitive decline by 70 percent. To say Tharp has capitalized on his socialization is an understatement.
Tharp has lived life with enthusiasm, serving our country, as a husband, father of four, professor (logging 30 years at UNL) and textbook co-author. His connections to community are the proof. His association with Tabitha is no exception, from serving as a Tabitha Meals on Wheels volunteer to becoming a resident.
It was at First Lutheran Church that he was introduced to Tabitha. There, he met and became lifelong friends with Stu and Martha Maseman. (Stu developed the Tabitha Foundation while Martha was a pioneer in establishing Tabitha's award-winning Home Health Care Services.) Tharp's late wife Delorice, "Dee," turned volunteer opportunities at Tabitha into a 20-year career in Admissions. Dee's mom benefited from Tabitha's range of services as well: living at The Village Senior Apartments, then onto Tabitha Nursing and Rehabilitation Center and finally Tabitha Hospice.
When Dee's health issues led her into needing a long-term care community, Tharp looked into simplifying his life. Like so many Nebraskans, he wanted to live on his own terms and took matters into his own hands with proactive planning. Because of his Tabitha ties, he toured GracePointe Assisted Living and Memory Care Suites and shortly thereafter put his name on the resident waiting list.
"Living at GracePointe with a hassle-free lifestyle freed me up to focus on more important things. One of the biggest benefits is that I do not have to cook. Instead, I have wonderful meals prepared for me that are much better tasting and balanced than if it were left up to me. Brandy McWilliams (GracePointe's Executive Chef) does an amazing job. Her specialty is desserts, which unfortunately, I do have to turn down every now and then."
"I also enjoy developing new bonds with the GracePointe residents. Our conversations over the dinner table are lively, maybe a bit too loud and filled with humor."
Faith has played a strong role in Tharp's life. He is an active and longtime member of First Lutheran Church. You can find him heading off for a Bible study group or singing in the church choir, and he also lends his tenor voice to the Lincoln Senior Choir. When he's not singing, he enjoys listening to local artists like 3 Chords and a Cloud of Dust and multi-instrumentalist Chris Sayre.   
While many Seniors are wary of leaving their family home to move into assisted living, Tharp embraced it. It is said that a professor never stops teaching and in Tharp's case he continues to show how the power of thinking ahead, looking forward to each day and filling it with connections leads to a happier, healthier life.
Benefits of Staying Social: 
Less STRESS | LONGER LIFE | MORE FIT | HIGHER SELF-ESTEEM | LOWER RISK OF DEPRESSION