A Word from Christie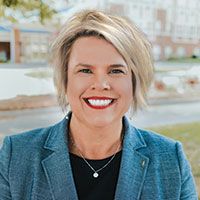 Friends of Tabitha,
When faced with adversity we can Courageously confront it or crumble under it. Before Coronavirus (COVID-19) was labeled a pandemic, Tabitha was Committed to rise to this challenge—doing everything possible to keep it at bay. 
Early on it was evident that older adults, front-line workers and Tabitha were at great risk as Senior Living Community hotspots began to surface across the country. Tabitha took swift action, establishing unprecedented guidelines well before even mandated by governmental health agencies. We learned valuable lessons from peers who were experiencing the outbreak in their communities. And we developed plans to address every type of scenario including a Connector program to ensure Residents remained in touch and engaged with their families.
As you can imagine, in Tabitha's 134 years we've seen our share of tough periods and the next few years will, no doubt, be challenging. Because the most vulnerable to the virus are the Seniors Tabitha cares so deeply for and about—our work has been elevated and resources stretched.
Even in the best of times, Senior Care is filled with uncertainty. How will Tabitha get reimbursed for the cost of the care we deliver? Will stringent regulations stifle our ability to serve? Do families understand the value of Tabitha's expert Continuum? But what is certain is our Commitment to serving the community.
Although COVID-19 has forever changed our world, through it all, Tabitha's values have served us well. Tabitha is much stronger because of it. 
Inspire(d),

Christie Hinrichs
President & CEO