The Answer Newsletter | Winter 2019
View the flippable newsletter below, or scroll down for online articles.
---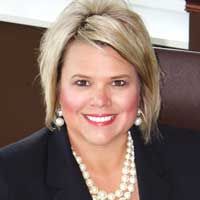 Cultivate: A Word From Christie
Friends of Tabitha,
One way or another all Nebraskans are connected through agriculture. After all, one out of four jobs in the state is linked to the industry and if you didn't grow up on a farm or ranch, chances are you know someone who did. Because of this, it's safe to say there's a good understanding about growing something out of nothing.
When you think about it, we spend our lives cultivating—raising families, fostering friendships, furthering our education and building careers, businesses and communities.
---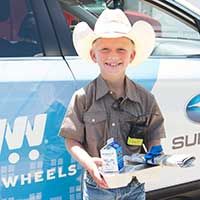 Brax Gives Back
Fearless fundraiser sets example
With a heart as big as his hat, ten-year-old Callaway, Nebraska native, Braxton Anderson, has inspired a wave of donations to Tabitha claiming, "It just feels good to give." Read more about his moving story. 
---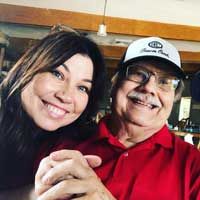 Honestly, Tabitha IS For Everyone
You might not need us now, but when you do—we're here for you.
See how Tabitha serves friends and neighbors, families, caregivers, donors, volunteers, career seekers and more.
---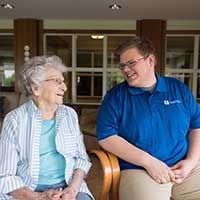 Human Resources Reinvented
Talent + Culture = Success
As Tabitha has transformed over the years so has the Human Resource department, now referred to as Talent & Culture, including recruiting, retaining, mentoring and investing in valuable employees.
---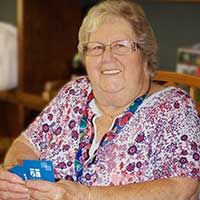 Friendships Formed
One hand at a time
Volunteer Judy Zimmer hosts a weekly card club with residents at Tabitha, sharing in memories of the past and building relationships. 
---
Board Perspectives | Why I Serve
Katie Zulkoski

Tabitha Foundation Board of Directors -
Serving since 2016
Lobbyist, Zulkoski Weber LLC

"Serving on the Tabitha Foundation Board gives me the opportunity to support the work of Tabitha and ensure high quality Senior Care is available in our community. Caring for Seniors is such an important human service, and a strong Lincoln depends on a strong ecosystem of human services."

Mike Jenkins

Tabitha, Inc. Board of Directors -
Serving since 2017
President, Landscapes Unlimited

"My mother was diagnosed with colon cancer at age 83. Following surgery we wanted to move her to Lincoln so she would be close to family. We were able to get her into Tabitha Nursing & Rehabilitation Center for recovery and therapy and then on to an assisted living suite at GracePointe by Tabitha. She loved the accommodations and the personal care at both communities, which made the last year of her life so special for us both."
---
Related Articles
---
Here to Help
When you have questions
Looking for Senior Care solutions for yourself, a loved one or a friend? We're here to listen, learn and share expert guidance and community-based resources that best fit your needs.
We're here for you when you need us!