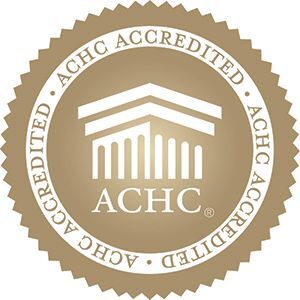 Tabitha Hospice | A Collaboration with Immanuel is accredited by Accreditation Commission for Health Care (ACHC) for compliance with a comprehensive set of national standards. ACHC accreditation reflects an organization's dedication and commitment to meeting standards that facilitate a higher level of performance and patient care.
By choosing a healthcare provider that has achieved ACHC accreditation, you can take comfort in knowing that you will receive the highest quality of care.
Tabitha Hospice | A Collaboration with Immanuel provides hope through pain and symptom management as well as emotional and spiritual support, so people can live in comfort and according to their wishes. 
Our services are provided wherever you or your loved one lives—including a private residence or independent, assisted or long-term care living communities—so most are able to spend their last moments at home, rather than a hospital.
Through a team approach that combines expert medical care and around-the-clock communication, consultation and support, Tabitha is with you through every step of the way.
The Tabitha Difference
The Most Experienced Hospice Care Provider in Nebraska
A faith-based Nebraska nonprofit, Tabitha is a pioneer in hospice care. As the longest-serving hospice program in the state, Tabitha has been providing end-of-life care since 1979.
Exceptional, Compassionate Care
Tabitha Hospice puts people first with purpose in mind, serving for all the right reasons. Our mission—to serve all members of the community regardless of their ability to pay—is rooted in all we do.
We're here for you whenever, wherever and however you need.
Around-the-Clock Support
With dedicated hospice caregivers, you have access to nurses who will come to you if the need arises, whenever the need arises.
Local Volunteers Invested in the Community
Working side-by-side with other members of the Tabitha Hospice team, our volunteers are rooted in the communities in which they serve—providing assistance through companionship, listening, respite care and help with everyday tasks.
Bereavement Team to Walk Beside You Through Your Grief Journey
We understand loss affects each person differently. Our team of experts comfort and support you throughout the journey with personalized education, counseling and literature.
Our bereavement support program is available for all loved ones for 13 months following hospice care, and is administered by coordinators dedicated to serving their individual communities. Tabitha's services include grief support groups, monthly newsletters, and individual and family support.
Resources
Want to learn more about Tabitha's renowned, compassionate hospice care? Contact a Tabitha Care Expert today or call 402.819.4949 for more information. We'll connect you with the Tabitha resources that best fit your own or your loved one's journey.
 
ABOUT HOSPICE  |  WHY TABITHA HOSPICE  |  GETTING HOSPICE CARE  |  HOSPICE TEAM  |  HOSPICE PHYSICIAN TEAM  |  VETERAN SERVICES  |  CAREGIVER RESOURCES  |  VOLUNTEER  |  CAREERS IN HOSPICE