Help Tabitha wipe out the possibilities of the presence of Coronavirus (COVID-19) on high-touch surfaces.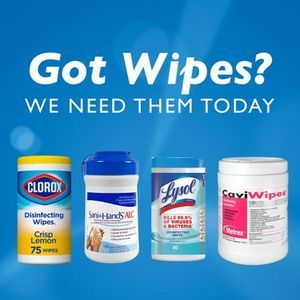 Don't need all those wipes you bought?
Tabitha would be grateful for your donation of new/unopened disinfecting wipe of these brands:
WE ARE ONLY ABLE TO ACCEPT THESE BRANDS.
They'll be put to great use by Tabitha Home Health and Hospice teams who support Nebraska Seniors across 28 counties wherever they call home.
Drop off at Tabitha locations below:
Tabitha Nursing & Rehabilitation Center: 4720 Randolph in South/Main Entry Breezeway

Tabitha in Crete—The Gardens: 1405 Hickory Ave. - ATTN: Sue Sloan
Tabitha in Crete—Residence #2: 1800 East 13th St. – House #2 – ATTN: Michelle Hunter

205 South Lincoln Ave., Suite 101
Nebraskans & Tabitha Pulling Together While Staying Apart.