FOR IMMEDIATE RELEASE:  Monday, April 6, 2020
Tabitha Shares Non-Clinical Staff Member Tests Positive for COVID-19
Lincoln, NE - Monday, April 6, Tabitha was notified that a non-clinical employee based at Tabitha Nursing and Rehabilitation Center (TNRC) at 4720 Randolph Street in Lincoln, NE, tested positive for Coronavirus (COVID-19). This individual serves in an administrative role, meaning they do not provide direct care to Tabitha Residents.
On Monday, March 30, immediately after being notified that this individual experienced a potential exposure outside of Tabitha, they left the workplace and began to self-isolate at home (employee had no symptoms). Following the guidance of the Lincoln-Lancaster County Health Department, Nebraska Department of Health and Human Services (NDHHS) and the Centers for Disease Control and Prevention (CDC), this employee began to self-monitor for symptoms at home. During this process, the individual began to feel minor symptoms, and was instructed to receive a COVID-19 test.
All individuals who interacted with the affected employee in the week prior to self-isolation have been made aware and have been instructed to self-monitor for 14 days. The Lincoln-Lancaster County Health department has indicated the risk of transmission to others as low. At this time, other Tabitha employees who've interacted with the affected individual have not presented with any symptoms. As a note, all Tabitha employees are screened prior to beginning work each day, and are wearing a mask at all times.
This employee followed all precautionary protocols, did exactly as instructed, completed screening each day, and reported potential exposure as soon as they were made aware.
While Tabitha has enacted stringent protocols to guard against this virus, it was inevitable that a case would eventually arise and Tabitha does anticipate that more employees will test positive. Moving forward, just as in this case, Tabitha will directly advise all who have had close contact with an affected individual. Just as we would with any client, we respect the impacted employee's privacy who is seeking care.
Tabitha TEAMembers are pulling together while staying apart and continue to be diligent about screening, hand hygiene and social distancing rules. The TEAMember and their family is in our thoughts and prayers, is showing no symptoms and remains at home.
---
FOR IMMEDIATE RELEASE:  Sunday, March 22, 2020
While America Shuts Down, Tabitha Gears Up
Tabitha remains focused on preparedness, prevention—not panic
As the nation continues to writhe with uncertainty and concern over the historic and unprecedented spread of COVID-19 (Coronavirus), licensed Senior care organizations, like nonprofit Tabitha, prepare and brace for what's to come.
Tabitha, one of the state's largest providers of Senior health care, is addressing this crisis swiftly and with a steadfast calm that only knowledge and experience can provide during these times. Tabitha enacted stringent precautionary measures before they were even mandated by government agencies. "Tabitha TEAMmembers are trained for these type of emergencies. We regularly and proactively plan for worst case scenarios. Now there is a real concern for more vulnerable individuals, such as the Seniors entrusted to Tabitha's care, and we do not take this responsibility lightly, not to mention the pressure it is placing on our entire health care system," shared Christie Hinrichs, Tabitha President and CEO.
Hinrichs continued, "In our 134+ years, Tabitha has seen its share of challenges. We know the only way through this difficult time is to be as equipped as possible and for communities to join together. Tabitha is fiercely focused on the safety and health of the Seniors we care for and   about, their families along with TEAMembers, Volunteers, friends and neighbors."
Acting responsibly to minimize the risk of exposure to COVID-19, Tabitha is taking all necessary preventative measures including: no visits to residents in Tabitha Living Communities, screening of all (employees, approved vendors and volunteers), practicing social distancing and good hand hygiene, not allowing groups of 10 to congregate and encouraging teleconferencing. Visit Tabitha.org/Prepared to learn more.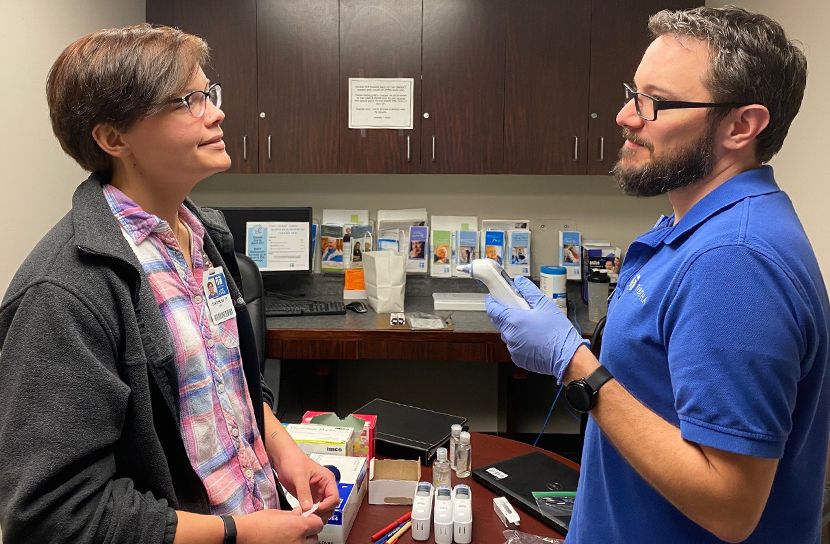 Hinrichs said, "Tabitha understands the inconvenience and uncertainty friends and family face when they cannot visit. We are making sure residents stay connected with open lines of communication by facilitating phone calls, video chats and emails and encourage dropping notes in the mail too. Families can be assured as Tabitha TEAMmembers across the organization have banded together to make sure residents are active, engaged and see and feel the love that surrounds them."
In an effort to keep everyone as safe, healthy yet as connected as possible, families get creative. Some may remember the encouraging Fireside Chats made famous by President Franklin D. Roosevelt during WWII. Today as America fights a war of a different kind, they are resorting to Window Chats. These uplifting visits are becoming an everyday occurrence at Senior Living Communities across the nation.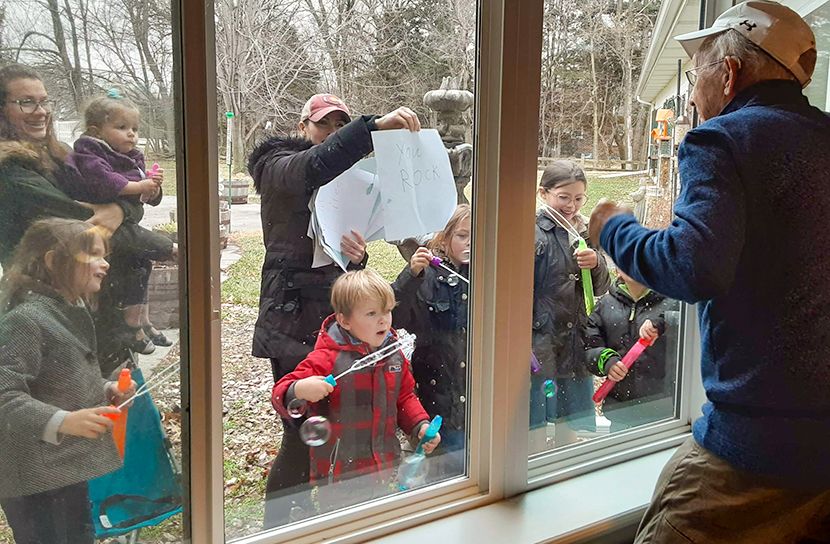 Brenda Soto, Tabitha Vice President of Clinical Quality, called out, "Tabitha has an Incident Command System/Team (ICS) in place as well as a group made up of leaders from across all functions of the organization. All are staying abreast of the latest information, and each play a key role in determining appropriate actions as needs evolve."
Tabitha's key sources of information are:
LOCALLY: Lincoln Lancaster County Health Department  - along with the City/County health departments tied to the 28 counties Tabitha serves
STATE: Nebraska Department of Health and Human Services (NDHHS)
NATIONAL: And ultimately Tabitha takes guidance from (CDC)
In addition, all Tabitha employees are regularly trained on infectious disease procedures.
Tabitha is also taking advantage of a strong network of Senior Care industry peers and organizations across the country. Hinrichs, serves on the national board of Leading Age, one of the nation's foremost Senior experts and advocates. Tabitha is sharing ideas and learning what precautions similar organizations have found invaluable, especially those located in the areas where the presence of the virus is much more elevated.
Even on the best of days, the country's health care resources are over-stressed. This pandemic serves to further spotlight the gaping holes in the nation's Senior and general health care infrastructure. "Tabitha has a long history of stepping into the gaps to fill community needs. As we've watched hospitals and nursing homes struggle around the world, these scenes now repeat themselves across the U.S." said Shawn Martin, Tabitha Director of Safety & Risk Management. "A common theme resonates—lack of tests, workforce, personal protective equipment (PPE) such as essential masks, gloves, gowns and goggles. We thank the Nebraska Health Care Coalition for teaming up with Tabitha to help supply scarce PPE supplies, and Tabitha continues to disperse PPE and train staff on conservation effort instructions."
"This should come as no surprise," added, Katie Lechner, Tabitha Chief Operating Officer, "for years, Tabitha has been warning about the lack of attention and resources paid to a growing Senior population. Combine it with the shortage of qualified health care professionals that are needed and you have the perfect storm. So much so, Tabitha took the issue into their own hands, creating a Workforce Development program, funded by generous donors, to recruit, train and retain the staff they need beginning back in 2017."
Compounding the issue are the closures due to COVID-19 that directly impact Tabitha's workforce, the very people we need to help care for Seniors who are most at risk to the virus. When the universities and colleges closed, Tabitha student workers who served as Certified Nursing Assistants (CNAs) and Med Aides among others, simply quit with little to no notice and returned home. With the school closures, much needed clinical staff have an extra burden of securing childcare resources and are left to juggle caring for their kids at home and Seniors at work. Again, Tabitha is rising to the challenge to conduct virtual job fairs and connect staff with day care resource options.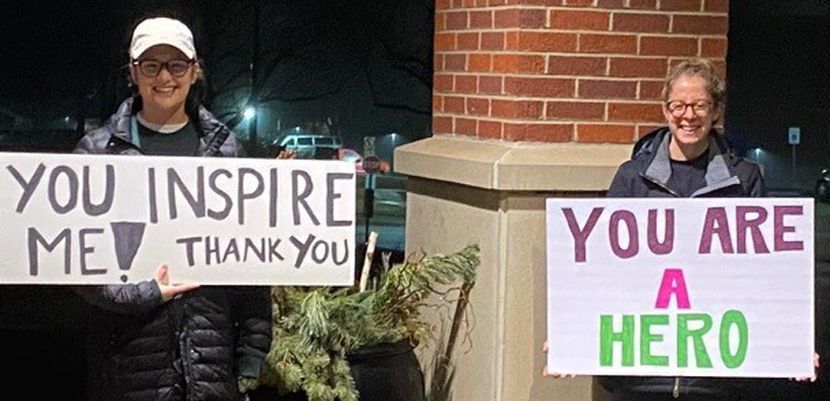 "We know many Nebraskans have been laid off and we want to invite those looking for work to check out Tabitha's career page at Tabitha.org/Careers and watch for our virtual career fairs." said Nicole Smith, Tabitha Executive Director, Talent & Culture. "There are a variety of job openings ranging from temporary to permanent to full-time to part-time and day, night and evening shifts—each play a vital role in supporting Seniors. We have a strong culture of caring and welcome like-minded individuals to join us in making a difference."
The 50-year-old lifeline program Tabitha Meals on Wheels continues to provide support to 500+ Lincoln residents each day. As more and more shelter in place, the need for Tabitha Meals on Wheels is growing. Tabitha needs a pipeline of Volunteers to help deliver a hot meal, a safety check and some encouraging words. To sign up go to Tabitha.org/Volunteer. This is a great way to bond with family and get some fresh air while doing your part to help.
Hinrichs said, "The consequences of how this situation plays out will be far reaching, for years to come—mentally, emotionally, physically and financially—not just for Tabitha but for our society. We already face an epidemic of loneliness and isolation and the notion that we can easily replace face-to-face contact, work remotely and study online just exasperates this major issue. Tabitha's work requires the human touch, smart people who are present, flexible and intuitive. Our compassionate work cannot simply be replaced with a robot or the solution that works for some—just simply work from home."
All of these recent events have put additional strain on Tabitha, the very place the community is relying heavily upon—needs the strongest community support. Unplanned and unexpected expenses have already begun to mount—costly supplies that must be stockpiled for preparedness, additional paid staff that are replacing Volunteers and others who are no longer allowed to enter our communities. TEAMmembers are taking on additional duties to ensure deliveries are dispersed throughout our communities, meals are served directly to residents in their suites/apartments and important communication is coordinated between residents and families. In our standard course of business, government reimbursement is already inadequate. We pray that licensed Senior care providers are remembered and are a priority as local, state and national emergency funds become available.  
For many, the scale of the COV1D-19 crisis brings to mind 9/11 or the 2008 financial meltdown. "I encourage all to take this time to discover what is truly important in life, our family, faith, friends, health and work that impacts the greater good to support our country and the world. Cherish the forced togetherness, it is what will get us through it all. Please take into account, the efforts you are making are for the health and safety of others. Tabitha and Nebraskans are caring and resilient and we'll take away life-changing lessons from this epic event."
As the state's quality award-winning Senior Care expert, nonprofit Tabitha, empowers people to live joyfully, age gratefully. Supporting friends and neighbors for over 130 years and encompassing 28 Nebraska counties, Tabitha offers a range of services from results-driven rehabilitation, accessible at-home home health care, innovative living communities and compassionate hospice services. Tabitha is Your Answer for Senior Care, learn more at Tabitha.org.