Tabitha Hospice provides a range of veteran services designed to honor the brave men and women throughout Nebraska who have served our country.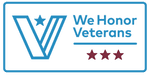 We Honor Veterans
Serving those who have served our country is a privilege. In addition to our Hospice services, Tabitha is a Level-Three We Honor Veterans Partner to serve the unique needs of America's veterans and their families.
Pinning Ceremonies
Tabitha collaborates with local community organizations to host pinning ceremonies throughout Nebraska to honor those who have served our country. This celebration may be attended by a Tabitha Hospice social worker, nurse, chaplain and/or volunteer coordinator. Our ceremony is tailored to meet the needs of the Veteran, including requests for private ceremonies. We recognize Veterans by providing them with a pin and a certificate that reflects their branch of service. Prayers, uplifting songs and poems are shared while surrounded by the love and comfort of family and friends.
Vet-to-Vet Volunteer Program
If you or your loved one would like to be visited by another Veteran, our hospice volunteer coordinators can arrange this for you. These volunteers are specifically trained to work with clients under hospice care.
Journey House: Veterans Administration Contracted Facility
Tabitha Hospice's Journey House in Lincoln provides loving and compassionate care in a home-like setting for those who need a skilled nursing level of care on their end-of-life journey. The VA will cover room and board for six months at Journey House for Veterans who qualify.
 
Resources
Want to learn more about Tabitha's renowned, compassionate hospice care? Contact a Tabitha Senior Care Expert today or call 402.486.8506 for more information. We'll connect you with the Tabitha resources that best fit your own or your loved one's aging journey.
 
ABOUT HOSPICE  |  WHY TABITHA HOSPICE  |  GETTING HOSPICE CARE  |  HOSPICE TEAM  |  HOSPICE MEDICAL TEAM  |  VETERAN SERVICES  |  HOSPICE STORIES  |  CAREGIVER RESOURCES  |  VOLUNTEER