This page serves to report positive Coronavirus (COVID-19) cases as well as clusters of respiratory symptom in regards to the Tabitha Residents/Clients and TEAMembers. It is updated by end of business every Monday for the explicit use of Residents, Clients and their family members and/or responsible parties at Tabitha's Main Campus in Lincoln, NE: 
Tabitha Nursing & Rehabilitation Center (TNRC)
Tabitha Residences: Good, Elizabeth, Martha, James (was Martin) Houses
Journey House SNF for End-of-Life Care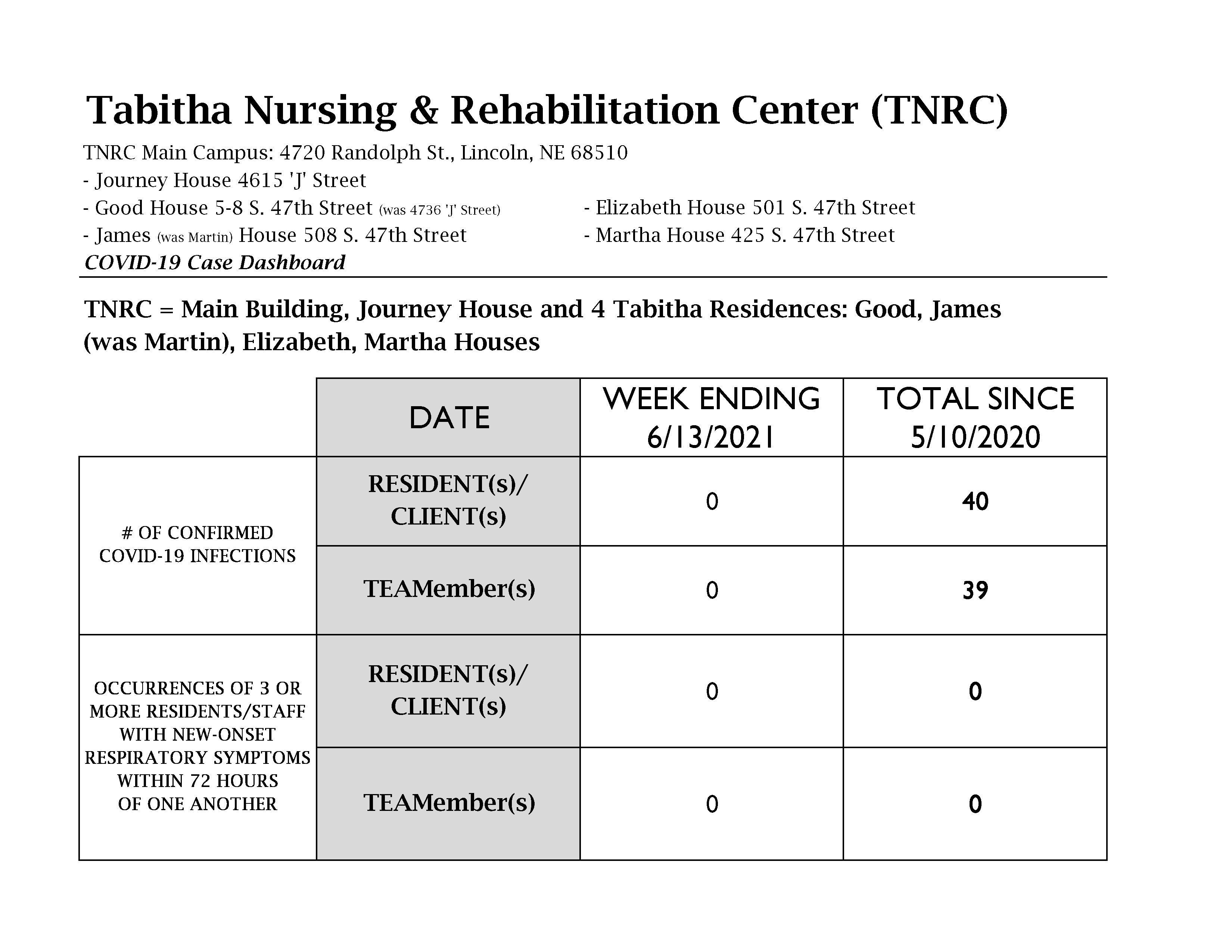 ---
Because Tabitha is Senior Health Care provider, COVID-19 preventative measures continue and may vary from GENERAL PUBLIC Directed Health Measures (DHM):
Continuing strong hand hygiene
Wearing proper personal protective equipment (PPE)
Providing face coverings for Residents and TEAMembers
Testing routinely for COVID tests with nonvaccinated Living Community frontline caregivers (test frequency is dependent on county positivity rate where Living Community is located as well as COVID prevalence in each Tabitha Living Community)
Screening, which is mandatory (including the recording of body temperature) for all employees and guests (prior to reporting to their work area/visiting)
Designating the delivery drop site at Tabitha Nursing and Rehabilitation Center (TNRC) as South/Main Entrance 
Collaborating with national, state and local health departments and organizations to stay abreast of best practices and updates
Encouraging all employees and general public to get vaccinated and practice protocols based on your vaccination and health status
By following all instructions properly, we have the potential to slow down the infection rate and ultimately save lives.
---
Stay Connected with Tabitha
We are finding creative ways to keep Tabitha Residents/Clients engaged and comfortable, while working with their families and friends to stay connected.
Follow us on Facebook for heartwarming stories within our communities.
If you have any questions, please reach out:
Tonya Richards, Administrator, Tabitha Nursing & Rehabilitation Center
Tonya.Richards@Tabitha.org | 402.484.9840
Jessica Andersen, Assistant Administrator, Tabitha Nursing & Rehabilitation Center
Jessica.Andersen@Tabitha.org | 484.9718