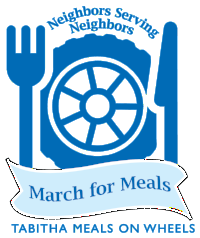 To Benefit Tabitha Meals on Wheels
Throughout the month of March, we are spotlighting Tabitha Meals on Wheels with a March for Meals.
We March for Meals  so 500+ Lincoln neighbors daily will not be forgotten.
We March for Meals  for Susan, who can no longer drive to the grocery store but wants to stay in her home.
We March for Meals  for John, who after surgery is unable to stand long enough to prepare a meal.
Join our March for Meals. For just $6.25 a day you can serve a neighbor a nutritious meal. If you can give more, please consider a recurring monthly donation.
Take a stand for our neighbors and join our March for Meals—we can't do it alone.
March IN and Dine
Thank you to these restaurants who joined our March for Meals in 2018: