Give to Lincoln Day is Wednesday, May 24, 2023
Give to Lincoln Day is a 24-hour event in which every donation gets a proportional share of a $500,000 match fund made possible by Lincoln Community Foundation and generous sponsors. Gifts made between May 1 and May 24 count toward the match.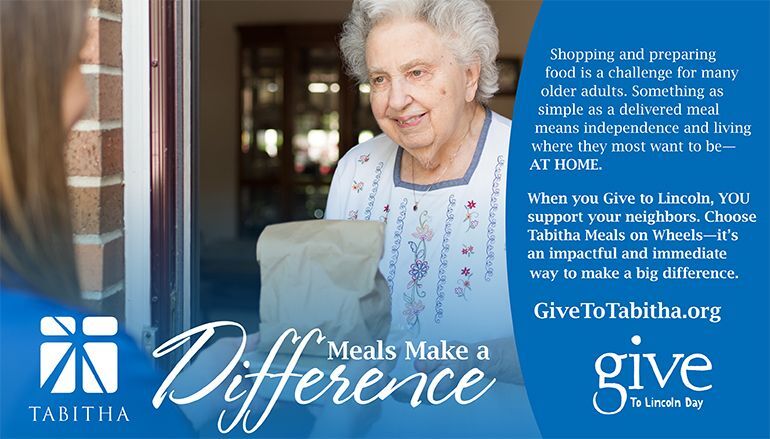 For 56 years, Tabitha Meals on Wheels has delivered a daily meal and vital well-being check, a blessing to some of the most vulnerable in our community—82% of whom report that a volunteer is the only person they see each day. The first and only program of its kind in Lincoln is possible thanks to generous donors and dedicated volunteers.
TABITHA MEALS ON WHEELS BY THE NUMBERS
500 Lincoln residents rely daily on this vital service
1,000 dedicated volunteers
45+ routes each day
5 million+ meals served to date
365 days a year
0 requests turned away, regardless of ability to pay
WE NEED YOUR HELP TO CONTINUE
Deliveries come at a great cost—in 2023, Tabitha must supplement $800,000 and dedicate valuable workforce hours to cover the funding of this program. An eye-opening 81% of recipients cannot afford to pay for their meals, and 90% say the meal allows them to remain at home.
Give older adults a way to stay safe and independent in their homes through your donation to Tabitha Meals on Wheels.